Most auto-correction programs correct mistakes as you make them. They even predict words for you as you type. Swiftkey's recent release for Android,Clarity Keyboard Beta, corrects mistakes — up to several at a time — after you've typed them.
"SwiftKey, for a long time, has had context awareness, but it's applied it looking forward," explained SwitfKey's Chief Marketing Officer Joe Braidwood.
"It's applied it to thinking what the next word might be or what the current word is, even if you're typing it sloppily, based on words you've typed before," he told TechNewsWorld. "What we're doing with Clarity is taking our ability to understand context and applying it retroactively instead of predictively."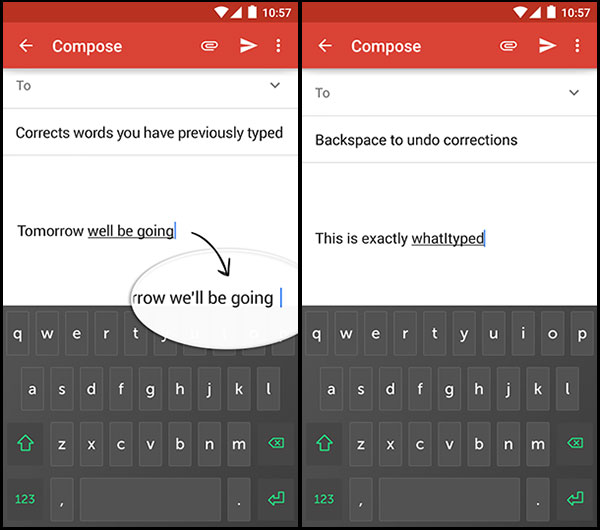 All in the Context
Context is the missing ingredient in most auto-correction programs.
"You can type words that are valid dictionary words — but when they're put in context, they don't fit," said Jeff Orr, senior practice director for mobile devices for ABI Research.
"Having something that can assist in hindsight and look fully at context, rather than be predictive, is an interesting approach," he told TechNewsWorld.
There can be advantages to being reactive rather than functioning in real time, noted Rob Enderle, principal analyst at the Enderle Group.
"A reactive system can be better at looking at context and suggesting the appropriate word if two similar sounding words are spelled differently and have different meaning," he told TechNewsWorld.
That said, "the big thing going forward is trying to help people with sentence structure and less with just spelling words right," Enderle suggested.
Proofreading Revival?
Retroactive correction does require a degree of fastidiousness unwanted by some typists.
"Some people don't care about mistakes, especially if they're texting," Orr explained. "So in some ways, you're asking people to change their behavior. If that's the case, I don't know if any software will be able to accomplish that."
Clarity can do more for than just correct typos, though.
"Clarity is attempting to take a further step toward translating the screen mashing we all do into what we actually meant to say, devoting more time to actually communicating and less time to editing and correction," said former Forrester analyst Charles Golvin, who recently founded Abelian Research.
"This is akin to what people do with voice-to-text: get the meaning out, then go back and make sure that what's written captures that meaning," he told TechNewsWorld. "As with all such steps, its use demands patience and stick-to-it-iveness on the part of early adopters."
Howling Errors
In addition to retroactive correction, Clarity learns from its operator.
"The real achievement is not just this ability to understand language at a corrective level, but it's [ability] to learn all the time," Swiftkey's Braidwood said.
"It's intelligent," he continued. "It's going to adapt to the preferences you have for language and typing."
Even with context recognition, auto-correction programs still commit some howling errors, which have given rise to a number of websites documenting them — such as Damn You Auto Correct and Autocorrect Fail.
"There has been improvement in auto-correction, but there are still unintentional auto-correct errors," said Ross Rubin, principal analyst at Reticle Research.
Still, "for the vast majority of consumers, it helps much more than it harms," he told TechNewsWorld.
Moreover, for better or worse, auto-correction has become ingrained in the mobile experience.
"Predictive text is quite useful," said Bob O'Donnell, founder and chief analyst with Technalysis Research.
"It's funny," he told TechNewsWorld. "One time, it got turned off on my iPhone, and I was really annoyed because I'd gotten so use to it."