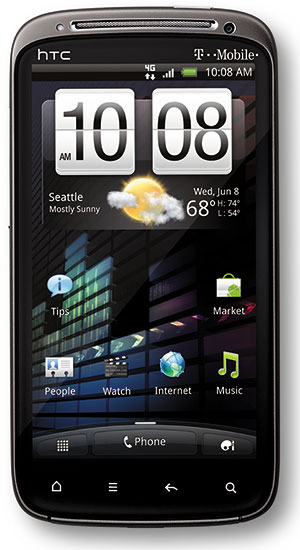 HTC Sensation 4G
T-Mobile Tuesday unveiled what it called its most powerful handset — the HTC Sensation 4G.
It will be available this summer, and T-Mobile is talking up a storm about the device. Among other things, T-Mobile repeatedly refers to the device as the "HTC Sensation 4G."
However, HTC's own tech specs indicate the Sensation has only 3G capability.
Where's the other G?
T-Mobile didn't respond to requests for comment by press time.
Wireless Movie Sharing
The Sensation measures about 5 inches by 2.6 inches by about 0.5 inches, weighs just over 5 ounces with a battery, and has a 4.3-inch touchscreen with qHD (quarter high-definition) display that gives its screen a resolution of 540 x 960 pixels, according to T-Mobile.
The Sensation has stereo sound recording, lets users wirelessly share movies and photos with TVs through DLNA, and connects to WiFi printers.
The HTC Sensation has a 1.2 GHz dual-core Qualcomm Snapdragon 2 processor, 1 GB of internal storage, and 768 MB of RAM.
It has a microSD memory card slot that's SD 2.0 compatible.
The card slot can accommodate a 32 GB microSD memory card, HTC representative Jessa Moon told TechNewsWorld.
The HTC Sensation runs Android 2.3, aka "Gingerbread," Moon said.
Sensors included are a gyro sensor, a digital compass and a proximity sensor.
Heavy on Social
The HTC Sensation has a listed talk time of up to 400 minutes on WCDMA networks and nearly 500 minutes on a GSM network.
It runs on HSPA/WCDMA or quad-band GSM/GPRS/EDGE networks.
The device has an HTC Sense user interface. It has two cameras — an 8MP color camera in the rear with autofocus and dual LED flash, and a VGA fixed-focus color camera in the front that can take 1080p videos.
Social networking links included are Facebook and Twitter for HTC Sense, HTC's own Friend Stream social aggregation technology, and photo- and video-sharing capabilities on Facebook, Flickr, Twitter and YouTube.
The Sensation supports USB and WiFi tethering to PCs running Windows 7, Windows Vista or Windows XP.
The Sensation will be available on T-Mobile "in the summer of 2011," HTC representative Moon said, with pricing to be announced later.
3G or 4G?
The HTC Sensation offers 3G download speeds of up to 14.4 Mbps and upload speeds of up to 5.76 Mbps. It supports IEEE 802.11b/g/n WiFi and Bluetooth 3.0.
However, the International Telecommunication Union specifies data rates of up to 1 Gbps for stationary 4G systems and 100 Mbps for mobile 4G systems.
The ITU rates HSPA+, the technology T-Mobile (and AT&T, which plans to purchase T-Mobile) claim as 4G, as the fastest WCDMA 3G standard out there with download speeds of 28 Mbps and upload speeds of 22 Mbps. T-Mobile's regular network uses WCDMA technology.
So, where's T-Mobile getting the 4G nomenclature from?
Here's where some clever marketing comes into the picture.
"The ITU had initially defined 4G as LTE and WiMax, but has loosened its definition to include HSPA+ in response to AT&T, T-Mobile and other carriers positioning their current HSPA+ deployments as 4G," Chris Hazelton, a research director at the 451 Group, told TechNewsWorld.
HSPA+ provides comparable speeds to LTE and WiMax deployments by Verizon and Sprint, respectively, Hazelton added.
T-Mobile Subscribers and AT&T
AT&T is awaiting regulatory clearance for its bid to buy T-Mobile. When it gets the green light, the fate of T-Mobile subscribers may not be a happy one.
For one thing, T-Mobile beats out AT&T in customer satisfaction, a Consumer Reports survey has found.
Both AT&T and T-Mobile have subscribers who want to leave for another carrier, but T-Mobile beats out Ma Bell in that it has a smaller proportion of wannabe runaways.
Hardware vendors don't want to commit to T-Mobile's 4G plans with the AT&T acquisition looming, Hazelton pointed out.
If the AT&T merger with T-Mobile goes through, current T-Mobile 3G users may have to get a new device, he suggested.
"Subscribers will likely be offered heavy subsidies for a new AT&T 3G device if they sign up for a two-year contract," Hazelton predicted. "This will likely push some T-Mobile subscribers to Sprint or Verizon Wireless."
T-Mobile expects the AT&T deal to close in about 12 months, and decisions about the network will be up to AT&T after that.