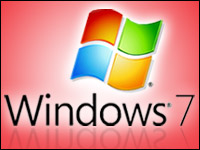 Dell earlier this week announced plans to offer a business-ready Windows 7 tablet with a 10-inch screen later this year.
Whether or not Windows 7 in its current form is a suitable operating system for tablets remains to be seen. HP last year waffled between offering a Slate tablet running Windows 7 and putting out its own webOS device. It finally committed to webOS. Shortly afterward, it said it would put out a Windows 7 tablet for the enterprise.
The webOS promise came to fruition this week with the TouchPad; the Windows 7 tablet came in October with the Slate 500.
Microsoft's Web pages about improvements in Windows 7 for tablet PCs discuss the use of a pen for input as well as multitouch capability.
The difficulty of going against sexy tablet operating systems such as Apple's iOS, Google's recently announced Honeycomb version of Android, and, on Tuesday, HP's demo of its webOS tablet may see Windows 7 tablets relegated to vertical business markets.
Tablets running earlier versions of Windows already have a substantial presence in vertical enterprise areas such as the medical field, warehousing and the factory floor.
Gesturing at Windows 7
One of the advantages for Windows 7 as a tablet OS is that it incorporate gesture recognition technology.
On a tablet PC, Windows 7 offers multitouch capability — but only with the right hardware.
Dell wouldn't discuss what modifications, if any, it would make to Windows 7 for its announced 10-inch tablet.
"I'm not able to address your questions at this time as we have not disclosed further technical details," Dell spokesperson Lauren Mauro told TechNewsWorld.. Dell will disclose details "later this year," Mauro added.
Microsoft declined to comment.
The technology to let Windows 7 run on tablets is already available, Jeffrey Orr, a senior practice director at ABI Research, told TechNewsWorld.
"Think about how Windows navigation occurs today for people with accessibility challenges," Orr said. "Size can be dealt with by enlarging objects; menus can be called by holding a key instead of clicking it. These techniques could be replicated across a variety of screen sizes and user interfaces."
Tablets don't have to be button-free, Orr pointed out. "Physical buttons can be present on a device in addition to software, and they can be defined depending on the application," he added.
Since the user behaviors and the processes to implement Windows 7 well on tablets are available, the issue is more one of implementation than innovation, Orr suggested.
What About WinPho7 Instead?
Windows Phone 7 might be a better alternative to Windows-based tablets than Windows 7, Will Stofega, a program director at IDC, remarked.
"A lot of people who beta tested Windows Phone 7 like it," Stofega told TechNewsWorld. "I've used it and like it. Maybe it's not enough to challenge Apple for world domination and supremacy, but it's a viable alternative in and of itself."
WinPho7 is fully optimized for mobile devices, Stofega pointed out. Also, it's "great in terms of touch, and that's a viable issue."
Perhaps Microsoft could come out with a fork in the WinPho7 operating system that would be optimized for tablets, Stofega speculated.
"Google's done this with Android and Honeycomb," he said.
Apps May Be the Key
The availability of apps is key to a mobile operating system's success. Apple's currently king of the mobile device heap because its app store has by far the greatest number of apps, although Android's closing the gap fast.
That might clinch the argument in favor of Windows 7 on tablets.
"There's tens of thousands of apps for Windows 7 — the office apps, the shareware stuff, media players and Internet Explorer," Retrevo's Eisner pointed out. "They may not look as slick on a tablet as they do on a PC but they'll work."
But perhaps those apps need to be made over into mobile apps — or perhaps Microsoft needs to add mobile apps.
"Microsoft has been slowly building up its apps library, but will need a larger selection of apps and invested developers than it has demonstrated thus far to make a tablet a compelling offering to end users," Josh Martin, a senior analyst at Strategy Analytics, told TechNewsWorld.
"However, if anyone can do it, it's Microsoft — but they need to start enhanced developer outreach as soon as possible," Martin remarked.
Windows Tablets Are Workhorses
Perhaps Dell is correct in positioning its forthcoming Windows 7 tablet as a business device.
HP has several Slate tablets running earlier versions of Windows that do quite well in vertical markets.
One Windows 7 tablet already in the market is the ExoPC Slate. This device has a multi-touch interface that lets users browse the Web, Play games, consume content — TV, movies, books and magazines — organize content and download apps. Users can also create and edit spreadsheets and author documents.
It runs on a 1.6 GHz Intel Atom Pineview-M N450 processor and has 2 GB of RAM. It comes with a 32 GB or 64 GB solid state disk, and it can accept an SD or SDHC card of up to 32 GB capacity.