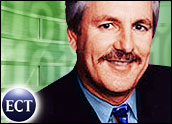 I was working on two things last week. One was the impact of the recession on the tech market and what would likely happen to tech spending; and the second was the release of Windows Vista SP1, which I've been using for several months on a number of machines. On the recession side, I've been particularly focused on what is likely to be an adverse impact on some, but not all, "green" initiatives and how the recession will increase the number of hostile takeovers.
For SP1, while the advantages are real, the standing advice is to hold off for about 30 days before you use this yourselves to allow the platform to mature in market unless there is some aspect of this you really need today.
We'll close with my product of the week, the HTC Shift, which I think showcases a way the MacBook Air could be vastly more popular.
Recession Impact: Cost Control = Less Green
I mean less green in two ways, there is a reduction in free cash as firms seek to improve liquidity; and there will be less focus on environmental efforts that don't have economic benefits. This is simply because executives and managers will, during a recessionary period, be largely focused on their bottom lines because their own compensation and incentives will be at risk if they don't.
This doesn't mean that all "green" efforts will fall off, however. For instance, with the stratospheric cost of fossil fuel, conservation efforts will probably get even greater focus, but that focus will largely have to do with cost reduction rather than the ecological benefits of the actions.
One area that might get a substantial boost thanks to the combined impact of the recession and the increasing cost of gas is the new class of video conferencing system called "telepresence." This is because the combined impact is both raising the cost of air travel and forcing the airlines to reduce coverage, making travel vastly more painful for all involved. HP recently did a deal with Marriott Hotels to place Telepresence systems in regional hotels, if that can be deployed quickly enough. For instance, it could substantially benefit both parties and dramatically reduce the number of business people flying. I mention HP because it is the only company that really focused on the economic benefits of "green" and given the economic driver in this current market, that may prove to be incredibly beneficial in hindsight.
Recession Impact: More Hostile Takeover Attempts
A recession does two things that increase the likelihood of hostile takeover attempts: It dramatically lowers the valuation of companies and it creates a surplus of workers, making fewer people willing to take job risk.
This last is really important, particularly in services and software industries, because the people are the company, and typically hostile acquisitions result in excessive employee departures, leaving behind a shell of a company worth a fraction of what was paid for it. If the employees feel they can't leave, which is often the case in a recession, they are both more likely to stay with the company and cooperate with the merger because they don't want to be seen as a problem and fired in a hostile job market.
As highly liquid firms in all segments, but particularly in software and services, begin to understand this, expect many more to attempt hostile acquisitions as these markets go though consolidations that are typical of a recessionary environment.
Windows Vista SP1 – Benefits and Recommendations
The first Service Pack is now out for Windows Vista, and given how many folks use Windows, this is probably a subject I should have talked about last week. I've been using SP1 now in its final form for several months, and it makes Vista faster, more reliable and (if you like to build your own systems like I do) makes the initial imaging process go much better.
In effect, it creates an experience that is probably close to what Vista should have had on day one in terms of overall performance and experience. The significant enhancements have to do with greater granularity mostly with regard to remote administrator control.
This suggests that much of the effort, outside of fixing known problems, has been focused on making this offering more acceptable to IT administrators who, up until now, have been understandably avoiding it. Recent surveys indicate this is changing, probably largely due as much to the existence of the SP1 version as it is to the actual improvements (we are trained almost from birth on the IT side to avoid pre-SP1 offerings from anyone).
One improvement that stood out for me was with BitLocker. This was a feature targeted at business, but in the face of increasing identity and notebook theft, was of high value to users as well. BitLocker is an encryption tool and, initially, it was binary — either on for everything or off from everything.
It was one of the few things that used the Trusted Platform Module, which is common on business PCs, and it could use an encrypted USB drive to hold the keys if a TPM wasn't in place. What is different with SP1 is you can now encrypt more granularly, and this should both improve system performance and make the technology more useful to those of us in the real world who don't feel we have to encrypt everything.
Now, as far as recommendations: If you don't have a critical need for SP1, wait until next month when it is pushed down to apply it. Over the next 30 days a lot of people will be helping Microsoft work the kinks out of this offering, so unless you really like doing this, if your system is working just fine the old adage "if it ain't broke, don't fix it" applies here.
While the risk isn't that great, the upside for most of you running just fine isn't that great either, and I'm a big believer in letting others work the bugs out of things. If you are using Vista and either having stability or performance issues, then downloading early may be worth it but only if you don't force the download (i.e. you can see the option in Windows Update). If you don't see the option in Windows Update that means you have a known problem and should wait until that problem is resolved.
If you aren't on Vista yet and running fine on XP, I'd stay on XP until you are ready to move to a new PC and move with the new hardware. This is what the vast majority of those that do this for a living do, and their example is a good one. It's a recession year so expect a lot of really good hardware buys for most of it.
The HTC Shift: Showing the Way to a Better MacBook Air
I've been using the HTC Shift for a while now and it is an amazing little product. This falls into the class we have been calling the UMPC (ultra mobile personal computer). It is actually the first generation 2 Origami offering, and it is a mini-tablet computer. It is about half the weight of the MacBook Air, about a quarter the screen and keyboard size, and (with an extended battery) can have about twice the battery life (the extended battery is around US$50 extra).
What makes this interesting is that it is a hybrid product, running both Windows Vista and Windows Mobile. In Windows Mobile mode the battery life more than doubles and the system can actually standby for around 50 hours.
Another cool thing is the way the screen works; it slides over the keyboard and then tilts up when deployed into more of a laptop configuration. It also has the smallest touchpad I've ever seen work, and I actually like it better than the included touch screen. At $1,600 it is cheaper than the lowest-priced Air and has built in, always on, connectivity to Sprint's 3G network, giving the device portability and connectivity that the Air can only dream about. The 7-inch screen is actually surprisingly usable, but they keyboard is too small for touch typing by anyone taller than 5 feet with hands to scale.
I saw this offering and thought that if it was the size of the MacBook Air — or the MacBook Air had its features — there would be lines around the block to buy this thing. On the other hand if Lenovo brought back the ThinkPad Butterfly around a platform like this (which had an expandable keyboard) at an attractive price we'd likely line up to buy one.
This a product that makes the UMPC segment look more real and showcases what the MacBook Air lacks, making it my product of week and one of the likely parents to a new class of truly wonderful notebook-like products.
---
Rob Enderle
is a TechNewsWorld columnist and the principal analyst for the
Enderle Group
, a consultancy that focuses on personal technology products and trends.
---