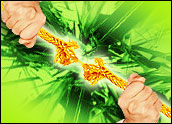 Several major tech firms are making a strong push into Internet infrastructure all over the world, reportedly leading to increasingly fraught relationships with telecoms.
Google and Facebook in particular have drastically invested more in Internet infrastructure over the last year, installing new undersea and underground cables, creating their own networking hardware systems, and agreeing to long-term deals over leases of so-called dark fiber.
Infrastructure Strain
Bosses at these tech firms are attempting to lower costs, boost performance, and ensure the infrastructure exists to support traffic-sapping features such as video, games and photos, according to The Wall Street Journal.
Online video is a massive strain on infrastructure, with YouTube and Netflix accounting for much of the world's Internet usage. YouTube accounts for more than half of Google's network capacity, according to the Journal, while Netflix has taken over almost a third of downstream traffic in North America.
Google, for instance, reportedly has laid more than 100,000 miles of fiber-optic cables around the world. By comparison, Sprint has less than 40,000 miles of fiber-optic cables in its continental U.S. network. Google's capital spending soared to US$2.3 billion last quarter, double what analysts expected, as it aggressively invested in new data centers, computers and land.
Dark Fiber
Facebook this year opened its first data center outside the U.S. in Lulea, Sweden, and started directing European traffic to it through dark fiber cables (i.e., privately operated or previously dormant). Both Facebook and Google also have invested in undersea cables in Asia.
Amazon and Microsoft are expanding their own network infrastructure to further their growing cloud-computing businesses. Microsoft is focusing on installing cables where electricity is cheaper to link users to data centers. Amazon's capital spending rose 44 percent to $2.6 billion for the first nine months of this year from the same period in 2012.
"In general, Verizon believes that investment in network infrastructure is something that, as long as there's regulatory parity, has many benefits to many people — more competition, job creation and the deployment of innovative services," Bob Varettoni, executive director of media relations at Verizon, told TechNewsWorld. "Verizon has consistently been one of the biggest investors in network infrastructure in the world, investing more than $16 billion a year in technology."
Damaging Relationships
As the tech firms expand their own infrastructure, they apparently are chipping away at the relationships they have with the telecoms that count them as clients and are resistant to handing over control of their pipes.
While there's a clear demand for higher capacity everywhere, some telecoms seem reluctant to invest in expanding fiber networks given dropping broadband prices across the industry.
New Revenue
Though the tech firms' projects are bringing new revenue streams to telecoms, there is concern that they will reduce telecoms to mere conduits for traffic — or even just manufacturers of the tech companies' infrastructure.
"Many once thought that the carriers would just become dumb pipes," Jim McGregor, principal analyst at Tirias Research, told TechNewsWorld, "but in reality, they have a considerable amount of control over the business models of today's electronics devices and services. These business models are a critical component in the overall value proposition."
While their moves have long been planned, the tech companies' investments in their own infrastructures take on additional substance following this year's blockbuster revelations of U.S. surveillance efforts. If the companies run their own networks, they may find it easier to spot where bodies like the National Security Agency are tapping into the traffic shifting between their data centers.
Far-Reaching Projects
The firms are building out their own networks in part to reach more users in remote areas. The Internet.org collective — Facebook is a member — intends to bring Internet access to everyone in the world.
Google is making a similar effort with its Project Loon network of high-altitude, Internet-connected balloons that offer connectivity without the need for expensive on-the-ground infrastructure.
Another reason for the tech companies' heavy focus on infrastructure is the ability to completely control what passes through their systems.
Data Analytics
"They will have the benefit of offering services and controlling more of the advertising, but the real value is in the access to data, or more specifically data analytics," Tirias' McGregor noted.
"They can use and sell this data to better target information — including programming, ads and other content — to consumers. I believe that many of the major Internet firms will make as much or more from data analytics than they do from their traditional business models by the end of the decade," he predicted.
"These service providers offset much of the cost with other business models, much like what they have done with Internet software and services," McGregor continued. "They can change the communications landscape in the same manner they have changed other segments of the electronics value chain."