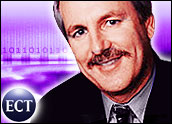 As the end of the year approaches, I will begin talking more and more about the big things expected to drive the 2007 Technology Segment. One of them, particularly since the Democrats are back in power in the U.S., is a move toward Green, and HP took a huge step to get ahead of this parade last week.
In addition, I had the opportunity to host a Couples in Gaming panel in San Francisco and learned a great deal about how to get women into video gaming that I think you'll find interesting.
Finally, the PlayStation 3 launched, and Microsoft responded with accessories, and I'll close by talking about this initial skirmish.
Tech Goes Green
Awhile back I discussedVIA'sbig push into the Green PC area and why that was important. I've also started to cover the move touse LEDs to replace conventional lighting in homes and businesses to continue this green effort, and recently started to follow companies likeTurner Construction that specialize in large scale ultra green buildings for both private and public sector projects. Turner is evidently the leader in large scale green construction.
This all started years ago whenNEC released a PC that was designed to use 100 percent recyclable plastic, contained no toxic substances and only required one third the power of a typical PC in 2002.
This design, which looks a lot like the current Apple iMac (far be it from me to suggest Apple might have copied someone one else's design), set an early high mark for environmental computing. Unfortunately, it was also ahead of its time. Outside of some European sales, it didn't move particularly well.
However, things are changing, and people are getting more and more concerned about the environment and starting to demand that the products they buy are environmentally friendly. HP has recently decided to ride this wave andannounced last week that they were getting aggressive with regard to designing their products to be environmentally safe.
HP has taken what NEC originally did and exploded it across product lines and its own corporate environment. With initiatives focused on efficient design, high energy efficiency, innovation in conservation (in use and in manufacturing), low-impact packaging (degradable or recyclable materials), and reuse and recycling, HP is positioning itself as the leader in the technology industry in terms of taking care of the environment.
This is somewhat ironic, because Fairchild Semiconductor, the company that arguably started Silicon Valley, became a toxic waste problem when it was shut down — doing massive damage to the environment and contaminating the local water table.
Decades later, the companies that replaced Fairchild — including Intel and AMD — appear increasingly focused on making up for what Fairchild did and are increasingly moving to protect the fragile world we live in.
I can't help but think this is both a good thing and something we should encourage.
Getting Girls Gaming
I'll be talking about VIA twice today, because I recently moderated a panel for the company onCouples in Gaming. One speaker on my panel really stood out as an expert on women in games. She was Sheri Graner Ray and she is the leading expert with regard to why women do, and do not,play video games. She has even written a book on it:Gender Inclusive Game Design: Expanding the Market. This probably should be read by any gaming company wanting to expand its female customer base.
She waxed eloquent on my panel, and I learned a great deal I didn't know — and that many of my own perceptions of why women don't play games are wrong. One perception was that women don't like violent games, and this turns out to be untrue.
She tested this with a group of about 25 women who had never played violent games and after a day session, they bought out the local supply of Warcraft and have evidently been hooked ever since.
We also had a number of professional women gamers at the event, and they played the same games as the guys did and, based on their winnings, often beat their male counterparts handily.
Evidently, there are three major problems with current games. The first is the tutorial — or lack of it. Men tend to learn by doing, while women learn by watching others.
For guys, grabbing a controller and jumping in to die repeatedly isn't a major problem. However, for women, it is both frustrating and embarrassing — so much so that they will quickly lose interest and abandon the effort.
For games to attract women, they need to address the need for a strong training component so that the female gamer feels competent with the game before she actually plays it. This alone would probably expand the audience for a particular game strongly, if this feature became well known.
Second, women don't mind well-endowed female characters that are incredibly sexy. They do mind that these characters also appear to be sexually aroused with full lips and erect nipples.
When Shari showed the audience a picture of men in the same semi-aroused state, the guys didn't like that either — and they felt incredibly uncomfortable being seen actually looking at the pictures.
Finally, the game makers don't market to women. They put graphics on the game cover and use collateral designed only to appeal to men. When they do build and market a game for women, it is often condescendingly stereotypical, with a focus on cooking or makeup or clothing.
In the end, I didn't stick around to get my butt kicked by one of the professional women gamers, as I get it kicked quiet often enough, thank you very much, by amateur game players all the time.
Microsoft's Response to PlayStation 3 Launch
Speaking of gaming, the PlayStation 3 launched last week, and folks were once again lining up around the block to purchase one. I'd received my own several days in advance and became glued to it rather fast. Playing in high definition is really a treat, and the initial games are both fun to play and gorgeous to watch.
The console is a pretty thing, black and silver — though had it been me, I would have made it brushed steel and charged more for the initial run. If you don't already have a confirmed order for one, you are probably out of luck — unless you want to pay a large premium and buy it on eBay. What was interesting was that interviews of the folks standing in line seemed to indicate that the vast majority were planning on selling their PlayStation 3 at a steep profit on eBay.
Setup was drop dead easy, and it immediately downloaded an update that was supposed to address the reported backward-compatibility issues. Navigation was a little rough — especially when compared to the Xbox 360.
For instance, if you put a movie into the 360, it just plays. With the Sony, you have to navigate to the movie and then click on it to play it. The remote for the Sony isn't shipping yet, so you have to use a game controller as the remote — and the included one is a wired controller.
During the time I was playing with the Sony, I got a care package from Microsoft, which included its newracing wheel andhead-mounted transceiver for in-game conversations. (By the way, it was interesting to note that at the couples event experts said that most male gamers didn't like voice because it prevented them from playing women characters convincingly). Finally, the Microsoft HD-DVD US$200accessory drive also showed up.
While I'm not yet a huge fan of either format, I had to admit the movies both Sony and Microsoft sent looked fabulous on my High Definition 1080p TV. Of all of the products, the racing wheel is the most impressive. I still think it's better to try HD-DVD or Blu-ray as an accessory until the market decides which format it wants to run with.
The Sony plays better, at least to me, with a larger aftermarket joystick like theLogitech PS3 ChillStream, as the standard PS3 controller is kind of uncomfortable.
Head to head, the Xbox software feels more finished — but the Sony will likely get downloadable updates to close that gap next year. In the end, it's all about the games and whether you can actually buy one of these things.
With the Sony on constraint, at least for this year, Microsoft should be the big winner. Next year should be interesting for both companies, along with the one we didn't mention, Nintendo, which could still outsell both of them combined.
---
Rob Enderle
is a TechNewsWorld columnist and the Principal Analyst for the
Enderle Group
, a consultancy that focuses on personal technology products and trends.
---