Electric car maker Tesla Motors on Tuesday introduced a network of solar-powered rapid charging stations for its vehicles beginning with several locations across California.
The network of "supercharger" stations already is in operation in six California locations: Folsom, Gilroy, Coalinga, Lebec, Barstow and Hawthorne. Tesla makes its cars in Fremont, Calif.
Tesla plans to rapidly expand its charging infrastructure. Within the next 12 months, it plans to have supercharger stations in high traffic corridors in the United States — such as Vancouver to San Diego, Miami to Montreal and Los Angeles to New York — as well as in Europe and Asia.
Free Power
In 30 minutes its supercharger technology will provide one of its Model S luxury hatchbacks, which sell from US$50,000 to $100,000, with enough power to cruise at 60 miles per hour for three hours.
The supercharger stations, which cater exclusively to owners of Tesla vehicles, are based on solar carport systems from SolarCity. The systems have a marginal energy cost of almost zero after installation, Tesla said.
Each solar power system generates more energy from the sun over the course of a year than is consumed by the Tesla vehicles using the charging station. That results in a slight net positive transfer of sunlight generated power back to the electricity grid.
"By making electric long distance travel at no cost, an impossibility for gasoline cars, Tesla is demonstrating just how fundamentally better electric transport can be," Tesla CEO and cofounder Elon Musk said. "We are giving Model S the ability to drive almost anywhere for free on pure sunlight," he added.
Tesla's charging network announcement came on the heels of a filing it made with the U.S. Securities and Exchange Commission in which it reported it was having trouble producing cars due to supplier problems. As a result, the company's revenues for the quarter ending Sept. 30 would be almost halved from analysts' predictions of $80 million sales, to $44 million to $46 million.
The company also disclosed in the filing that it intends to raise more money for its operations through a public stock offering of 4.3 million shares. At the current price of its stock, that would raise about $140 million.
Dueling Standards
Tesla's new network provides DC power to its cars. By contrast, electric vehicles charged at home would use AC power. "DC has a faster recharge rate," Andy Hoskinson, San Diego Area Manager for ECOtality North America, told TechNewsWorld. ECOtality is involved in planning the infrastructure for electric vehicles in several regions of the country.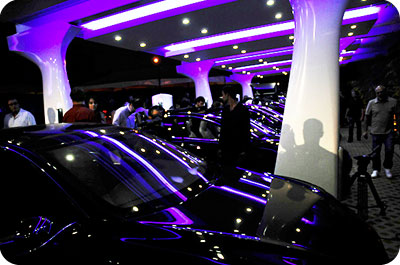 Tesla electric vehicles under a solar charging station canopy
"It has more impact and use along highways and places where it would allow for trip extension," he added.
Not all electric vehicles support DC charging. The Chevy Volt, for example, doesn't. Tesla uses a proprietary DC standard. The Nissan Leaf supports a Japanese standard called CHAdeMO. Meanwhile, the finishing touches are being put on a third standard by the Society of Automotive Engineers (SAE).
American makers of electric vehicles have dragged their heels on DC charging in anticipation of the SAE standard, said ECOtality's vice president for business development Colin Read.
"GM, Ford and some a few other manufacturers have indicated that they will be putting a DC connection into future vehicles," he told TechNewsWorld.
Could these conflicting standards create confusion in the market? "There's certainly that potential," John Halliwell, a senior project manager in the Electric Transportation Group of the Electric Power Research Institute, told TechNewsWorld.
Emissions Shell Game
One of the knocks on electric vehicles is that they push carbon emissions from the tail pipe to a power plant's smokestack. Tesla's solar-powered stations address that issue, according to the company.
Read, however, discredits the entire issue. "It's a fallacious argument," he argued. "Your power supply depends on what region of the United States you're from."
"In West Virginia, it's predominantly coal," he continued. "In the Northwest, you're getting over 90 percent of your energy produced by hydro-power."
"This really isn't a question of emissions to us," he added. "This is a question of national security and energy independence."
A Tesla representative was not immediately available to comment for this story.