I'm a longtime Jaguar fan. I've owned a ton of them over the years, and I've had both good and bad experiences with the cars. Currently I own two — a 1970 XKE and a 2014 F-Type — and they are about to get a sibling. I've ordered a new Jaguar I-Pace, which is the first legitimate challenger to Tesla, which surprised the automotive industry much like Apple surprised the mobile phone industry.
Tesla was first to build a decent electric car for this century. Not only that — its Model S set records in terms of safety and reliability. Most of the problems the firm has had have been due to a lack of competency in manufacturing and a borderline insane CEO. However, the design of the cars, with the exception of the Tesla X, generally has been better than first rate.
I recently read about Motor Trend's head to head challenge between the Tesla Model 3, the I-Pace, and the Alpha Romeo Giulia Quadrifoglio (don't get me started on naming). Even though the I-Pace was designed to run on the track, it trailed both the other cars and the Alpha won — but not by much, and the Alpha is a decent track car.
I'll share some observations about cars and close with my product of the week: the BlackBerry Key2, which I've been using for several months now and still love.
I-Pace vs. Tesla vs. Gas
As noted, the I-Pace (pictured above) is the first real challenger to Tesla's dominance. You'd think I'd be disappointed that it didn't do better on the track, given it was designed for the track. However, the I-Pace is a crossover, not a sedan, and when was the last time you saw an SUV run against a hot sedan and win on the track? An SUV is designed to go on and off road. It sits higher, and thus it won't corner as well. Plus, it has far more wind resistance.
Until recently, Tesla cars, when tracked, would go into limp-home mode after a lap or two. You couldn't track them at all until Tesla did a software tweak and introduced Track Mode in the Model 3, and now it's a decent track car. On my last track day (I track a Mercedes GLA45 AMG) there was a Model 3 on the track, and it did impressively well. It was surprisingly competitive.
---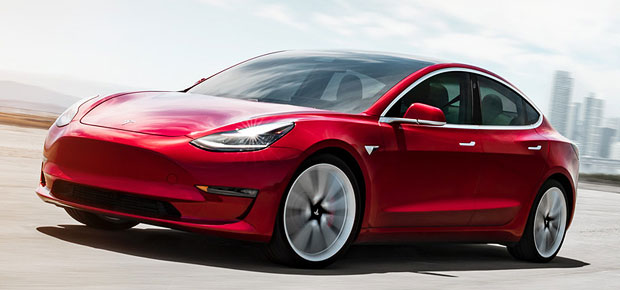 Tesla Model 3
---
Now the issue with tracking any electric is where the hell do you charge the thing up? You use a ton of fuel when you track a car. I went through about a tank and a half of gas in my fast hatch in that one day on the track, and fortunately there was a place to fill up at the track.
There was a charger as well, but it looked to be a low-powered charger (not high-powered or Tesla supercharger), which means a full charge is measured in days not hours. That makes tracking any electric really risky. You could end up getting stranded at the track if you don't allow enough reserve power to get to a high-powered charger (there aren't many out there) or a supercharger (there are more, but they're still not exactly as common as a gas station).
Why the I-Pace Didn't Do Better
Now what has been driving a number of us nuts is that the I-Pace has a far bigger battery than the Model 3 typically ships with, and yet it has less range. The cause appears to be threefold: The car is an SUV and thus not as aerodynamic as the Tesla; the front motor Jaguar uses (which may be better off-road, but this hasn't been confirmed) can't be turned off to save energy; and the battery appears to have far higher protection against premature aging than the Tesla's.
The battery's life span is largely speculation, but it appears that Jaguar uses less of the battery than the Tesla does. I used to be the lead battery analyst for North America years ago, and I recall a Toyota test that concluded if you kept a battery above 10 percent charge and below 90 percent charge it would last indefinitely. It was charging to the limits that caused the battery to degrade.
Both Tesla and Jaguar have settings that are designed to reduce battery loading, but the Tesla's settings can be overridden while the Jaguar's appear hard-coded, which is why many of us are speculating on why the Jaguar doesn't have a greater range.
The Mystery of the Jaguar Grill
One of the funny things that keeps coming up on the Jaguar I-Pace is the fact it has a grill and none of the Tesla cars have one. Folks talk about this as being a styling thing, but the reason that Tesla cars historically have gone into limp-home mode on the track is that their batteries overheat.
I once read that to get the car around the track, one car magazine would buy a ton of ice and park its car on top of it, in order to bring down the battery temperature enough to track the car.
The I-Pace uses what appears to be far more effective battery cooling, thanks to that front grill. It also conceals an impressive front spoiler, which provides additional downforce for cornering. Granted, that front spoiler also may increase drag, but it should improve track behavior.
Wrapping Up
In many ways, the Tesla Model 3 is the more practical car. It uses Tesla's increasingly convenient charging network; it is a sedan, which is likely closer to the way most of us drive — few SUV drivers ever go off road; and, as the third Tesla line, its design showcases lessons Tesla learned over the last two cars.
However, the Jaguar arguably is better looking. It is rarer (though all electrics are rare) and should convey more status. It reflects higher quality (given that it isn't cheap, it likely should). Since my wife and I use our SUV mostly as a pet carrier, the SUV design is far more practical for us, and the huge ugly thing that the Tesla X became just isn't an attractive alternative.
The Jaguar is just closer in design to what we need, and since we rarely drive more than 50 miles a day, the charging and range limitations aren't issues. Still, had Tesla made a small, attractive, SUV with fold-down back seats and without those cool (but very unreliable) gull wing doors, our selection process might have ended very differently.
What many are just getting around to understanding is that these new electric cars can change a lot with software updates. The Track Mode thing with the Model 3 is relatively new and expected to migrate to other Tesla vehicles (meaning you eventually might be able to make it around the track in a Tesla Model S, and the I-Pace's track performance is likely to improve as well). Unlike most gas cars, your electric likely will improve over time.
The car I've ordered is supposed to be in before the end of the month. I'll provide a more in-depth review at that time, but for now, I'm still glad I ordered an I-Pace. That said, with other electrics from Mercedes, Audi, and particularly Porsche entering the segment, in a few years I may find another that catches my fancy more.

The competition between Google and Apple is fierce. Android phones generally provide greater value (bang for the buck), but Apple phones provide greater status. They'd better, because you are paying Apple a huge premium for them.
The issue with Android phones is that they are known to be relatively unsecure. I have no desire to see the stuff on my smartphone show up on the Dark Web, along with an impressive number of my old and obsolete passwords and IDs.
In addition, I still think the move from phones that had keyboards, like the Palm and BlackBerry, to phones that don't, like most Androids and iPhones, was stupid. You can blind type on a keyboard phone, while you largely can't on a screen phone. I believe this one thing is what has caused the massive uptick in distracted driving and funny YouTube videos of folks walking into things like open manholes and fountains.
The BlackBerry Key2 is more secure, although it is an Android phone. It runs BlackBerry DTEK, which tells you how secure your phone is, and it loads Android on top of a BlackBerry platform, making the phone very difficult (if not impossible) to rootkit (that is, to put a piece of malicious software below the OS, fully compromising the phone).
---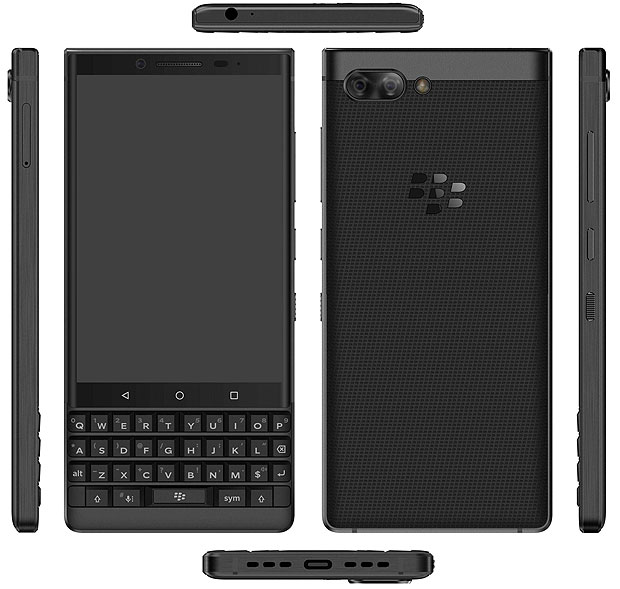 BlackBerry Key2
---
It has a twin sensor camera and a decent flash, making it competitive with other smartphones in that regard. I've experienced no unique problems with Android apps, including Dell Mobile connect (which puts your phone screen on your PC monitor and allows you to drag and drop from, and remote control your phone from your PC).
Oh, and when I must type a long note, I am a ton faster on the BlackBerry Key2 than I am on a regular smartphone or a tablet. Thus, the BlackBerry Key2 is my product of the week.