Tesla Motors on Thursday unveiled the "D" that CEO Elon Musk has been teasing — a dual-motor, all-wheel-drive, higher-tech version of its Model S electric car.
The new model offers better traction, increased driving range, automated features and even higher speeds, Musk said.
From the outside, you won't be able to tell it from the current Model S, however. It will share the same exterior, but it will feature a slew of internal improvements, notably two motors — one for the front wheels and one for the back — which allow greater acceleration as well as higher top speeds.
The new Model S will be available in three versions — the 60D, the 85D and the P85D.
The P85D, which will be available later this year has a range of 275 miles.
Autonomous Automobile
The new model is not only about higher speeds and performance — it also can help with the driving.
With the autopilot feature, drivers will not have to keep their hands on the steering wheel at all times. They won't be able to snooze out or read emails on the way to work, but with the aid of sensors and cameras, they'll have help keeping the car in its lane and maintaining a safe distance from other vehicles.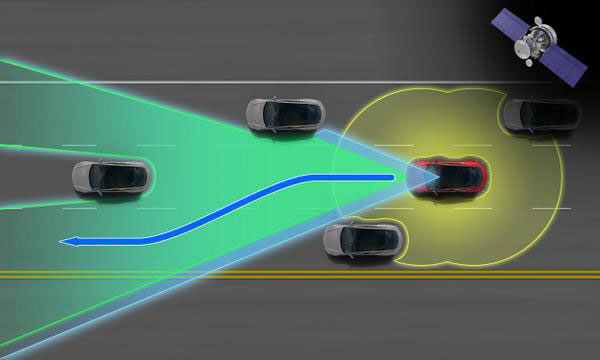 Every new Model S is autopilot-enabled.
The car automatically adjusts its speed based on posted speed limits and on how fast other vehicles are traveling — a nice assist when changing lanes, for example.
The car an park itself, and when on private property, it can be summoned — almost like an automated valet.
Roller Coaster Acceleration
Apart from those helpful features, Tesla has designed the Model S to appeal to the type of auto enthusiasts who really like to do the driving themselves.
The top-end P85D is powered by Tesla's 85 kWh battery pack. It can go from zero to 60 miles an hour in about 3.2 seconds — roughly the same as many high-performance gas-powered automobiles. It offers 691 horsepower and a top speed of 155 mph.
The new Model S could be a game-changer for electric cars.
"Big time. This is car for those who want to get to work in style or for those who want to prove that an electric vehicle can smoke some super cars," said Justin Cupler, editor in chief of TopSpeed.
"It basically says that the electric car is a viable option for anyone," Cupler told TechNewsWorld. "It is really a radical car for anyone who is into cars."
Electric Gets in Drive
Although this lineup undoubtedly has appeal for some auto enthusiasts, at a base price of US$75,000 for the lower-end 60D — and upwards of $120,000 for the P85D — these cars aren't targeting the masses. Still, the technology advances could pave the way for more mainstream development.
"Right now, electrics carry a huge premium in terms of cost because their ecosystem is limited and production levels remain a fraction of what gas cars enjoy," said Rob Enderle, principal analyst at the Enderle Group.
"Apples to apples, they are more expensive. Where this plays best is in the premium segments where the difference equates to exclusivity, and folks don't care as much about the cost disadvantage," he told TechNewsWorld.
"Here folks will pay to have a car that does amazing things, and the D seems to do exactly that," added Enderle. "It is like the AMG option on a Mercedes. These tend to be low volume and uniquely clad halo products that help carry the brand."
It's questionable whether serious auto enthusiasts will be impressed enough to drive the D, he noted.
"In terms of performance technology — self-driving — the D does that, but it may be too stealth — such as lacking in the AMG-like body modifications that would differentiate it — to get to the sales numbers that it might otherwise enjoy," Enderle explained.
"People buy cars in this class for status," he pointed out, "but if they are indistinguishable from lower- cost versions, they don't get this benefit and find it harder to justify the price."
Beyond the Concept
One key point of this is that the D lineup is way beyond the concept stage, and these are vehicles that should be on roads in just months.
"It is going to be a revolution for Tesla, but also the automotive world," predicted Culper. "Since there are no patents — as Tesla had said recently they wouldn't patent this technology — it could certainly revolutionize the industry across the board."
The question is how long until this innovation trickles down to the rest of the industry. Even if Tesla shares what it knows, there is still the issue of the high cost of electric vehicle technology to overcome.
"Electric cars sell on economy and efficiency, and the performance vector is counterintuitive," observed Enderle, "suggesting the requirement for some kind of visual distinction for a high-performance version would be higher than on a gas car.
"The market was also expecting a more affordable car, more consistent with an electrics frugal promise," he noted, "and is punishing Tesla for missing those expectations."