Launching a new car company and getting it to global scale isn't something that happens often, and it has been a long time since there has been a successful launch of one in the United States. Tesla really stands alone as the only new U.S. car company of scale since American Motors and Studebaker failed decades ago, when three auto companies then dominated the U.S. industry. One of those car companies, Chrysler, first was owned by Mercedes and then Fiat.
Creating a high-profile hybrid seemed to be the safer path, but that route ended in failure for Fisker. Instead, Tesla roared in with an all-electric strategy and redefined the car market. Thanks largely to Tesla, we now have — or will have — electric cars from Jaguar, Porsche, Audi, Mercedes, General Motors and Ford.
Yet Tesla is on death watch again, with massive losses this quarter. It is surviving largely because investors effectively have been subsidizing the cars the firm sells, which is unsustainable in the long term. (Many short sellers bet that the firm would have failed by now. Even though they were wrong, that belief was well founded.)
I'll take a long look at Tesla — pointing to what the company did right, which is keeping it afloat, and what it continues to do wrong, which is putting it on death watch — and then close with my product of the week: the new 2020 Corvette. While not electric, it looks really tempting to me now.
Tesla's Brilliance
Tesla is more like Apple than any other car company — and I don't mean the Apple of today but the Apple of last decade, when Steve Jobs ran the company. In many ways Elon Musk expanded from Steve Jobs' model of form over function, and he was far more successful with it in terms of the number of companies he launched and their impact on the world.
Steve redefined "personal computing" several times and changed the music industry. Musk has had a massive impact on transportation and space, and now is working on a better blend of man and machine.
Outside of greater impact, Steve's ability to focus did lead to more sustainable financial success because it's pretty hard to find a profit in Musk's undertakings while Apple is still, long after Steve's passing, challenging for most valuable company in the world (though trends are now unfavorable under Cook).
At the heart of Tesla's success is building advocacy with its users and leveraging that advocacy to drive sales. Even though the company has had massive quality, performance and financial issues, Tesla buyers have stuck with the company — much like the Cult of the Mac hung in there during Apple's bad years — and those buyers continue to expand, with the only real competition now coming from Porsche and the coming Taycan.
Tesla initially understood that it needed to provide a superior repair and service experience, and it did that by going to the user rather than making the user go to the dealer. The cars are attractive (though I think they look old next to the Taycan).
Tesla has a unique upgrade path, allowing a buyer to upgrade a car for a fraction of the cost of replacing it with a new car. The company also has managed to maintain a solid connection with used Teslas, providing stronger quality assurance as the cars change owners and helping to prop up their resale value.
In short, Musk and Tesla saw where car companies were not optimal and addressed those issues effectively to create buyers who are more loyal and much more likely to promote the company's offerings. That is something you see only from companies like Porsche and Ferrari. This was, and is, a massive competitive advantage — so why is Tesla in trouble?
Tesla's Critical Mistakes
Several mistakes highlight why Tesla isn't doing better. The first is that it didn't understand that in much of the U.S. municipal politicians (mayors, aldermen, city council members, etc.) own car dealerships. Fighting the dealership model put Tesla in conflict with local governments and locked it out of many states and cities.
In addition, its storefront approach, while effective regarding consideration, didn't have built-in sales incentives, so salespeople tended to be bad at closing deals.
Collectively this appears to cost the company around 30 percent of its potential market and reduces sales volume by approximately that amount.
Tesla doesn't believe in marketing, which means it doesn't control its own image and can't drive consideration outside of its user base. This is the one area where it unfortunately differs from Steve Jobs' model. Steve believed in massive marketing, which was the other side of having a limited line.
Most hardware vendors use a shotgun approach to products, where they throw out lots of different offerings in the hope that you'll like one. Steve kept his lines relatively simple and then used marketing to convince buyers that the limited choice was what they wanted.
This is a critical side of the Apple model that is failing at Apple at the moment. Tesla never really adapted to it, which will open the company to significant additional exposure now that competing electric cars are coming to market.
Another Tesla mistake was creating a value product in a premium line. The Model 3 effectively repeats a mistake made by Porsche with the 912, Cadillac (GM) with the Cimarron, and Lincoln (Ford) with the Versailles. In each case, the cars reduced the perception of exclusivity and drove down sales of lines with higher margins. We are seeing the adverse impact of the Model 3 on Model S sales and it is significant and foundational to Tesla's latest losses.
Typically discussed under the heading of "brand elasticity," it is critical that a premium brand remain somewhat exclusive. If you drop quality and price too much, which appears to be the case with the Model 3, you don't just increase sales volume with the lower-cost car. You also reduce interest in your higher-end offerings and, as Tesla is demonstrating, that can do nasty things to the bottom line.
Creating a proprietary charger solution is the final major nail in Tesla's potential coffin. What is sad is that this initially was one of Tesla's biggest advantages, because the lack of fast-charging made electrics as a class nonviable.
If you think about it, the petroleum market has been far more profitable over time than the car market that uses gas is. Once we get to a critical mass of chargers, the firms that provide the current likely will become huge profit centers as well.
Yet by going proprietary and subsidizing electrical costs, Tesla's power stations are cost — not profit — centers. This proprietary approach not only lowers Tesla's potential for profit dramatically, but also locks Tesla drivers down an unsustainable path that is tied to a proprietary charging process that won't be able to complete with future waves of standards-based chargers.
While this currently is having a relatively minor adverse impact on Tesla's revenue, in the long term it could make Tesla cars far less viable because they simply won't be able to take advantage of the for-profit charging stations currently going in worldwide.
Tesla needs to focus on moving both the cars and their stations to standards, or eventually both are likely to hit a nasty compatibility wall that neither will be likely to survive.
Wrapping Up
Odds are that Tesla is going to fail as a company and be acquired (though some disagree) but, if the acquiring company kills what makes Tesla successful and attempts to pivot it to a more traditional model, then Tesla is likely to fail.
What is needed is for the company to correct its mistakes but leave in place the massive sales and customer satisfaction engine it has established. It is also time for Tesla to refresh and update its lines — perhaps making the Tesla X less of a problem child, bringing out a small SUV and maybe a pickup truck to better match current market needs, and pulling back on some of the silly stuff like surfboards, which have little material impact and serve to distract company management.
Finally, if Tesla is going to take Steve Jobs' model, it really needs to take all of it, as using it in this partial fashion likely has been reducing sales volume by as much as 50 percent. In short, if the company could address its shortcomings without damaging its successes, it should be able to return to profitability and growth. However, if it doesn't do something by the time real competition shows up, the odds of Tesla continuing as an independent company drop off a cliff.

Sadly, the 2020 Corvette isn't an electric sports car, but it is the first GM-made mid-engine sports car that isn't a disappointment. (The Pontiac Fiero comes to mind — it was one of the most disappointing efforts in the firm's history.)
To hit price points, car makers often cut corners and create cars that fall way short of expectations. You and I likely have been tricked into buying some of these cars over the years, and if you are like me, you stopped buying from the related brands after your disappointing experiences.
Well the new 2020 Corvette is value priced for a mid-engine sports car and it doesn't seem to cut any critical corners, instantly making it one of the best values in the market. I'm a loyal Jaguar driver, but even I am tempted by this thing, which in its higher-performance form will challenge cars costing multiples of what it costs.
---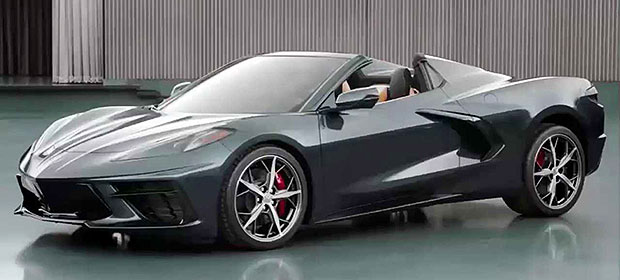 2020 Corvette
---
Corvettes often have outperformed their more expensive rivals, but this time GM effectively created a true bargain basement supercar that is affordable to the middle class. I think this is a far better effort than the Ford GT, in that the GT kind of appeals to a Ferrari buyer but the Ford brand hurts the effort.
The Ford GT is an amazing car and certainly competitive, but it is inappropriate for a high-volume vendor and missed the lesson from the DE Tomaso Pantera in terms of cobranding and placement in dealerships as a customer draw.
Corvette has its own brand and it is vastly more affordable. As a result, GM should sell several magnitudes more of them. Unless there is a general market collapse (always possible during these very strange political times), the car should sell very well and be a huge feather in GM's cap.
Sadly, at least for a while, the US$60K range base price cars likely will get one heck of a dealer markup, so pick your dealer accordingly. (In the past, buying a car from a dealer where sports cars don't sell well sometimes resulted in a far better price.)
There is a unique mobile showroom making the rounds. If you are a car person, this could be worth your time to check out when/if it comes to your neighborhood, even if you aren't in the market.
GM looked at the market for sports cars and built what arguably is the best value in the segment. It's hard to beat that, so even if I don't buy one the 2020 Corvette Stingray is my product of the week. (This is the first time I've really considered buying a new one.)