Move over, Marty McFly. Electric vehicle maker Tesla Motors on Thursday unveiled its battery-powered Model X SUV, which accelerates from zero to 60 mph in less than five seconds — without needing a nuclear reaction or a bolt of lightning.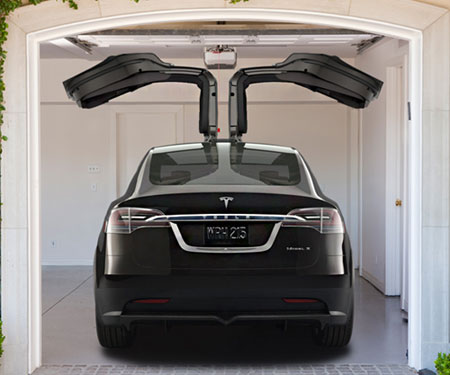 The Model X will be able to seat up to seven people, will have gull-wing doors (like Marty's DeLorean DMC-12), and is offered in three versions — standard, all-wheel drive with two motors, and a performance version of the all-wheel drive vehicle with two motors.
Production begins in late 2013, and "significant" deliveries begin in early 2014, the company said.
However, "the vehicle looks so loaded with features that I am worried about the weight and efficiency, Jim McGregor, a research director at NPD In-Stat, told TechNewsWorld. "Is this just another expensive toy for the company's investors?"
"This is the first Tesla I'm actually thinking of buying," Rob Enderle, principal analyst at the Enderle Group, told TechNewsWorld.
The Model X's Features
The Model X's center of gravity is lower than that of any other SUV, Tesla claims.
The SUV's standard configuration has the motor in the rear; the second motor is added to the front. Adding the second motor increases torque by more than 50 percent, Tesla said. Adding all-wheel drive on top of that gives an acceleration of zero to 60 mph in less than five seconds.
Second-row seats in the Model X will slide all the way forward, even with child seat installed. Its gull-wing doors, which Tesla calls "Falcon Wings," open high enough that adults can remain upright as they step into and out of the vehicle.
The Model X's dash has a touchscreen that provides access to information and entertainment — but that's pretty much the norm for high-end vehicles these days.
Tesla offers two batteries for the SUV, a 60 kWh and an 85 kWh versions. It also offers these in its Model S roadster, together with a third option — a 40 kWh version.
The company didn't disclose pricing for the Model X, saying only that it will be comparable to a similarly equipped Model S. The base model for the roadster has a price tag of US$50,000 after a tax credit.
Is the Model X Hot or Not?
Performance and technology are the Model X's main advantages, In-Stat's McGregor said. However, efficiency, practicality and most likely cost would be its drawbacks.
The vehicle's most outstanding feature for Enderle is the dual-hinged rear doors. "This configuration is better in tight spots than normal back doors, and it looks really cool," he said.
"On spec, [the Model X] smashes the class-leading Audi Q7 on almost all fronts, from acceleration to capacity to ease of use, to being cool and attractive," Enderle said. "It's probably in the same price class too." The Q7's tag is just over $47,000 before tax.
However, the Model X will be "both expensive and impractical for most people," Enderle said. That's partly because remote charging stations are not widespread enough, and it takes too long to recharge the vehicle.
Further, "the technology and use case are opposed" because electric vehicles are best for short runs in heavy traffic, whereas SUVs "are typically driven long distances at relatively high speeds," Enderle explained. Also, "I'd shudder at taking this vehicle off-road because I'd worry about ground clearance and scratches."
Tesla Motors did not respond to our request for further details.
Your Tax Dollars at Work
Tesla's investors include Daimler AG, Toyota and Panasonic. The company also received a $465 million loan from the federal government back in 2009. Founder Elon Musk has vowed not to rest until every vehicle on the road is electric.
However, it's not clear just how Tesla will attain that goal. Its vehicles are relatively pricey, and there are lots of less-expensive competitors on the market, as seen in this list of the top 10 electric car makers in the United States for 2011 and 2012.
That list includes the best-selling Toyota Prius, the Nissan Leaf, the Chevy Volt, the Ford Focus electric sedan, and the Honda Fit EV, prices for all of which start in the $30,000 range.
There are several impediments to electric vehicles really taking off, Enderle said. The technology is still nascent, they often need tax credits to survive, the electrical ecosystem — charging stations and other ancillary needs — is still in its infancy, and it takes too long to recharge electric vehicles on the move.