Tesla plans to debut its Model E electric vehicle, with a price tag south of US$40,000, at the 2015 North American International Auto Show in Detroit, according to reports that surfaced Monday on GreenAutoblog.com — based on an Autobild interview with Franz von Holzhausen, Tesla's chief designer — and theLos Angeles Times.
Tesla later told GreenAutoblog.com that it had not confirmed an unveiling in Detroit in 2015, and that the timeline for a consumer rollout remained unchanged.
Tesla CEO Elon Musk in April told Engadget the then-unnamed new model would be out sometime in 2016 or 2017.
Success Factors for the Model E
Batteries are the biggest expense for electric vehicle makers, which are focusing on reducing their cost. For Tesla to offer a $40K car at a profit, it "will need to rely on economies of scale to further drive down battery costs," Ted Hanawalt, automotive and transportation principal consultant at Frost & Sullivan, told TechNewsWorld.
Tesla cut costs by about half when going from the two-seat Roadster sports car, which is no longer in production, to the Model S, its current flagship luxury vehicle, Musk said, adding that it likely could repeat that performance.
It will have to cut the cost of the battery pack and the electric drivetrain, Musk noted. Economies of scale and the smaller size of the Model E will help.
Producing to scale may be an issue. Tesla will turn out 21,000 units of the Model S, and it hopes to double that output with the forthcoming Model X crossover vehicle in 2014.
Tesla Model S
That may not be enough to make the Model E profitable.
"I believe they will have to be at twice their 2014 production target, which would mean 80,000 units a year or more to hit [the $40K] price point if the Model E will have a range of about 200 miles, suggested Jim McGregor, principal analyst at Tirias Research.
However, Tesla won't be going it alone.
"As Tesla continues to wring costs out of their products, a key area to keep an eye on is the collaborative relationship between [it and] Daimler," Hanawalt pointed out. "Daimler's scale manufacturing expertise will be key for Tesla to produce high volumes economically."
Challenges Tesla Will Face
The range will be a key factor to the Model E's success.
Further, there is the question of whether government incentives will remain available for electric vehicle purchasers in the 2015-2016 timeframe, Tirias' McGregor told TechNewsWorld.
"If the state and federal incentives are not available, a $40K car is expensive," he said.
Tesla also will face increased competition from other auto manufacturers moving into the electric vehicles market, remarked McGregor.
As it stands now, the Model E will be much more expensive than Toyota's Prius, but "the real challenge is traditional internal combustion engine vehicles, which have dramatically improved fuel economy, and fuel prices in the United States continuing to drop," Frost's Hanawalt said.
Playing the China Card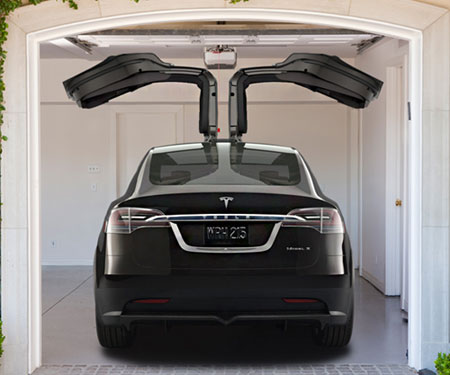 Tesla Model X
Tesla is gunning for the market in China. It has opened a showroom in Beijing where it reportedly has been taking pre-orders since August.
It launched a new website there on Monday, apparently to take preorders for its Model S and its forthcoming Model X vehicles, both of which will be rolled out in China in Feb. 2014.
"Tesla should be able to gain volume from sales in China, but electric vehicles have actually struggled [there] more than they have in the U.S.," Hanawalt said.
However, the company may end up producing vehicles there, he suggested, because "the intention of the Chinese government is to have high-technology automobile production in China."