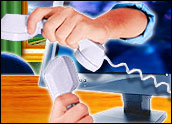 Now, more than ever, businesses want to work smarter and outdistance their competition to gain an edge. As a result, many are adopting converged communications technologies such as VoIP, collaboration, workforce mobility, and unified communications to accomplish these objectives.
Converged communications technologies provide many business benefits, including reduced operating costs, expanded voice services, and integrated business communications that improve employee productivity and support widely distributed "virtual" working groups. But the success of converged communications technologies is highly dependent on the IP network they traverse. All too often, the promised benefits and ROI of convergence are eroded by insufficient network capacity and the resulting dismal voice quality.
Most enterprise networks were engineered to carry data, and data packets are typically forgiving of typical network anomalies, such as latency, delay and packet loss. Data applications are tolerant of these losses, and users have grown accustomed to minor delays in the arrival of data over the network, as well as occasional network service interruptions.
Voice characteristics are hugely different — clear, noiseless call quality without interruption or interference is the standard. When IP voice traffic is subjected to network latency, delay and packet loss, the results are catastrophic. Conversations are impaired, users experience frustration and lost productivity, and VoIP ROI is severely diminished.
Got What It Takes?
Before the benefits of VoIP and converged communications can be realized, enterprises need to determine whether their networks are prepared for convergence and the additional network capacity they consume. Further, in order to ensure good ongoing VoIP call quality, and therefore a successful VoIP deployment, it is also essential to determine the expected voice quality the network will sustain after VoIP is deployed.
This is done through a process called a "pre-network assessment." By conducting a pre-network assessment, IT managers can assess whether common converged network problems — such as jitter, latency, delay and packet loss — are likely to occur, and whether their network can sustain an acceptable mean opinion score (MOS) that translates into high-quality voice service delivery. Conducting a comprehensive pre-network assessment accelerates the implementation process, reduces the barriers to properly configuring the network and ensures maximum capacity once convergence is complete.
What a Pre-Network Assessment Should Tell You
In a pre-network assessment, the network is put through a stress test by simulating VoIP traffic over the existing infrastructure, and grading the call quality and performance results.
Pre-network assessments should answer key quality and capacity questions:
What volume of VoIP call capacity will the current network handle?
Based on the current network configuration, what VoIP call quality levels can I expect?
If VoIP quality is not adequate, what is causing the quality impairments?
What network components are creating bottlenecks, and should they be upgraded or replaced?
What data applications are competing with VoIP call traffic and creating contention?
To answer these questions, pre-network assessments should provide broad and deep quality and capacity metrics over a period of several weeks. It is important to conduct the assessment over a sufficient period of time because networks behave differently at various times of the day and over different days of the week. Further, the metrics analyzed in the assessment process are more revealing when collected under a variety of network conditions that include peak hours of various types of activity that will likely compete for the available bandwidth and capacity of the current network.
Selecting and Deploying a Pre-Network Assessment
Network assessments are available in a variety of forms, from hardware-based probes to software-based agents. Hardware-based network assessments typically require the purchase and installation of equipment (hardware-based probes) at each location, and provisioning of server-grade boxes, which can be cost prohibitive. IT teams often want to certify hardware-based probes in their environment prior to utilization, to avoid any security risks or threats to network operations, a process that is both time- and resource-consuming and delays the process of performing the network assessment.
Software-based assessments are usually more cost-efficient, easier to deploy, and do not require the up-front investment of hardware or the delays of hardware certification. The assessment software should be downloadable from a secure Web portal so it can be easily installed at various locations throughout the network in a matter of minutes. Once installed, configuration parameters can be implemented through the secure Web portal, allowing initiation of the assessment to begin much more rapidly.
To configure the pre-net assessment, a variety of parameters are specified, including the number of concurrent simulated VoIP calls to inject into the network, the length of the calls, the packet prioritization settings and the codecs that are required. Once configured, the assessment generates the simulated VoIP call traffic and measures a variety of quality and capacity metrics throughout the duration of the study. The metrics are then analyzed on an individual call level for quality of service (QoS) and quality of experience (QoE) which includes measures of MOS, latency, packet discard, and network loss.
Assessment results are provided in both summary and detailed reports:
An executive summary that provides a high level "thumbs up" or thumbs down" report of the network's readiness to handle VoIP traffic with good call quality.
Detailed reports, by time of day, showing the peaks and lows in quality and performance, the network activity at the time of quality degradation, and the network issues that contributed to that degradation.
Armed with this information, enterprises can systematically take the necessary steps to prepare the network for the expected VoIP call traffic and better ensure the desired VoIP call quality. Without conducting this type of assessment, sustaining good VoIP quality would be hit-or-miss at best. So ensuring that the network can support quality VoIP prior to deploying is vital for maintaining ongoing IP voice call quality.
Use Assessments as an Ongoing Capacity Planning Tool
While a good pre-network assessment is mandatory prior to deploying VoIP on the enterprise network, the assessment is highly valuable as an ongoing capacity and quality management tool long after the initial VoIP deployment is complete.
Network environments are constantly changing, adding new users, applications, equipment or business processes. As these changes are absorbed, the impact to VoIP call traffic traversing that same network changes. Ongoing network assessments can significantly help identify quality and capacity issues early on, before voice quality and services degrade.
It is highly recommended that encore assessments be conducted periodically as the network undergoes changes, and the voice needs of the business expand.
---
Paul Wiggins
is a convergence technology director for
Tone Software
.