Many brick-and-mortar shops have been expanding their business to the online realm. It's no wonder why, considering global retail e-commerce sales are expected to reach US$4.5 trillion by 2021.
However, brands making the move first need to consider the differences between brick-and-mortar and e-commerce, and implement SMEA:Set Up — The first step involves brands getting their items set up online so that shoppers can buy them on Amazon, Walmart, Target and other sites.
Manage — Brands need to manage their product content consistently, organize all of it in one place, and update it on retailer websites, as well as on their own sites.
Enrich — If brands don't already have rich product content like videos and 360-degree views of their items, they need to create it to maximize product content success.
Audit — Once the content is ready to go, brands need to monitor for the updated content on retailers' sites and ensure everything is how it should be.
Item Setup
Traditionally, item setup has been handled through manual processes and a variety of spreadsheet templates and forms. The process is time-consuming and resource-intensive, not to mention fraught with errors, as teams try to cope with the thankless task of copying data from supply chain systems, product information management (PIM) systems and other data repositories to retailer-specific spreadsheets
To make matters more challenging, omnichannel retailers often have separate processes for in-store and online item setup. This has doubled the work for suppliers. As a result, suppliers have been looking to automate the process of setting up new items, in an effort to streamline workflows and free up resources to focus on other areas.
The key challenges for suppliers when it comes to item setup:
Gathering data necessary for the item setup process
Completing retailer-specific forms
Validating accuracy of the data
Submitting item setup forms to retailers
Addressing any issues
Ensuring items go live
For larger suppliers, the first step is often the most complicated. Item setup data is stored in multiple supply chain systems, while product content is stored in legacy PIM and digital asset management (DAM) systems.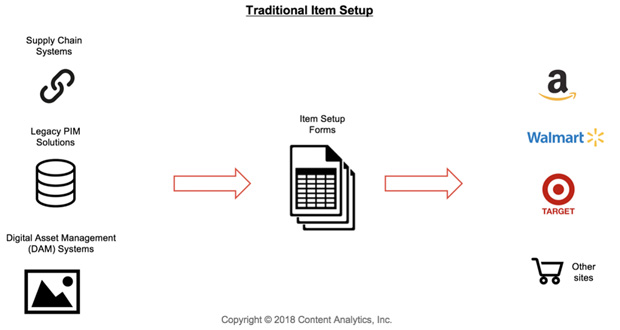 Historically, these systems served different customers with different needs. For example, internal and external customers of supply chain data didn't need long-form, search-optimized product descriptions. Rather, they needed attribute data (dimensions, weight, color, etc.), along with a short product name.
Similarly, marketing departments and brand managers didn't need item setup data, because they were focused on brand marketing and advertising. It is only recently, with the advent of e-commerce, that suppliers have needed all their data and content in one place.
Fortunately, new tools are available that make the process of gathering item setup data and submitting it to multiple retailers significantly easier. These new systems can integrate with existing supply chain, PIM and DAM solutions, or replace them altogether. As suppliers seek to get their items online faster, many are leveraging software tools and automation to get the job done more efficiently.
Content Management
To support the move to automation, new tools have emerged that consolidate the functionality of item setup, content management, content syndication and digital asset management in one place. These tools help users manage the end-to-end workflow of content management and item setup.
This workflow ensures that
New products are loaded into the system;
The correct item setup data gets added to each item form;
Each item is populated with sufficient product content initially;
Items are updated with new content as it becomes available;
Content is validated against retailer submission requirements, prior to submission;
Proper sign-offs are obtained before items and content are pushed to retailers;
New items get setup at retailers; and
Product content goes live and stays live on e-commerce websites.
When it comes to product content, many legacy content management tools help consolidate content into one centralized location, but they don't deliver that content to retailers. As a result, organizations invest a lot of time and effort getting their content into a PIM system, only to discover they have no way to get it out.
Modern PIM systems, designed with e-commerce in mind, not only consolidate content, but also syndicate it to retailers.
Retailers employ a wide variety of mechanisms to receive product content:
Web-based portals through which suppliers can upload template and image files;
Email;
File servers; and
APIs (software interfaces that allow computer systems to connect to each other).
Figuring out how to get content to the retailer is just the first of many steps in a complex process. Suppliers also must ensure that the content they're delivering adheres to the retailers requirements, or it will be rejected.
Retailers have varying image size/resolution and file type requirements, and they require varying quantities of text-based information, such as descriptions, summary bullets and product names (which also must comply with a varying set of requirements).
Without the right software, suppliers would need to perform a lot of manual work, such as checking each image to ensure it meets the minimum image size requirements, or converting images from one format to another before submission. Meanwhile, some retailers accept multiple images, while others accept only one image. All of this means that without the right tools, getting content over to a retailer can be a very time-consuming job indeed.
The good news is that modern PIM systems not only ingest content from multiple sources, but also automate the delivery of that content to retailers. For those retailers that don't accept direct connections, these systems streamline the output of completed template files and image files, so that suppliers don't have to do this manually.
However, more retailers are opening up their systems. Walmart, for example, has created the Connected Content Partner (CCP) program to enable approved providers to connect directly to its systems. More retailers are likely to follow suit.
Product Content Enrichment
Although content enrichment has been around for a long time, it's only recently that suppliers have taken an interest in enriching their product content on a very broad scale.
What's changed? Shopper behavior. More and more shoppers now start their purchase journey online, even when they make the purchase in-store. As a result, great product packaging and in-store displays are not enough.
Suppliers want to deliver the best possible digital experience. That means they need to optimize their product content for both search results and on-page conversion. To do so, they need the right combination of search-optimized product names and descriptions, combined with multiple high-resolution images, videos, rich media and reviews.
When it comes to optimizing product content, suppliers generally look at two areas of the product detail page (PDP) — the page on which the buy button is located.
Above-the-fold content includes the product name, description and imagery. This core content has received increased focus from suppliers because it has the most impact on search results.
Below-the-fold content requires the user to scroll down on the page or click additional navigation links on a mobile device. However, incorporating this content into a page helps provide more detailed information to shoppers and has been shown to increase conversion rates. It often includes comprehensive marketing content, comparison charts, videos, and 360-degree product views
Historically, rich media has been used most frequently in categories like electronics. Recently, suppliers across a number of categories have started leveraging rich media. PepsiCo is one example — it has leveraged enriched content across its entire product line, such as with this enhanced marketing content on Walmart.com for its recently launched sparkling water line.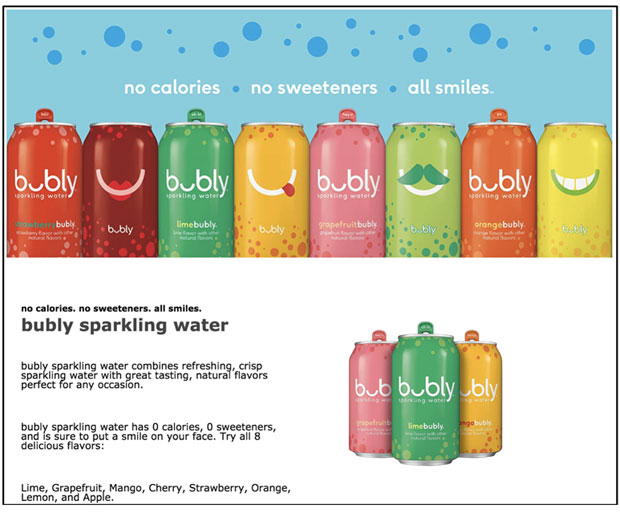 Since the Bubly line is new, this enriched content is especially useful. It enables PepsiCo to provide shoppers with additional information, educating them about the new product offering.
Website Audits
The final step in the content process is auditing. Auditing is the process of validating that content has gone live on a retailer's website. Retailers accept content from multiple sources (including internal sources, such as in-house photo studios and copywriting teams).
To address this, retailers use a variety of approaches to prioritize which content is displayed. Some assign a specific priority to each content source, while others push the most recently received content live to the website.
Due to these factors, it's important for suppliers to audit the content they push to each retailer.
Doing this auditing by hand is a slow and cumbersome task, and one that has to be repeated every single day. That's why choosing a software platform that includes built-in auditing is a must. Leading platforms include a variety of automating tools, including visual comparison tools like the one shown below.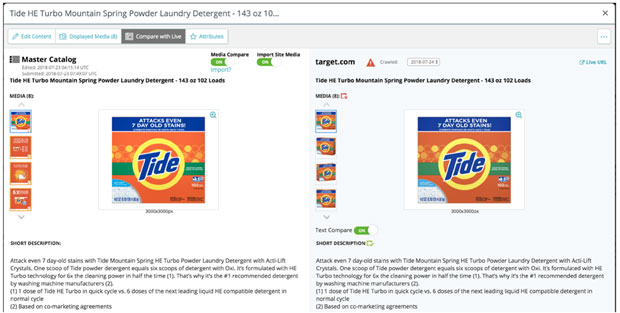 Click Image to Enlarge
Built-in image and text comparison features compare the content the supplier submitted with content currently available on the retailer's site, identifying any differences and rolling them up into a summary dashboard, and sending alerts/notifications directly to users. These tools enable suppliers to streamline their workflows so they can focus on handling key exceptions rather than trying to find issues across thousands of items and dozens of retailers.
SMEA in Action
Firms like PepsiCo, Mattel and many others have found that the four-step SMEA approach delivers the very best results when it comes to delivering great digital content at scale. Without the right tools, suppliers need to deal with an overwhelming number of systems, templates and item pages.
However, with the right tools, they can streamline their workflows so that rather than having to spend their time managing a cumbersome process, they can invest their time in building great content that sells.