HP has made incredible progress over the last few years with Meg Whitman at the helm, which was evident at its annual analyst meeting last week. It has made major progress in the cloud, in devices, and in how the company is run. The result should be an increasingly interesting set of products and services uniquely differentiated in the market.
This effort was far from easy, and I was one of the folks who, had I been asked at the time, would have said it was impossible — HP was in that big a mess. Then again, Apple looked impossible, but Jobs pulled that out, suggesting when the right person takes the top spot, impossible gets done.
Since I'm on HP, my product of the week is a really interesting Windows 8.1 extremely well-priced 2-in-1 touchscreen laptop from HP. It's one heck of a product for under US$400.
HP's Mess
When Meg Whitman took over, it was after a series of HP CEOs had been fired or forced to resign from the company. Carly Fiorina came in as the closest thing to royalty that I've ever seen in a CEO. She was hired to shake up the company, and part of that process appeared to be to position her to be queen of the United States.
She actually did some really interesting and positive things, but her attitude toward her board, her employees and her job destroyed much of what she intended to accomplish, including her eventual goal of becoming president of the country.
Fiorina was replaced by Mark Hurd, who gamed his compensation package and returned the company to profitability largely by selling off or cutting costs and jobs so deeply that people actually started wishing for Carly to come back. The financial analysts loved him — HP employees not so much. He apparently felt HP owed him a mistress, and that ended very badly. Fewer people were sorry to see him go than Carly — the exceptions being some of the financial analysts and Oracle's Larry Ellison, who later hired him.
Hurd was replaced by Leo Apotheker, who had failed as CEO at SAP, and spent much of his short time hiding from Oracle process servers. It isn't clear if he actually ever was able to do the job — he was in and out so fast, the paint of his name on the door likely never dried. He was hired to turn HP into a software company, but a similar strategy had largely killed Sun Microsystems, and it is doubtful Apotheker would have been any more successful. He wasn't around long enough to do more than create additional confusion.
Meg Whitman took over a job that largely had been rendered redundant. Her challenge was to run a company that either ignored or hated its CEO. The company was still in the midst of three unexecuted and very different strategies, inconsistently applied across the firm, and she had to some of its executives thought she was just holding the CEO spot ready for them. HP wasn't just messed up — it was a catastrophe. Two of its key partners (Oracle and Cisco) had become competitors, and every competitor agreed on one thing: HP's customers were both attractive and very available.
The only reason I can figure that Whitman even took the job was that she had no real idea at the time how bad it was. She likely saw her life flash before her eyes when the entire magnitude of the problem became evident, but damned if she didn't step up.
Whitman's Turnaround
Whitman approached the problem systematically. First, she put in place a series of responses to the competitive threat and successfully reassured both the customers and financial analysts. She protected and empowered her CFO and her head of HR, who then worked to stabilize the firm's finances and employees, ensuring she could reliably predict HP's current and future performance, which built additional trust with both employees and financial analysts.
Part of this process involved assessing, promoting and hiring a team that was loyal to her, and once she had stopped much of the bleeding, she made critical staffing and organizational changes to consolidate the company's efforts around the cloud, attracting a wider variety of clients increasingly dependent on the cloud, developing printers that increasingly lived off the cloud, as well as services, networking, server and storage components that would outperform competitive offerings.
These included revolutionary server products like Moonshot, advanced Software Defined Networking and Network Function Virtualization, some very unique and powerful telecommunications-focused services, massively improved corporate security and analytics offerings, regional cloud-focused data centers, and advanced industrial-grade highly configurable printers. HP made huge increases in R&D funding for advances in each strategic area. Seriously, holy crap!
HP's Future
HP's turnaround isn't yet complete — but much of the heavy lifting is done, and now you can see movement toward future leadership positions it will be taking. There are five areas I find the most interesting: Moonshot, its unique cloud-optimized server technology; Memristor, a really fascinating storage processor that could redefine how computers (both PCs and servers) are built; phablets (small tablets that are also phones); NFV (Network Function Virtualization), which could revolutionize telecom level cloud networking; and fast 3D printing.
Each of these technologies represents massive changes and improvements in how and where we do computing, and each allows us to approach computing as a utility, which is where the market eventually is headed. On 3D printing, expect something that mirrors HP's advantages in paper printers and makes the current generation of 3D printers that operate at snail speeds obsolete, moving from parts per day to parts per minute.
Internal changes to HP include a massive adoption of Net Promoter Score as a method of measuring executives. This focuses executives on employee loyalty and advocacy, and a similar move by EMC a few years back massively reduced customer churn, significantly improved sales growth, and focused decisions on what customers wanted, in many cases shifting efforts from features to making both the products and the firm easier to work with.
Wrapping Up: The Big Picture
With a company like HP, it is easy to get lost in the details and fall in love with only one product or service. As analysts, we are generally forced to specialize, and that means few can see how powerful the totality of HP's changes really is. The end game, at least in this cycle, is a very different experience, starting with small tablets that also become your phone, and leading to massively improved cloud services that are both far faster and far more secure than other offerings today.
This movement will connect us to cloud products that redefine what we can create — from printed products in our homes to printed wall coverings (check out this video) and flooring, to entertainment that initially is more customized for us and eventually includes us in the creation process.
HP isn't just showcasing a new computer company but a new technology industry — one that is more responsive, more agile, and more focused on what we want than on burying us in features that complicate our lives, confuse and annoy us. Strangely, HP was created to revolutionize the computing world. It lost its way for a while, but Meg Whitman's HP is very much back on target. That is an amazing transformation.
Product of the Week: HP Pavilion X360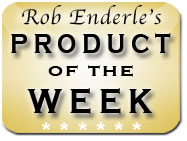 Windows 8 touch products typically run around $1,000 which places them out of the price range of most buyers. This has been one of the problems with Windows 8; the touch-enabled products (and Windows 8 really needs touch) are just too expensive.
The HP Pavilion X360 comes in priced below an iPad, and yet it is a fully featured Windows 8.1 2-in-1 laptop.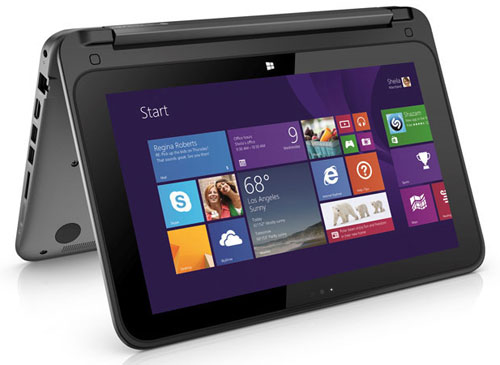 HP Pavilion X360
While it isn't a games box by any stretch of the imagination, most notebooks aren't — but even though it is value-priced, it feels sturdy, and it provides amazing battery life and processor performance for the price. It has a soft touch service and comes in either a near-black deep silver or almost Ferrari red.
The screen folds back under the keyboard, turning it into a tablet and expanding its utility. The laptop/tablet is powered by the Intel Pentium processor, which is a surprisingly good inexpensive part. In the end, the HP Pavilion X360 may be the best value in a Windows 8.1 product. It is a showcase for the new HP and my product of the week.