Apple sent emails to a small number of customers last week, inviting them to apply for the company's new Apple Card, and a privileged few have become the first to enroll in the program.
The rollout is limited to qualifying applicants in the United States.
The Apple Card, which is a virtual Mastercard issued by Goldman Sachs Bank USA's Salt Lake City branch, will roll out generally later this summer.
"Given the digital nature of the card, we'll see a lot of A/B/X testing to let Apple catch any issues early before a mass rollout," noted Ray Wang, principal consultant at Constellation Research.
The Virtual Apple Card
The Apple Card will run on iPhone models iOS 12.4 or later with Face ID or Touch ID, except for the iPhone 5s. It also will run on the Apple Watch, on iPads, and on Macs with Touch ID.
Customers can set the Apple Card as their default payment card for various Apple services.
The card shows items purchased, organized in color-coded categories such as "food and drinks," "shopping" and "entertainment."
It uses machine learning and Apple Maps to label transactions with the names and locations of businesses where purchases were made.
Purchases are authorized with Face ID or Touch ID and a one-time unique dynamic security code.
"The principal claim to fame of this card is that it's totally electronic, but many credit cards are going that way anyway," said Michael Jude, program manager at Stratecast/Frost & Sullivan.
"It's possible to buy apps right now that virtualize your conventional credit cards for use with your smartphone," he told the E-Commerce Times.
Apple does not receive information about where customers shop, what they buy, or how much they pay.
Goldman Sachs will not share or sell data to third parties for marketing and advertising.
The Titanium Apple Card
Apple also has designed a titanium Apple Card for shopping at locations worldwide where Apple Pay is not yet accepted but Mastercard is.
This titanium card bears no CVV security code, expiration date or signature. All of that information is stored in Wallet, which has a hard-coded virtual card number that is autofilled for online purchases.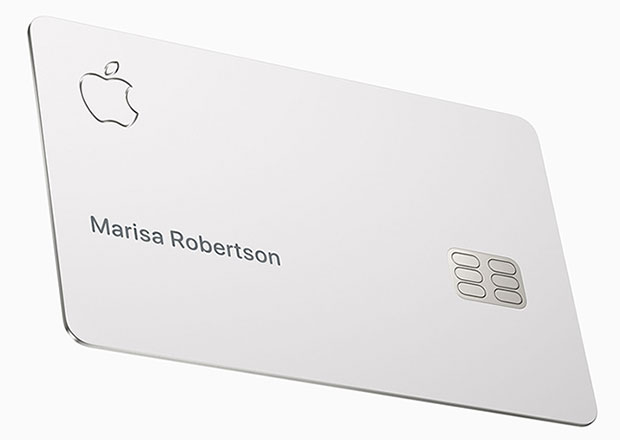 Customers will get 1 percent Daily Cash for purchases made with the titanium Apple Card.
The titanium Apple Card can be activated using an iPhone that supports the Apple Card.
Consumers can lock the card if they do not carry it, so that it cannot be used to make purchases. They can unlock the card at any time using the Wallet app.
"Security provides a big differentiator, with biometric verification on the device, one-time dynamic security code generation, and contactless payment," Constellation's Wang told the E-Commerce Times.
Fraud Protection, Cash Back
Customers are not liable for fraudulent charges after notifying Apple.
There are no fees associated with the Apple Card, but interest on late or missed payments will continue to accrue at the regular interest rate charged.
Initial credit limits and annual percentage rates apply. The APRs range from 13 percent to 24 percent as of Aug. 2, based on the applicant's creditworthiness.
Customers get a 1-3 percent cash back reward — called "Daily Cash" — for purchases made. The cash is calculated and returned daily to their Apple Cash Account as soon as purchases settle.
The Daily Cash reportedly can be transferred to a consumer's bank within one to three days for free. An instant transfer will cost a maximum of US$10.
Consumers can spend the cash as they like, apply it to their Apple Card balance, or send the cash to someone else through iMessages.
"Cash back isn't a new benefit in the card payment space," noted Eric Smith, research director at Strategy Analytics. "Apple has to get users to break the habit of using existing cards, and needs to provide incentives for them to do so — hence no annual fee and a straightforward cash back."
Over time, Apple might extend Daily Cash into travel purchases or other areas, Wang suggested.
Cash back and the freedom from fees will provide consumers more incentive to make purchases of Apple products directly from Apple and from stores that accept Apple Pay, Smith told the E-Commerce Times.
Pushing Apple Pay
"In the long run, the Apple Card provides another incentive for merchants to accept Apple Pay once [the card] reaches critical mass," Smith observed.
Only half of Apple customers use Apple Pay, Wang pointed out. With the Apple Card, Apple has "created an offering that includes a physical card, a digital wallet, cash rewards, and personal finance management tools to spur adoption."
Apple Card users will not earn reward points, which might be a problem.
"If cash were best, Discover would be king, but they aren't, so it likely isn't," said Rob Enderle, principal analyst at the Enderle Group. "I expect Apple may have to alter this in the future."
On the other hand, the Apple fan base "has historically been willing to take an Apple offering over alternatives that are better, so it may not be the problem for Apple that it would be for others," he told the E-Commerce Times.
Apple customers "are locked into Apple, which is expert at mining money from its users," Enderle noted. The Apple Card "will make it easier for the firm to do that, and I doubt many realize yet what this will cost them long term."