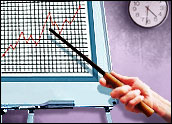 Organizations are being pressured to extend the delivery of actionable information to all people when, where and how they need it. This requires that companies have the ability to combine, aggregate and integrate information to ensure that it reaches its intended audience in the most timely and effective manner possible. Unfortunately, the business intelligence (BI) skill sets required to meet this demand are in limited supply, resulting in projects that are delayed, over budget, and often lacking the data and information necessary to meet business goals.
Aberdeen research reveals that more than 80 percent of all companies surveyed rate the delivery of actionable information to the enterprise as a top 10 priority, yet 37 percent report that enterprise use of business intelligence has remained the same, decreased or that they simply do not know which way the usage is trending. Best-in-Class (BIC) organizations — those who have achieved the best performance towards alleviating this pressure — provide a benchmark against which comparisons can be made to the "big four" BI vendors — Business Objects, Cognos, Oracle/Hyperion, and SAS.
Serving the 'BI Underserved'
While customers of all four vendors outperform Best-in-Class companies when it comes to maturity with enterprise information delivery, primary users of BI applications still seem to be "IT power users." According to 40 percent of survey respondents, C-Level executives are the most underserved by current BI capabilities.
This need to provide relevant parties with actionable information is causing many of the companies interviewed for Aberdeen's July 2007 benchmark study, "Delivering Actionable Information to the Enterprise," to deliver more BI access and information into the hands of non-IT business users, including both management and line-level knowledge workers — the "BI underserved" (Figure 1).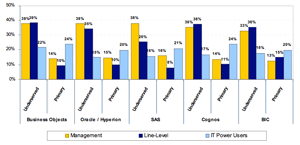 (click on image to enlarge)
Despite the number of "underserved" users of BI applications, enterprise use of BI among Best-in-Class companies is on the rise. Recent Aberdeen research has investigated how organizations are approaching the growing demand for BI across the enterprise.
Spreading the Knowledge
Reporting and analytics solutions have grown from an exclusive tool for power users to a critical business application for all knowledge workers. Currently, departmental use of BI is still dominant at "big four" customer organizations with the exception of SAS customers (Figure 2).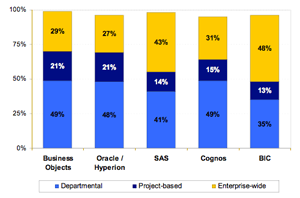 (click on image to enlarge)
When asked if enterprise-wide use of BI applications had increased, decreased, or remained the same over the past two years, respondents uniformly reported an increase. It should be noted that none of the big four customers reported growth at the same rate as Best-in-Class customers. Very few respondents (none in the case of Business Objects customers) reported a decrease in enterprise use of BI applications.
Recommendations for Action
All companies investigating the expansion of BI capabilities to the enterprise, and particularly big four BI vendor customers, should consider the following:
Limited BI skill sets are a primary cause for failed BI projects, and Best-in-Class organizations are focusing on alleviating this pressure. The underlying cause for this may stem from the complexity of BI application interfaces, or users' lack of understanding and trust of the data presented to them within BI applications.
If the former is the case, an institutional approach to training and building a BI culture through a BI Center of Excellence may be the appropriate path. If the latter is the case, particularly if you are using or considering investing in a product from one of the vendors listed above, focus on solving data quality and integration issues before deploying BI applications to users.
Underserved stakeholders are made up primarily of management and line-level knowledge workers who have traditionally had only surface-level or almost no access to BI applications. This is not surprising due to BI's history as an IT-centric tool used for looking at data trends and complex analysis of business operations across large swaths of summarized data and time periods.
BI On the Front Lines
As BI is becoming more targeted to operational information, look for opportunities to address line-level workers with BI applications that do not require heavy analytic skills and education on complex interfaces and data manipulation tasks. Management needs to straddle the chasm between strategic thinking and operational tactics. Ensure that your BI provider can deliver solutions and interfaces for all levels of the organization, and are not focused on one job role or information delivery approach.
Best-in-Class companies report that almost half of their BI deployments are at an enterprise level. Companies that are striving to achieve "one version of the truth" and eliminate "information stovepipes" should consider an enterprise BI strategy. Companies that are struggling to reduce information disparity are likely those that are still feeling greater pressure to solve data quality and integration issues, and have also not deployed BI across the enterprise, but have allowed it to be used within specific departments and projects.
Customers of the big four BI vendors have clearly indicated that they need assistance with data quality and integration. If you are considering one of these vendors, make sure that they have a clear solution for these requirements.
Customers of Cognos and Business Objects need to ask the new parent companies about plans for support and integration of their new acquisitions, and also about support of competing BI / CPM implementations. As Cognos transitions into the IBM environment, and Business Objects is absorbed (or not) into SAP, will there be new product and company roadmaps that may affect long-term decisions? Will there be issues around platform or ERP application integration with one BI product vs. another? Organizations that use both Cognos and Business Objects software should be aware of new long-term strategy announcements and their implications on future product development and positioning.
---
David Hatch
is a research director for the Aberdeen Group, where he focuses on the role of business intelligence in enabling the delivery of actionable information to the enterprise. He can be reached at
[email protected]
.
---