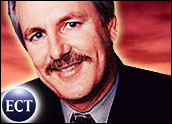 At this time of year in the United States we have a tradition: It is called Super Bowl Sunday. In this annual tradition, we spend prodigious sums of money to have an extremely large TV installed in our homes, have lots of friends over to watch a bunch of guys run up and down a big lawn, and then fail to actually watch the game because we are too busy eating and talking. It doesn't matter anyway because the two teams playing are generally so mismatched that the outcome is almost always known in the first 15 minutes or so.
This week, every vendor in the United States that can sell a TV will be trying to get you to buy one. In years past, you only had to choose between different sizes of TVs and vendors. But this year the market has exploded with plasma TVs, LCD TVs, rear-projection sets, front-projection systems and low-cost tube-based TVs with flat screens. So I am going to help you choose the right set to help you find a bargain that also fulfills your long-term needs.
Let me first suggest that you not spend a lot of money on a traditional TV. They are heavy, and once one wears out, you'll likely have to pay a relatively high waste fee — if not a chiropractic fee — to dispose of it. My suggestion is to wait until you can afford one of the newer designs rather than buy a CRT-based display.
Plasma Displays Vs. LCD
First, decide if you want the TV to be on a table, on the floor or on the wall. The difference between display types can be daunting. LCD displays can be as small as 14 inches — not something you will want to party around — or as large as 30 inches. The advantage of LCD TVs is that they age very well. They rely on a light bulb that can be replaced after it burns out, which usually happens at the five-year mark.
LCD TVs also are very easy on the environment. They draw little power, and their production generates little in the way of hazardous materials. The disadvantage of LCD TVs is that they are relatively expensive and don't get much larger than 30 inches. Also, demand for these things has been so strong lately that they actually have been creeping up in price because manufacturers can't make enough of them. If you are wondering where that laptop you ordered is, it is probably waiting in line for an LCD display.
That's where plasma TVs pick up. Their displays are typically between 40 and 60 inches, and that is their main advantage over LCDs. Like everything else, plasma displays wear out. Under heavy use, you'll get about three years out of a plasma display before you notice severe fading. If you leave a plasma display on all the time, it might actually degrade to a point at which it is nearly useless. What wears out is the panel itself — kind of like how a fluorescent bulb wears out — and there is nothing to do but discard it. Fortunately, they too are relatively environmentally friendly.
I have a 2-year-old 42-inch Sony plasma display in my home. It was brilliant when it was new. But I use it a great deal, and I didn't realize how badly it had degraded until I received a 30-inch LCD HD set for testing from Gateway. Unfortunately, when I put the two sets near each other, the difference was amazing. LCDs hold their quality longer. I have LCDs in the house that are older than the plasma screen, and they still look as good as they did when they were new.
Front and Rear Projection
You can get a real movie experience with a front-projection system because the screen basically can be as large as you need it to be. After all, you're broadcasting the screen onto as large a canvas as you want. However, before you go this route, look at the space where you might place the projector, and look at how much the bulbs cost. Wiring these things so they look good and aren't trip hazards can be really expensive — and the bulbs typically start at about US$700 and go up from there.
At that price, you might want to use a projection system only for Super Bowl games and blockbuster movies — unless you are Donald Trump. Even if you are Donald Trump, these front-projection systems aren't designed for daily TV watching.
That leaves us with the best deal on the market today: a rear-projection TV. These can be used daily, and the bulbs both last longer and aren't anywhere near as expensive as those for front-projection TVs. The newer rear-projection TVs are based on LCD technology. The three little letters you want to look for when you're buying a new front-projection TV are DLP — Digital Light Processing — which describes this relatively new way of watching high-resolution TV.
LCoS and HDMI
Liquid Crystal on Silicon (LCoS) technology is even newer than DLP and promises higher resolution and lower cost. Some LCoS systems are on the market now. While they haven't yet hit the price points they will hit in the next two years, they are interesting designs nevertheless and are worth considering.
Finally, at CES this year, manufacturers seemed to agree that the next big interface will be High Definition Media Interface (HDMI) technology, a new interface that offers several advantages over the interfaces that are currently available. HDMI technology only shows up on the most expensive sets. But if you are wiring a wall mount, it might be wise to rig for an HDMI cable just in case. I sure am wishing I did at this point.
We'll revisit the TV-technology issue again at the end of the year, when there will be a bunch of new choices on the market. Until then, good luck shopping, and don't eat or drink too much on Super Bowl Sunday.
---
Rob Enderle
, a TechNewsWorld columnist, is the Principal Analyst for the
Enderle Group
, a company founded on the concept of providing a unique perspective on personal technology products and trends.
---