New technologies are changing the way we watch video.
DVRs, VoD, and online video are freeing us from the broadcast schedules that previously dictated when we could watch programming. The latter two, combined with an ever-growing number of channels, are dramatically increasing what we can watch. The revolution in video habits is not yet complete, however. Whole-home DVRs, remote online access to content, and integration with mobile phones promise to change where we can watch video. Interactive TV features and 3-D TV promise to change how we watch video.
How rapidly will these changes occur? Who will be the winners and losers of these changes? How can the industry profit from these changes?
Finding Certainty in Chaos
To answer these questions, Parks Associates conducted a five-country study of European video habits entitled "Entertainment 2.0 in Europe." The study surveyed over 5,000 consumers on their use of DVRs, VoD, DVDs, cinemas and online video, as well as their interest in interactive TV features. The results reveal the current status and future direction of the market.
For one, traditional distribution methods still dominate the European landscape. Even among broadband households, cinemas and DVDs are more popular than VoD or online video. At the same time, video consumption is clearly shifting toward the new distribution methods; online video is cannibalizing some DVD and cinema use. All this is to say that the revolution is under way, albeit at a slower pace than some might imagine.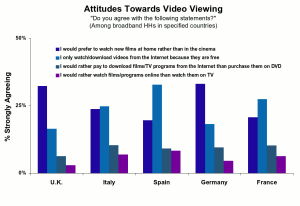 (click image to enlarge)
Parks also discovered that consumers are much more concerned with the what, when, and where of video consumption than the how. The most desired pay-TV enhancements are those that provide a greater choice of content, more flexibility in viewing times, and more potential viewing locations. The ability to watch prime-time programming on-demand was consistently the most desired enhancement, followed by the ability to "start over" prime-time programming in mid-broadcast — two applications that impact the "when" of TV viewing. Multiroom DVRs (a "where" enhancement) ranked No. 3, followed by TV-based access of PC content (another "what" enhancement).
On the other hand, the desire to change "how" we watch video is lukewarm at best. Consumers express strong interest in on-screen caller ID, with some interest in on-screen informational widgets, but other communication features (email, instant messaging, video-conferencing, EPG changes such as recommendation engines) garner little enthusiasm.
Obstacles to Enhancing Video Consumption
We identified several key challenges to monetizing demand for enhanced video services. One is an inherent tension between changing the what, where, and when for video consumption while leaving the how unchanged (or at least familiar). Consumers want ubiquitous on-demand access to an extensive library of content, but they do not want to substantially change the way they consume content. They report a decisive preference for familiar, traditional distribution channels (cinemas, DVDs, etc.) over online and PC-based channels.
A second challenge is the lingering presence of piracy in Europe. Widespread availability of free, unlicensed content in Spain and Italy, for example, undercuts the demand for fee-based services by providing consumers with an alternative means of expanding the what, when, and where of video consumption. The unlicensed path, however, requires consumers to change how they view video, because it forces them to watch content online via a computer.
A third challenge is the presence of government-funded public broadcasters. Public broadcasting does not undercut demand for new services per se, but in select cases, it enervates the strength of service providers by offering an alternative to pay TV. Germany provides the best example, where a richly funded public TV sector has inhibited the development of strong pay-TV providers and, subsequently, the deployment of enhanced video services.
The what, where, and when of video consumption are changing, and the industry can adapt to — and profit from — these shifts.
---
John Barrett
is a research director at
Parks Associates
.
---