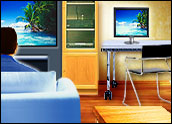 The word "connected" appears no less than 13 times in the press release Microsoft issued to broadcast its DVR Anywhere launch at CES:Microsoft Mediaroom Brings Connected TV to Life.
The software system allows people to view recorded TV content all over the house. Just imagine: You can start watching a movie while cooking in the kitchen. Others can watch the same fare from the den, the living room or wherever there's a TV. Or they can watch something else.
Then everyone can sit down and continue viewing it together while eating dinner — assuming you have a nice flat screen TV mounted on the wall over your dining room table, with all the chairs on one side (you know, the way families arrange themselves in sitcom kitchens that still perpetuate the American myth of sharing an evening meal). Or, more likely, everyone can grab a plate and go back to their own little world.
After the meal is over, those on clean-up duty can watch the final act in the kitchen while they load the dishwasher, while others can finish viewing it from the living room sofa — or wherever. Basically, everyone can do their own thing. No fighting for the remote, Microsoft promises.
Nose in a TV
"With Microsoft Mediaroom, consumers are promised new ways to extend their TV experience beyond the living room, making the TV a major hub of the connected entertainment lifestyle," said Pete Dailey, senior research analyst with Stratecast Research.
Ok, never mind that TV has been the major hub of home entertainment since the '50s. This is the part that's really head-spinning: "Microsoft is delivering on its promise to make the television experience truly social, personal and connected," said Enrique Rodriguez, corporate vice president of Microsoft's connected television division.
The "social" part is a reference to a new application designed to let users connect to their social networks through the TV. Cool. You can stay tight with your online buddies even while ignoring everyone in your immediate vicinity, if you so choose.
The "personal" part is the ability to transform the TV-viewing experience to something much more like reading — solitary, that is.
Long gone are the days of sitting in the parlor and passing a book around to read aloud for everyone's enjoyment.
Gone too are the days of tuning in at an appointed time to invite Johnny Carson into the living room, or breathlessly anticipating the next chapter of "Roots," or being part of a ratings-exploding event in which millions watch the helicopter fly over the 4077th for the last time.
Gone is the ritual of sharing reactions to prime-time hits with coworkers or schoolmates the next day. Now it's far more common to hear, "Don't say anything — I Tivoed it."
Heading for oblivion are the days of gathering in groups of two or more to watch anything, it seems — and that strikes me as a sad thing. Whatever — life goes on.
Walls Closing In
What I find astonishing, though, is that this fracturing of the entertainment experience — this push toward wrapping individuals ever more tightly into their custom-designed pods — is masquerading successfully as a move toward a more "connected" lifestyle.
Some technologies truly connect — like e-mail and cell phones and social networks and blogs. Others, despite how seamlessly they're integrated, do a far better job walling people off from each other than bringing them together.
Say "good morning" to a person who's listening to an iPod on the elevator, for example, and you may get a polite response (if you're noticed at all) — but there's not much of an opening for interaction if she's bobbing her head and singing along sotto voce to her own special song.
Personal isn't social. In fact, it's the opposite. When we fight over the remote, at least we're talking to each other.
Click here to e-mail Mick Brady.