This year I did not go to CES again because of the pandemic. I was less worried about being in Las Vegas than I was about the travel to and from the event because the infection rate where I live is a bit off the charts. As a result, I rarely leave home.
In any case, much of the event is streamed, and I was able to find several things that caught my eye at the show. Let's cover those things this week — and we'll close with my product of the week, which appropriately enough is my favorite product from CES 2022.
Bed of the Future
I often talk about my Ooler sleep system which has been a godsend over the years because it assures I am always at the proper temperature for a sound sleep. Well, at CES there was a bed that caught my attention that is more of an integrated approach to this sleeping problem. It is the Sleep Number 360 smart bed.
This bed has integrated lighting that supports your circadian rhythm, an integrated Bluetooth connection for white noise and other audio sources, an optional table for late night snacks and breakfast in bed, a storage pocket with built in charging for your tablet and phone, reading lights with color and intensity adjustments, and optional mobility accessories to help you move around the bed as you age.
The Sleep Number 360 also has back lift and recline for reading or watching TV. The bed produces reports on the quality of your sleep and provides suggestions on how to improve it. It helps you keep cool and has a foot warmer feature that can help keep your spouse from using the cold feet wake up method, which is seldom funny to the person getting it, but is surprisingly hilarious to the person doing it.
Teleportation
Over a decade ago I attended an event hosted by Marvell Semiconductor where I got to meet Stan Lee, (yes, that Stan Lee), and where several future technologies were showcased. One of the most interesting was a large, high-definition screen display placed in a door frame and tied to a video conferencing solution.
The experience was like walking up to a doorway and talking to someone through the door. You saw the whole person, hand gestures and body language, and even though we were not yet at 4K resolutions, it felt far more natural than the upper-body-focused and conference room solutions we have today.
Two companies at CES showcased more advanced solutions like this.
Portl had both a desktop and a human-sized teleportation booth. The desktop solution was surprisingly compelling because it has a broad variety of uses and provided a credible 3D experience and a digital assistant capability that was amazing. It also looks like you could use it to really freak out your pets.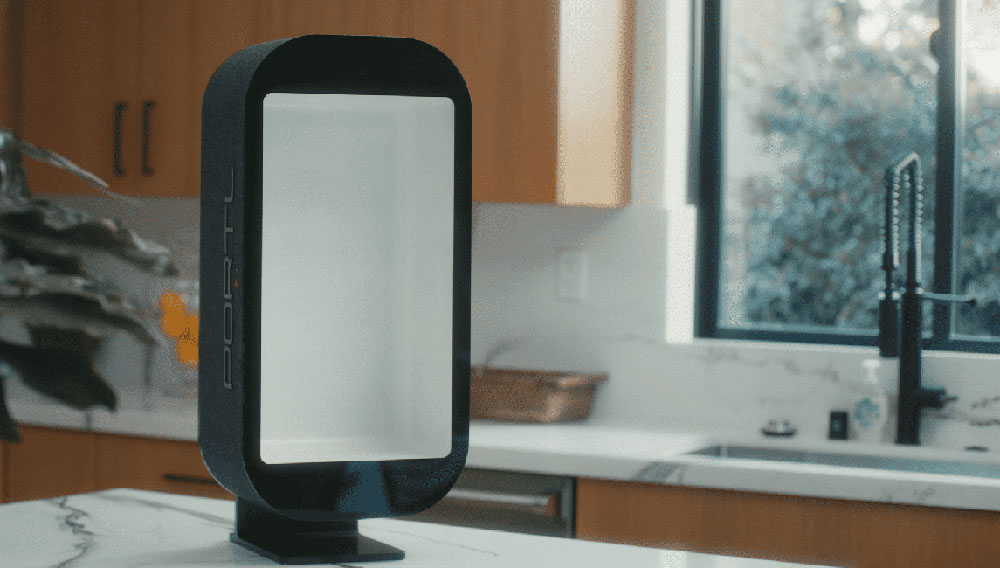 The Portl  "M" tabletop holographic communication and media device. (Credit: Portl)
---
La Vitre had a solution more like what I saw at Marvell. It lacked the 3D capability of the Portl device, but it was less expensive at full size and more focused.
Coolest Computer Case
I still build my own desktop computers and I am always looking for that next cool computer case. Cyber Power released its Kinetic series of computer cases, and this is something that is just over the top cool. It has active vents that dynamically and visually open and close automatically when needed. Check this out:
This case looks like it has huge jewels in front that move into open ducts progressively as your workload increases. It is like nothing else I have ever seen, and it is on my short list for cases to buy when I do my next build, assuming it is available in black because I am not buying a white case no matter how cool it looks.
Robotic Vacuum
I have three robotic vacuums in my house. The best one from iRobot has a docking station that sucks the dirt out of the small container on the robot, allowing it to go weeks without a human needing to empty the bag.
Well, Roborock went one better with its Roborock S7 MaxV Ultra that not only vacuums but washes the floors as it goes.
It also has a dock that both replaces the water and gets rid of the gunk the robotic vacuum/mop picks up.
I have tile floors and while the existing vacuums do a nice job picking up the dirt, whenever I wipe the floor, it is clear it needs to be mopped. Finally, a robotic vacuum that can deal with folks that have lots of pets and hard surface floors.
Desktop PC
I know I mentioned that I build my own PCs but that doesn't mean I don't lust after prebuilt models. Every PC vendor of note announced new products at the show, but the gaming PC design that caught my eye was the HP Omen 45L.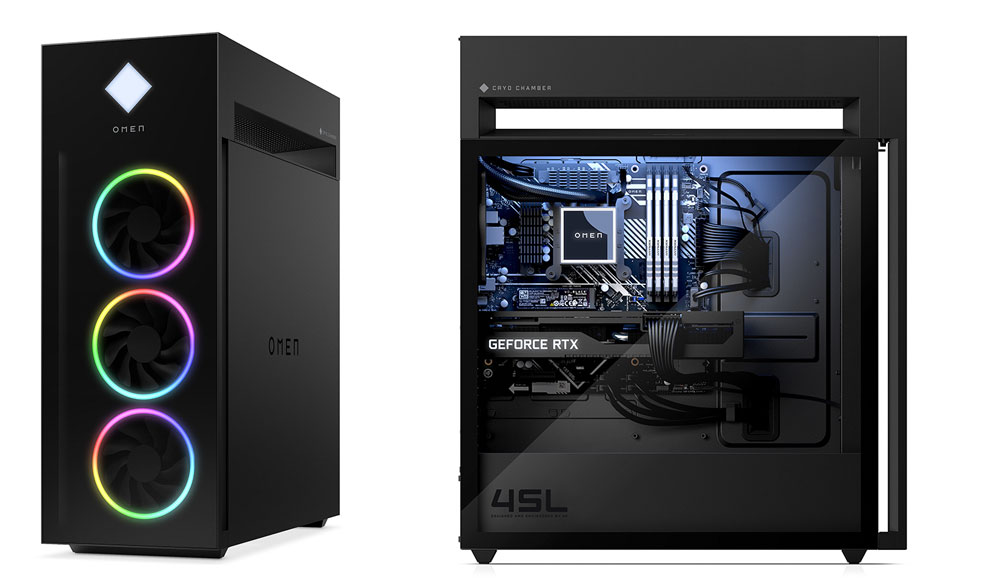 HP Omen 45L Gaming Desktop (Credit: HP)
---
What made this machine interesting was how the radiator is isolated for water cooling, so you don't use either the hot air out of the case to cool the radiator or pull the hot air in the radiator into the case. Most of my builds do one or the other, but that's sub-optimal because you want cool air in the case and through the radiator for the most effective cooling.
This Omen 45L reminds me of using an intercooler for a blown car which has the same effect (another one of my hobbies is building hot rods). The isolated cooling solution also helps with cleaning up the interior of the case and carrying it. This was the most innovative case design from a major vendor at the show and I lusted for it a bit.
I should note that my favorite laptop from last year was also an HP product, the Elite Folio laptop.
Best Monitor
The best monitor at the show was the Samsung Odyssey Ark which likely comes with the warning that if you have to ask how much it costs you can't afford it.
I use a forty-nine-inch Dell monitor on my desk which I thought was pretty big, but this Samsung monitor is a 55-inch monster that curves over your head, creating not only the largest workspace I have yet seen but that should be incredibly immersive for driving and flying simulators.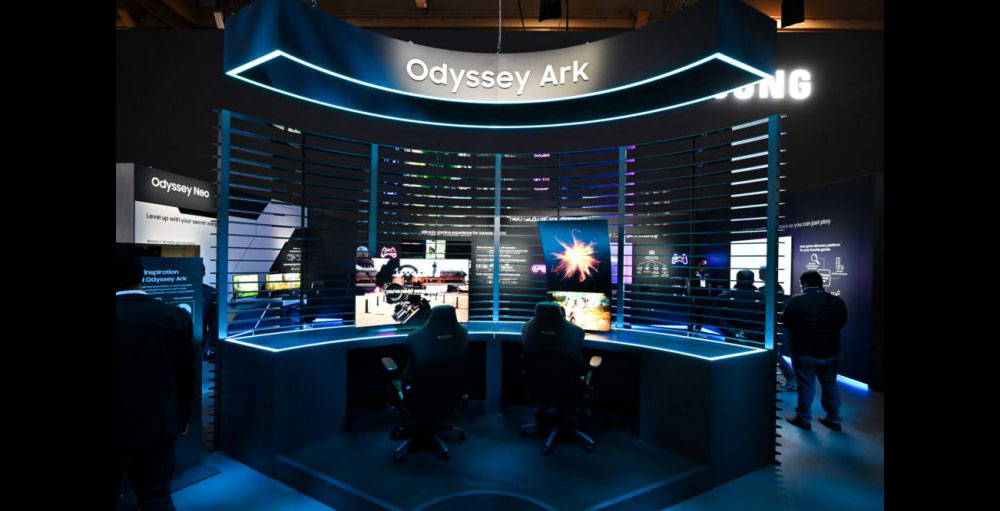 Samsung's Odyssey Ark, a new 55-inch curved gaming screen, takes immersion to the next level. Exhibit at CES 2022 (Credit: Samsung)
---
While I am pretty sure I would need to redesign my home office to use this monster, I am okay with that given how awesome the resulting experience would be. Due out in the second half of the year, this is on my Christmas list for 2022.
Best Laptop
The laptop that caught my eye this year was the amazing Lenovo ThinkBook Plus Gen 3.
For working at home, I think a seventeen-inch form factor is ideal because you are not traveling as much during the pandemic, but you are moving around a lot at home, particularly if you have pets and kids.
ThinkBook Plus Gen 3 (Credit: Lenovo)
---
This laptop has twin displays and a pen dock that allows folks who are better than I at drawing to express themselves without taking up main screen real estate. Plus, you can still work on your primary project while using the second screen for media, social networking or for your security cameras to make sure your pets or kids aren't doing things they shouldn't.
I have three dogs and three cats; and while the dogs are pretty good, the darned cats are constantly getting into trouble. This configuration is ideal for those of us who are mobile inside the home but rarely travel, which appears to be my life for the foreseeable future, thanks to this pandemic.
Best Over the Top Offering
This has to be the LG Media Chair. It couples a recliner with a large screen TV into an integrated offering for couples who want to watch TV together but cannot agree on the same program. That happens a lot at my house as I like action movies with lots of bloody violence and my wife is anything but a fan.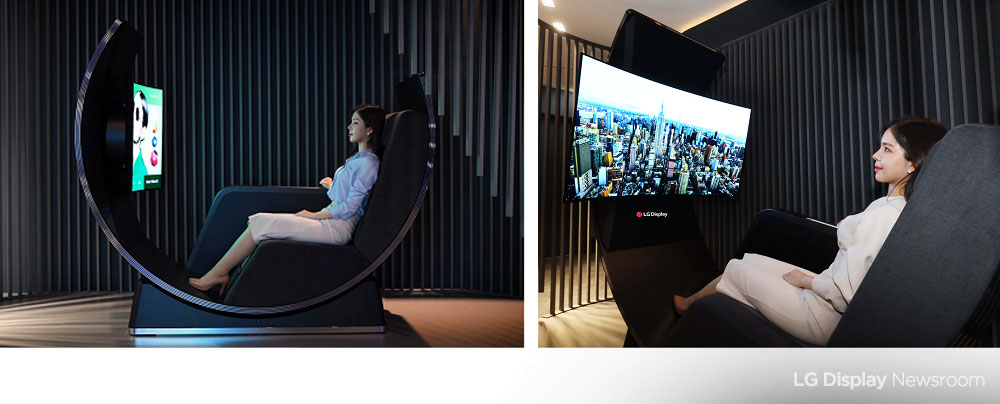 Granted you would need two of these and they are not going to be cheap. It uses a fifty-five-inch OLED flexible screen that can reorient horizontally or vertically at the push of a button. It has a unique sound capability that uses the screen itself as a driver.
I have two LG OLED TVs in the house now and I can attest to how awesome they look, but I'd certainly be up for getting two of these chairs so I could watch my shows without having to go hide in my office to do so.
LG also introduced a curved screen exercise bike concept called Virtual Ride that was interesting as well (Peloton eat your heart out).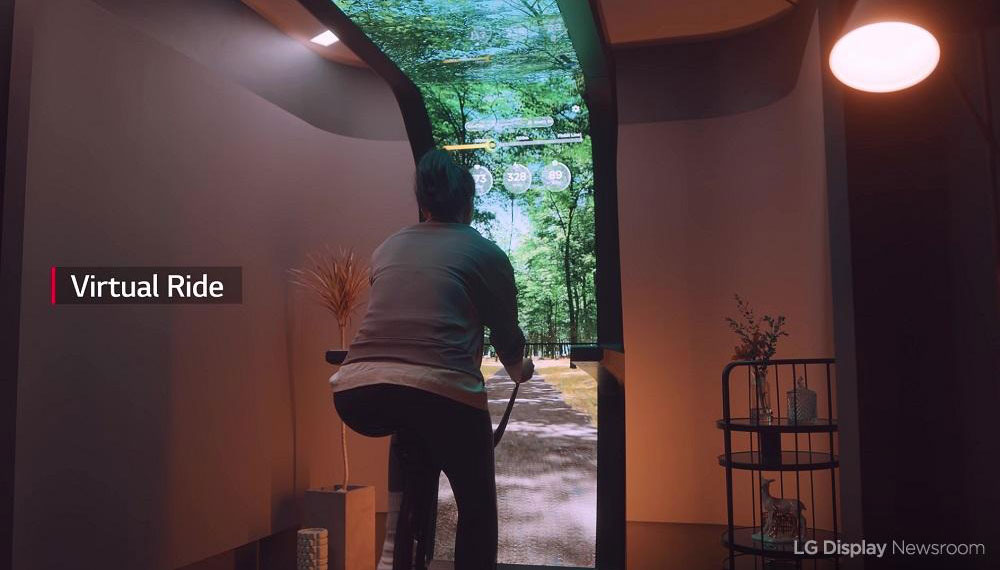 Best Automotive
I really struggled with this one. GM Silverado Electric was the most practical, the Sony Prototype car was the best looking, and the Cadillac and Mercedes prototypes were over the top awesome.
I have always wanted to be able to dynamically change the look of my car. You can use lights and I'm tempted to do this:
But that tends to be too distracting, not to mention a ticket magnet.
The BMW iX Flow concept uses E Ink panels to darken and lighten the car dynamically and create unique optical designs and effects.
I have seen color E Ink efforts that suggest that, in the future, we might even be able to dynamically change the color of our cars as well.
E Ink panels have improved a great deal over the years and become much cheaper. They even put the technology on the wheels. Though the information capability of these panels would get some of us in trouble. Here's the video:
Best PC Feature
There was a time when CES was dominated by Intel and Microsoft. Now PCs represent a small part of the show. However, AMD, Intel, Nvidia and Qualcomm all had major PC-oriented content at their respective keynotes.
While I think Nvidia had the most captivating keynote overall (heavy use of the company's technology and videos really held my attention through the keynote), what caught my eye was Intel's announcement about creating greater interoperability between smartphones and PCs with Screenovate technology.
Ever since I worked at IBM and co-owned a lab focused on PC phone integration, I have been waiting for this capability to emerge again and become compelling. Today, both Dell and Microsoft have integration efforts that work okay but do not yet truly approach what we were prototyping back in the 1980s.
What Intel spoke about suggests it may get there with the support of Dell, Google, and Microsoft (assuming Apple does not break this on the iPhone that should work as well). I have been waiting for this for three decades, and it finally looks like there may be light at the end of this small tunnel.
Wrapping Up
It was an amazing CES this year. Although it was unsafe for me to travel to the show, I saw a number of amazing products.
I am not a fan of BMW, but that E Ink solution has me reconsidering that position. I am planning to buy that robotic vacuum, and I am lusting after that LG chair and Samsung Monitor.
A new computer case is clearly in my future, and I am on the waiting list for the desktop Portl.
That Lenovo ThinkBook may displace the HP Folio as my favorite laptop for 2022.
This may turn out to be the most expensive CES I have ever attended. It would be ironic if the most expensive CES for me was one of the times I did not travel to the show.

Alienware m17 R5 Ryzen Edition
All my gaming rigs are currently AMD-based and they are desktops. But I want to game someplace other than in the house, like down the river (my back yard is a river) and cannot.
Typically, AMD gaming notebooks, while certainly affordable, have not been that interesting and have been full of tradeoffs. At CES this year Dell and AMD showcased the Alienware m17 R5 that has the ideal balance of technology, unique design and performance I want in a gaming rig I can take with me.
This is also a showcase product for Frank Azor, chief architect of gaming solutions at AMD, who is an old friend I met years ago when he was running Alienware.
Alienware m17 R5 Ryzen Edition (Credit: Dell / Alienware)
---
Alienware claims this is the most powerful seventeen-inch AMD Advantage laptop in the market, and I believe it. AMD Advantage is AMD's better-together effort (like Intel Evo), and this laptop is not only awesome to look at, but when fully configured, it should handle our gaming needs.
As I have mentioned earlier, I like big screens. This laptop has seventeen inches of 4K awesomeness at 120Hz. For a gaming laptop from a top tier provider, it starts at a reasonable $1,599 — and it comes in my favorite laptop color: black.
If you have ever wanted to see what would happen if AMD pulled out all the stops for a mobile product, this Alienware m17 does not disappoint — and it is my product of the week.