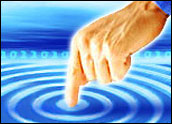 A prototype of a mobile Internet device dubbed the "Crunchpad" will reportedly make its public debut later this month.
The Crunchpad is a low-cost touchscreen tablet designed for Web surfing, video chat and email use.
The main name behind the Crunchpad is Michael Arrington, who told the San Francisco Business Times that he's incorporated a company in Singapore, Crunchpad Inc., in order to manufacture the devices.
Arrington is perhaps best known for his TechCrunch blog network.
The Lowdown on the Crunchpad
Details about the Crunchpad have been trickling in over the past several months. The key use for the Crunchpad is Internet consumption, according to a blog post Arrington wrote in April. The idea is to have a very thin and light touchscreen computer with no hard drive or physical keyboard, which boots directly to a browser to enable Web surfing.
"This machine is for reading emails and the news; watching videos on Hulu; YouTube, etc.; listening to streaming music on MySpace Music and Imeem; and doing video chat via Tokbox. Add a single USB port, power in and sound out, and you're done," he wrote.
A team led by Louis Monier, formerly the founder and chief technology officer of AltaVista, one of the first Internet search engines, worked on the Crunchpad.
The case was designed and built by Dynacept, a service bureau for rapid prototyping, tooling and molding that is now part of the Spectrum Plastics Group.
Singapore startup Fusion Garage, which was launched in February 2008, worked on the drivers and virtual keyboard.
Love That Use Idea
"This is an interesting idea," Yankee Group analyst Josh Martin said. "It's niche enough to be unique. Research shows people are increasingly multitasking while watching television, so the Crunchpad could find a market there."
The Crunchpad could be improved further to broaden its appeal. "If you could open it up to developers so you could get a lot of apps for it, or incorporate some of the features from the Logitech Harmony programmable remotes into it, that could make the device more interesting," Martin told TechNewsWorld.
It may seem as though the Crunchpad would compete with smartphones, which also enable Internet surfing and access to email and online music. However, the two target different markets, Martin said. "Smartphones have smaller screens, you have to pay a monthly access fee, and they're personal devices so you take them with you when you go. The Crunchpad is something for everyone to use at home."
More Techy Stuff
The Crunchpad's case measures 12.5 by 9.7 by 1.3 inches and weighs three pounds, partly because of extra batteries, Arrington said.
It has been through several iterations. Prototype B, which Arrington announced in January, had a 12-inch touchscreen, was powered with the Nano processor from Taiwanese chipmaker Via; and had 1 GB of RAM and a 4 GB flash drive to store the operating system, the browser and any cache.
Its screen had a resolution of 1024 by 768 pixels. The prototype had WiFi; an accelerometer; a camera and a four-cell battery.
The operating system was Ubuntu Linux with a custom Webkit browser.
By April, when tests were run on the most recent prototype, things had changed. The software stack had been entirely customized and the developers had moved away from Ubuntu to another Linux operating system and a new browser version," Arrington said.
The developers had also switched from the Via to the Intel Atom chip. The total software footprint was about 100 MB.
Is Trouble Lurking Ahead?
The changes could be a cause for concern, Laura DiDio, principal at ITIC, told TechNewsWorld.
"Arrington doesn't say which Linux operating system he's using, and that's interesting because if he wants to run Linux, he has to ink a deal with major Linux dealers," she said, "and they charge as much as Microsoft does unless he goes fully open source, like Debian or Ubuntu. But even then, he will still have to get someone to provide service and support."
That service and support could cut into the Crunchpad's profit margins, DiDio pointed out.
Whether the device will be profitable is another concern. The cost of production, including packaging, will be less than $250, and the device could be priced at $300, Arrington said.
However, that does not factor in shipping and distribution costs or the cost of returns, at the very least.
"If he can sell it at around $300 and make money, more power to him," DiDio said. "There will still be questions until we see more details."
Arrington did not respond to a request for comment by press time.
For their part, suppliers are reluctant to divulge further details at this point. Dynacept's David Yarnell, who worked on the Crunchpad, could not disclose any more information about it.
"We're currently not involved in it at all," he told TechNewsWorld. "We did our part."