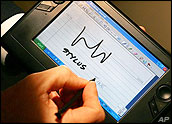 It's natural to reach for a pad and pen when you need to take notes, but the end result can be frustratingly limited. Handwritten notes have to be transcribed or scanned to become part of a permanent digital record.
On the other hand, clicking away on a keypad doesn't quite cut it for all situations.
"The cool thing about using the pen with the computer is that it gives you choices," said Doug Little, public relations manager at Wacom.
"When you're using a pen, not only is the navigation fast and easy, but now you're able to draw, write — basically do anything you want," he told TechNewsWorld.
Wacom's devices, including its Bamboo series of pens and the Intuos and Cintiq tablets, are all intended to preserve the natural feeling of writing and drawing while providing the advantages of digital technology.
New Age Pens

Pens have gone beyond being simple tools for making marks on paper, and smartpens like the Livescribe 3 — which syncs notes and audio to a mobile app — are fundamentally changing what it means to write.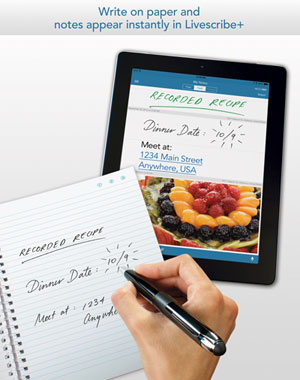 "Designed as the ultimate mobile companion, it's the perfect complement for someone who always has their iPhone or iPad by their side, is constantly on the go, and wants to easily transfer phone numbers, events, or action items into their phone or tablet," Brian Kemp, senior global public relations manager for Livescribe, told TechNewsWorld.
Livescribe's smartpens bring a number of different features to the table. The Sky WiFi pen, for example, uploads notes and recordings directly to Evernote.
"Once your notes and recordings are in Evernote, they're available on just about any device," explained Kemp.
"Evernote even does basic OCR on your notes so you can quickly find keywords, and integrates with TranscribeMe to provide full typed transcriptions of your audio pencasts," he added. "The Sky WiFi smartpen is perfect for people who are frequently on a wireless network and want everything stored in the cloud."
Livescribe's Echo, on the other hand, keeps notes and recordings in Livescribe's desktop software and allows users to send notes via Evernote, Facebook or email.
"Echo is a great product for students, reporters, or anyone who doesn't always have a wireless network connection or just wants to keep all their information on their computer," said Kemp.
The goal of all digital pens is to make writing, recording and sharing information easier than ever.
"Livescribe smartpens make it easy to connect paper and pen to the digital world," noted Kemp. "We believe pen and paper notes become more valuable when they are available on the digital devices people use daily, and Livescribe offers products for all scenarios. In this way, people don't have to choose between their pen and their digital devices."
Digital Stickies
There's something intuitive about using little stick-on notes, and digital versions of these are becoming as ubiquitous as their original paper counterparts. Stickies seeks to solve the problem of keeping track of all those tiny squares of paper.
"I first created Stickies because I got fed up with wasting all those pieces of paper," Tom Revell, founder of Zhorn Software and creator of Stickies, told TechNewsWorld. "I'd write a note on one, and then once the task was complete, I'd throw it away. I decided that I could do just as well with some software, seeing as my job means I'm in front of the computer all day. I looked around at the notes apps which were available at the time and didn't love any of them, so started to write my own instead."
These digital stickies can include text and photos, and users can place them on a computer screen or within a program.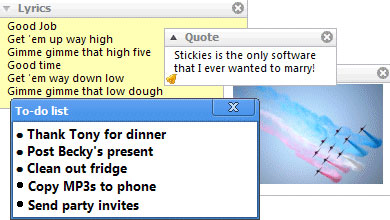 "Digital note-taking is more flexible than paper, because you can easily back up, search and copy your information," said Revell. "Besides, if you have a pen tablet, you can even handwrite onto a sticky. You can have as many digital notes as you like, and they're always at hand. They're easier to organize. If you're on a computer all day, I think the digital route is the better way to go. Oh, and your desk is tidier."
Digital notes help people to keep track of what matters in their lives, said Revell.
"Most people use them to help remember things," he said. "Human beings of all ages are simply forgetful, so I think that deciding to use software to help you overcome that and be a more efficient person is a smart move."
Taking Note of Apps
Noteshelf is one of a growing number of apps that turn iPads and other tablets into note-taking devices. Armed with an app and a stylus, writers, businesspeople, artists and doodlers have a blank digital canvas at their disposal.
Noteshelf, which can be used with any rubber-tipped stylus, provides users with a variety of virtual notebooks, templates, pen styles and export options.
"For younger generations, it is becoming the norm to use digital note-taking, and we believe that paper based note-taking will slowly fade away," Rama Krishna, a lead developer with Fluid Touch, told TechNewsWorld.
"Younger generations who are growing up with mobile devices get used to [digital note-taking] more easily," she observed, "and may even start feeling that it is more natural to write on a tablet screen than on paper."