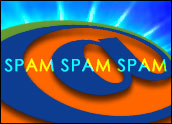 The scourge of the wired world — spam — is making its presence felt in the wireless realm, but carriers hope they can stunt the problem in its formative stage.
"Spam isn't a problem; however, it's an evolving threat that carriers are constantly working to combat," Joe Farren, a spokesperson for CTIA-The Wireless Association, told TechNewsWorld.
Volume Still Small
Verizon Wireless has experienced spam outbreaks ranging from 30,000 to a million messages, noted spokesperson Debbi Lewis. That's still small, though, when one considers the company may handle as many as five billion messages per month.
"In terms of volume, it's not a huge problem but, of course, getting an unwanted or unsolicited message on a handset is annoying and we do what we can to stop them," she told TechNewsWorld.
Jealous Guardians