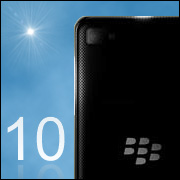 We tend to be slow to see change. If a company is on top, like Apple was, it takes a lot for us to see itsfortunes have changed, as they clearly have post-Jobs. If a company is on the bottom, like BlackBerrywas, it may be even tougher to see it on the rebound.
We simply don't like the change in our worldview, and this isn't just with regard to companies but people as well. How often have we been surprised by a hero's fall, even when it was anything but sudden — or refused to accept a criminal's reform even though it was no less gradual?
I'll address why BlackBerry is strengthening and why Apple is falling right now in the context of ourunwillingness to see change. I'll close with my new favorite Windows RT product, the Lenovo Yoga, which is my Product of the Week.
Apple's Fall
At the core of Apple's problem is that I don't think its board fully realized the company was unique. Apple stands alone as the only U.S. company that is doing well with consumer electronics. It got there using a unique model: The guy running the company became a super user and had a unique skill set.
He could grasp and retain a lot of information over a short period of time. He had studied extensively how to manipulate people and knew enough about technology to apply what he knew to that market. There really wasn't, and still isn't, any CEO like Steve Jobs in the technology market and that is likely because most firms would have fired him — as Apple in fact did — long before he got a shot at the top job.
Think about it: He didn't play well with others; he was over-the-top emotional if he didn't get his ownway; and he was incredibly vindictive. He was fired from Apple when trying to get his boss kicked out of the company, and he clearly didn't realize or care that he didn't have the backing to get it done.
Given Jobs' subsequent success, we certainly could argue that people like him shouldn't be fired, but the reality is they are, and his comeback was a fluke. Apple acquired NeXT, a failing company Jobs was then running, which landed him close enough to the top to get the job he eventually excelled at.
During his time at Apple, Jobs redesigned the firm around his skill set, massively simplifying it and taking the focus from IT technology products to consumer technology products, with the exception of Apple's server line, which was one of his few failures.
When Jobs died, he was replaced by the guy who did all the jobs that Jobs himself didn't want to do. In effect, Tim Cook is the Bizarro Steve Jobs. If you replaced the engine in your car with a gas tank, the car wouldn't run well. It's like that with Cook. He doesn't have the skill set to run Apple the way it is — in fact, he has nearly the opposite skill set. Until that's fixed — either by changing Apple or changing Cook — Apple is likely to slide.
This isn't like putting a square peg in a round hole — it's like putting another hole into a hole. It should be obvious that Cook can't work out, yet folks will argue until they're blue in the face that Apple's fall is a short-term aberration.
BlackBerry's Rise
BlackBerry, formerly RIM, fell largely because the company outgrew its top executive. First, the firm tried to ignore the changes that the iPhone started, and then it tried to become another Apple. Two ways of killing a company are to lose track of its market and to try to emulate another dominant company.
The second — which is kind of what Apple increasingly appears to be doing with Samsung at the moment — is the most dangerous, because it actually makes your opponent stronger by reinforcing its image as the market leader and destroying your ability to lead the market.
However BlackBerry retained two advantages: First, it remained the only smartphone companyfocused on the unique needs of large businesses and government; and second, it remained a Canadiannational treasure.
The first increasingly has come into play with the massive increase in malware particularly targeting the Android platform. This has allowed BlackBerry to ink massive business deals like arecently announced 1 million-unit sale.
The U.S. Department of Defense recently went public with its defense of the BlackBerry product.
BlackBerry offers the only platform designed from the ground up to be secure. While Android vendors like Samsung are trying solutions like Knox, they can't work. As long as the OS can be compromised,so can the secure layer implemented by those types of solutions.
Put differently, if you place the most secure safe on a sand floor, folks will tunnel into it. In Samsung's case, that's likely by capturing the ID and password of the Android phone user with a key logger — Something that the BlackBerry platform is designed to defend against.
Much like Korea has stepped in to defend and promote Samsung, Canada has shown a high nationalaffinity for BlackBerry, and this provides a fan base at a country level that even Apple can't showcase.While Apple can claim one of the strongest fan bases in the market, BlackBerry appears to be able toclaim Canada with similar potential benefits.
Wrapping Up: Neither Outcome Is Certain
Apple still has a long way to fall before it becomes unrecoverable, and given that virtually every other successful company uses a different model, Apple could be converted to operate like one of themand maybe even retain Tim Cook. However, the transition would likely be painful, and Apple would still have to get over the disadvantages that have resulted in every other successful CE company being located in Asia today.
BlackBerry has to still get through its launches and build up at least some consumer interest. We are in a Bring Your Own Device world when it comes to both smartphones and tablets, and being beloved by business only gets you so far — ask Microsoft in this space.
So BlackBerry is not yet entirely out of the woods. However, right now Apple is still trending down by chasing Samsung, and BlackBerry is trending up by being BlackBerry — and that's a lesson both companies, and those who watch them, should remember.
Product of the Week: Lenovo Ideapad Yoga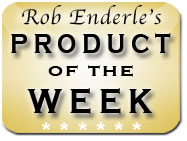 The Windows RT platform has clearly had its issues, many of which will be corrected Monday if things happen as planned. I can't talk about that because this column likely will show up before that event, but I can talk about my new favorite Windows RT Product: the Lenovo Ideapad Yoga 11.
This product performs like both a tablet and a laptop with weight, battery life, and price in the tablet range, and a built-in keyboard that turns it into a viable laptop.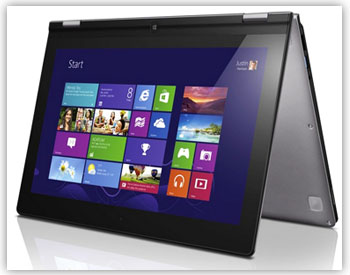 Lenovo IdeaPad Yoga 11
The ability to flip the keyboard behind the screen allows you to configure the tablet to be a really nicemedia viewer, because the result can be kind of an A frame with the keyboard still supporting the screen but behind it — ideal for viewing on planes but still retaining all of the utility of a laptop.
It even has gesture control built in, though the training application that goes with it hasn't shipped yet.
Now that I've used it for a week I can understand why it was a hit at CES, and that's why the Lenovo Ideapad Yoga 11 is my product of the week.