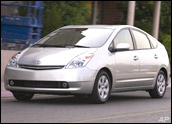 Toyota's recent fiascoes with runaway acceleration illuminate the sorry lack of software standards to establish minimum quality levels for technologies crucial to the operation of transportation systems. Toyota has rejected accusations that its software systems are the culprit.
Toyota recalled 3.8 million Toyota and Lexus models in October 2009 over concerns involving sliding floor mats that reportedly caused the gas pedal to engage. In January of this year, the carmaker recalled 2.3 million of its vehicles because of sticky accelerators allegedly sparked by condensation.
So far, no tangible proof exists that the acceleration woes are keyed to runaway software. That leaves drivers to steer around carmakers' rebuttals that the fault lies with inept car operators and not software designers.
Consumers have no way now to know, for example, whether their cars' antilock brake system is working. Too many variables are involved to accurately diagnose ailing circuitry.
Buggy software and the lack of government standards, along with a lack of uniformity in the auto industry, put car owners in the middle of safety issues with the multiple software systems that control their vehicles.
"Sudden acceleration and vehicle control have been an issue for a long time. Government agencies have never addressed it," Rosemary Shahan, president of Consumers for Auto Reliability and Safety, told TechNewsWorld.
No Escape
Car makers for the last 10 years have been in a race to upgrade mechanical cables and related car parts. Engineers designed systems run by computers to control braking, acceleration, climate control, and transmission performance, among others.
Toyota engineers have been integrating electronic controls into all Toyota vehicles. That process started in 2002 with the Camry. All Toyota models since 2007 have software-driven speed controls.
It's true that most consumers do not realize the extent of computer programming in controlling the systems in their cars. It is the government's responsibility to approve the computer systems, said Shahan.
"The government still hasn't decided that if you can't control your car, it is a safety problem," she said.
See No Evil
Toyota is not the only car maker navigating around accusations of quality problems with its auto controls, but recent fatalities drove the company into the spotlight.
Over the years, Ford, Audi, and Nissan had similar troubles. In all cases, government agencies responsible for overseeing consumer safety detoured away from the situation.
Nissan had a similar problem years ago and blamed drivers. Nissan never recognized that a problem existed. Similarly, Audi claimed that the cause was stupid drivers. Now, Toyota is placing the blame on drivers' ineptness, which is insulting to drivers and ridiculous, noted Shahan.
"Ford kept arguing in litigation that no standard means no safety defect," she said.
Look Elsewhere
So far, the National Highway Traffic Safety Administration (NHTSA)seems to be taking a back seat in pointing to causes and offering solutions to prevent more safety problems. NHTSA officials deflected interview questions to its press secretary, offering agency pablum to questions about auto safety standards and possible plans for government action.
"On background, vehicles sold in the U.S. are the safest they have ever been in automotive history and have the most sophisticated safety systems in the world. From seat belts to airbags, from electronic stability control to lane departure systems, the modern car depends on properly functioning electronic systems throughout the vehicle. NHTSA will continue to oversee the world's most intensive auto safety program," Eric Bolton, press officer for the National Highway Traffic Safety Administration, told TechNewsWorld.
Overseeing the continued occurrences of automotive safety issues is one thing. Taking action to ensure consumer safety, however, seems to be a standard the NHTSA does not yet have on its roadmap.
Braking Inaction
Earlier reports of problems with auto braking systems run parallel to the more recent sudden acceleration issues. No government agency has responded to these ongoing problems, according to Shahan.
"Our sister organizations have pushed for a brake override regulation. This solution seems to be so much common sense. You should be able to stomp on your brake to stop your car," she said.
The NHTSA sees the matter differently. That agency so far is content with leaving oversight on auto computer systems to the discretion of the automakers.
Take No Action
"On background, Federal Motor Vehicle Safety Standards are, for the most part, performance-based, meaning that the specific performance parameters are established in the standard (leaving it up to the automaker to determine the specific technologies that best meet the performance requirements of the standard)," Bolton said.
Thus, many car manufacturers choose to use computer chips, electronics, and other software-reliant systems to meet these standards, he explained. Take, for example, the federal motor vehicle safety standard for braking for light vehicles.
That regulation sets minimum stopping requirements for different speeds, but the NHTSA does not set specific standards for automakers to follow on what kind of brakes are required or what sizes they should be, said Bolton.
Maybe Standards
The NHTSA is not planning to alter its current course in not regulating auto software for safety issues. It is leaving that function to the car makers themselves.
On background, the agency's safety standards are performance-based. The choice of technologies, including the software car manufacturers use, is a choice they make as they design and produce vehicles for sale in the U.S., according to Bolton.
"NHTSA will continue to look at all automotive safety systems, and if there is a need for a new safety regulation or upgrading existing ones, the agency will move to initiate appropriate rulemaking," Bolton said.
How Safe?
Is the U.S. government doing anything to prevent a recurrence of software glitches? The short answer is no. The longer answer suggests no problem exists.
"On background, the National Highway Traffic Safety Administration has the most active defect investigation program in the world," Bolton said.
For example, the NHTSA receives more than 30,000 complaints from consumers every year and reviews each one carefully and quickly. Over the last three years, NHTSA's defect and compliance investigations have resulted in 524 recalls involving 23.5 million vehicles, he said.
Quality No Control
The acceleration and braking troubles may not go away until car makers tackle the larger issues around software standards. The continued absence of software mandates could easily undo the performance record for safety touted by the NHTSA.
Auto software, unlike PC software, is comprised of a system of systems. That is, the software comes from a variety of suppliers, and then they're essentially "duct-taped" together.
"The software is reliable. It's just the method to ensure that one software component works with another software component," DavePeterson, chief marketing officer at Coverity, told TechNewsWorld.Coverity develops software testing and analysis software to examine code for safety issues and other defects.
Reining In Code
"I think we are experiencing a combination of somewhat reliable software combining with multiple complex software systems," said Peterson.
Overall, it has been proven that you can have reliable software systems in cars — but it has also been proven that you need to change quality control to make sure that there aren't any hidden features in the software.
"I don't think the industry is yet in a really mature state to understand all the issues when you combine complex systems," added Peterson.
Author Anyone?
Another aspect of the faulty auto software debacle is that nobody builds software from scratch anymore. This pushes the safety factor even further away.
"Much of it comes through the supply chain. It is hard to ensure the quality of all of that software. That is a big challenge that is going to have to be addressed with the changes in rules and regulations," Andy Chou, chief scientist and co-founder of Coverity, told TechNewsWorld.
The faulty software issue is also worsened by the lack of uniformity across the auto maker's company. This is a situation that requires some standardization across the auto industry, he said.
What's Next?
It is inevitable that some level of requirements will be put on that supply chain to declare the integrity of the software. It is clear that this needs to happen, according to Peterson. Other industries — such as the avionics and military air space communities –have regulations that specify exactly how software development should be done. There are stringent rules and standards that separate software that is safety-critical from software that is less safety-critical, Chou explained.
Rules are in place to make sure that software elements are segregated and also tested according to the standards required for that kind of software.
"I think we will see over time more government regulations of automotive software," Peterson concluded.