I spent last week at EMC World — the last EMC World, by the way — talking to customers and both Dell and EMC employees, on the lookout for interesting stories that others hadn't picked up. I got a bunch that I think are fascinating — stories about women in technology, billions of dollars of currently untapped revenue, and why every EMC and Dell sales rep effectively will have a dartboard with Meg Whitman's picture on it.
I'll share these gems and then close with my product of the week: a laptop bag that has turned out to be the best I've ever owned.
Women in Tech Done Right
One difference between Dell and EMC is that EMC is a typical male-driven, male-dominated firm where engineers are king. At Dell, on the other hand, Michael Dell personally has made it his mission to get more women into technology. His startup investments largely target women entrepreneurs, and some of his most powerful employees are women.
Arguably the most important tool at EMC is its Total Customer Experience organization, because it is tasked with connecting EMC customers to the company's products and services. You see, like most tech firms dominated by engineers, decisions are driven by numbers — and the numbers that represent the "voice of the customer" rule over nearly every other metric. The Total Customer Experience organization owns those numbers.
Now, men think very differently from women. Men are more focused and technical; women are more social and able to handle more complexity. Women are better than men at communication, while men are better than women at ignoring distractions. In short, a woman should be far better at running an organization like this than a man, but likely would be subordinated to a man in a male-run industry. So, while Carolyn Muise has been running this organization, she has been limited by the nature of the company — that is, until this merger.
With this change, Muise will report to Karen Quintos — arguably the most powerful woman at Dell. Quintos reports directly to Michael Dell — the guy who is personally behind giving women a greater voice in his firm.
Add to this the fact that the EMC customer experience program is vastly more advanced than Dell's, and you get a multiplying factor that means the most powerful tool now is unencumbered and able to reach its full potential. In short, the most powerful tool now reports to the most powerful woman. Suddenly, the opportunity for positive change is unprecedented — not only in terms of aligning products and services with customers, but also in showcasing the real economic advantage of diversity done right at executive levels.
This is the way change should be driven — by positive example, not by forced march.
HP Is Screwed
The new post-merger company will pivot to focus most of its competitive efforts on HP. Due to its split, HP will be the most vulnerable, both from a resource perspective and a cost perspective. Recall that IBM had to exit its x86 server business because when it sold its PC division to Lenovo it lost the economic cost advantage it got by making both PCs and servers. (PC volumes drive lower costs for both PC and server components; they are symbiotic in the supply chain.)
The part I struggled to understand was the customer dynamic. I learned from my conversations with customers that they had a lot of EMC/HP combinations. That's because Dell has been light in enterprise sales. However, HP's storage technology is inferior to EMC's. The servers are equivalent, but HP's enterprise sales and service capabilities currently are viewed as superior.
Interestingly, HP 3PAR helped HP for a bit on the storage side, but it apparently has fallen way behind EMC's efforts — likely because HP's merger process tends to destroy the firms it acquires. (3PAR was an HP acquisition.) Dell's process, which currently leads the industry, actually increases the value of its acquisitions. Since it was copied and improved from IBM, I constantly wonder why HP doesn't emulate it.
Post-merger, EMC storage and Dell servers will become far more tightly aligned in sales, service and design, and EMC's enterprise sales and service will wrap the solutions. That should allow Dell EMC to be aggressive in displacing HP in shops that are now EMC and HP.
$300B in New Business
Here's one of the most fascinating things I heard. In Dell and EMC, there are groups that have looked at other markets that are incredibly profitable, but for EMC they generate below-average margins, and for Dell they exceed available resources.
The reason public companies have to avoid lower-margin businesses is that margin degradation has an adverse impact on stock price and puts the CEO's job at risk. However, part of the merger process is to take EMC private. That means any profitable business suddenly becomes viable.
Further, the two companies combined have resources they didn't have separately. That means some of those businesses will become viable. In a best-case scenario, that represents a whopping US$300B in potential additional revenue for the combined firm that separately, they couldn't address — and no one has talked about it.
This suggests that in a few years, Dell Technology Group will be a lot bigger than it is today, and only because it is both private and can use the combined resources of both Dell and EMC. I think we can file that under "holy crap."
Michael Dell vs. Joe Tucci
This was one of the most fascinating handoffs I've ever seen. It was in sharp contrast to virtually every acquisition handoff I've ever viewed. Most create the impression that the buyer just wants the seller to say its piece and leave, and the selling CEO is trying to think of an eloquent way to secretly give the buying CEO the finger.
In this case, Tucci actually has been trying to retire, and he's been friends with Dell for some time. The handoff was more like a father passing down a company to son, or an executive saying goodbye to a trusted mentore. It was incredibly cordial and deeply friendly.
Often, you'll sense a lot of trepidation in the rank and file. Certainly it is there in this case, but I saw it overshadowed by excitement. I think that is partially due to the alternatives, and the fact that EMC mostly drove this. The alternatives were to get broken up or bought by HP — a firm known for killing the companies it acquires. It was kind of like giving a person a choice between being eaten, being shot, or getting married to an attractive friend. Not, apparently, a hard decision.
Wrapping Up
There is a lot of interesting stuff going on behind the scenes not only in this merger, but also in partner companies. For instance, I learned that Microsoft's IT shop has become rabidly open source, and that everything is being pushed into the Azure cloud under the order that Microsoft's IT shop must mirror customer shops.
Microsoft IT, rather than being kind of a bad joke at the company, is now a strategic asset. Go figure. There is a whole column on that one tidbit alone.
In effect, however, this represents just a part of the massive change going on in the tech market, which mostly gets that it needs to evolve rapidly or become extinct. Apparently these firms have decided that evolution is the better path. Go figure.
I'll check back on the Dell Technology Group (its new name) in a few months. I'm expecting some additional interesting surprises.

I went in search of the perfect short-trip laptop backpack a few weeks ago. I wanted something that was TSA-friendly so I could get through security quickly, as well as small so I didn't have to deal with a lot of bulk, but big enough to carry not only all my electronic gear but two days of underwear and socks.
Most of what I had was either too big, which means I was fighting it more than I wanted to, or too small — meaning I had to carry a second bag.
I went on a long search and finally found the Timbuk2 Command Laptop Backpack, and it is my new favorite. It comes in a wide variety of colors for $130, or you can get it in black for $100 — all on Amazon.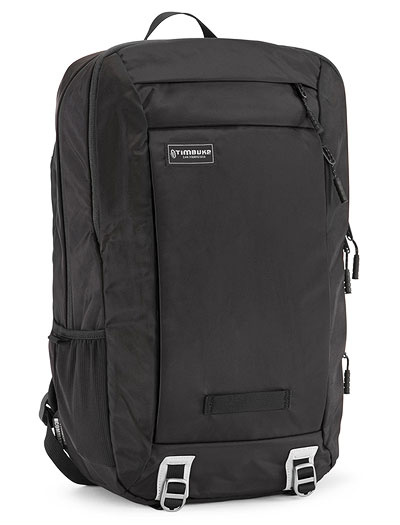 Timbuk2 Command LaptopBackpack
I got the black one because I like black and it saved me $30. The laptop loads from the side, making it easy to get in and out. It has a pocket for toiletries, and two large pockets for gear and clothing. It even has small pockets for keys and coins, a bottle pocket and a bottle opener.
I travel a lot, and since it's the backpack I've fallen in love with, I thought I'd share the Timbuk2 Command Laptop Backpack as my product of the week.