CES is the show I look forward to returning from, and the primary reason is that getting around Las Vegas during the event is a nightmare. One evening I wanted to go to the In-N-Out Burger place, and even though it was only a mile or two from my hotel, the traffic was so bad that I doubted I'd make there and back before midnight — and it was only 6 p.m.
CES would benefit either from Elon Musk's Boring Company or from aggressive use of autonomous technology so that the traffic could be better optimized.
I used to try to walk it, but the miles of fast walking on concrete ripped the soles off both my feet one year, and I don't want to experience that pain ever again.
I'll focus on autonomous car technology this week with a focus on the two things that I think are often left out: one that was addressed at the show by a vendor most seem to think is dead; and another that is also critical for the segment.
I'll close with my product of the week: the Lenovo Fold X1, the first folding screen PC that could be ideal for women users who want a full-featured and full-sized notebook that fits in a purse.
The State of Autonomous Cars
Both Intel and Qualcomm made decent presentations at CES, focusing on their firms' respective strengths (sensors from Intel and radios from Qualcomm). Both technologies are critical to the future of autonomous cars.
Qualcomm presented an interesting new variant on linking pedestrians to the network to reduce the risk of cars running over folks buried in their smartphones and not looking where they are going.
Nvidia, the segment leader, released its announcements before the show. All of the vendors generally were in sync on expectations that commercial self-driving cars — autonomous taxis — would show up in the 2020-30 time frame and cars you and I could buy, in the premium class, around 2050. However, I think we'll likely get some high-end cars showing up with much of this technology sooner.
The car companies were represented heavily at the event, with some truly pushing the autonomous car concepts. The Japanese car companies seemed to be the most aggressive, with forward-looking concepts from both Toyota and Honda.
The coolest car concepts at the show were from Mercedes and Sony. Yes, Sony. Mercedes had an Avatar-themed car that looked like it came out of a science fiction movie, and Sony had a concept car that showcased how you could turn the interior of the car into an entertainment playground, which would be somewhat problematic if the car didn't drive itself.
These cars are just a few years out, but only the Japanese carmakers seemed to get that demand generation will be critical. No one else seemed to be on that page.
CES and the Critical Path
CES stands for "consumer electronics show," yet the presentations on autonomous car technology did little to make you want the stuff. Yes, some segments touched on the fact that it would keep you alive, but much like folks initially didn't like the idea of seatbelts (and often don't wear them in Uber and Lyft cars, a pretty foolish practice) surveys indicate that most aren't comfortable with the idea of a computer taking over the responsibility of driving.
A few years back Intel conducted a test using autonomous concept cars with and without steering wheels, and found that people were more comfortable with the concept if the car didn't have a steering wheel because it removed the fear they might have to suddenly take control of the car and not know what to do.
I recall that early autonomous car concepts had a failover policy that would turn over the driving to the occupant if the autonomous car couldn't handle a critical issue. I imagined an occupant who might be sleeping, reading, or watching a movie in the car being told to take control seconds before a crash the computer couldn't avoid. The result likely would be no more than a partial scream before the unavoidable catastrophic event. Assuming survival, the passenger in that scenario likely wouldn't be a huge advocate of the technology.
Since we are approaching a launch window, particularly for commercial vehicles, I think much more effort should be put into making the technology attractive and focusing on the benefits of the technology beyond safety. Benefits could include the ability to fly someplace and have your car meet you there, or avoid airports by using your car as an office, bedroom, or entertainment center for short trips that you'd otherwise fly to.
However, demand generation wasn't the only thing that was understated at CES — the other was security.
The US and Iran
During the show, the U.S. strike on an Iranian general and the initial Iranian response and ongoing threats became big news. In my hotel room, my HP laptop started alerting me of a malware attack and the City of Las Vegas was hit. That event reminded me that in addition to protecting autonomous cars from physical threats, we need to guard them from cyberthreats as well.
It was interesting to note that with all of the Internet of Things devices at the show, particularly connected cameras, the existing security solutions from those vendors weren't being showcased, even though many of their systems had been compromised.
Autonomous cars have an even greater potential for problems, because they are wrapped with cameras and likely will have them both outside and inside the car. Should they be hacked, they could be turned into rolling cruise missiles with or without screaming passengers. Just one event like this, targeting a military or government facility, potentially could eliminate much of the market.
Only one company focused on that problem, and that was BlackBerry, which isn't dead. It just doesn't do much with phones anymore.
BlackBerry and Autonomous Cars
What is interesting about the BlackBerry solution is that it anticipates the problems with both commercial and consumer autonomous cars, with products that focus on fleet management and secure side-loading of apps in addition to the patching and updating activities that surround connected cars today.
BlackBerry even has technology that would improve a car's ability to deal with both natural and man-made disasters, allowing the vehicle to avoid emerging problems and automatically notify loved ones and managers when people in the car are safe or at risk.
The side-loading solution anticipates a time when people might want to load their apps and automatically ensures those apps are safe and don't contain malware. BlackBerry's tech can tell if you are driving your car. The car would know how you drive and be able to send out an alert (or perhaps execute some policy-based command, like pull over and stop) if someone stole your keys or hijacked your car, or if your child went on a joy ride. To this point, while I was at the show a woman's car was broken into and her keys stolen. The thief then went to her home and raided it, which was caught on security cameras.
As our cars increasingly become intelligent, it will be critical that they are secured so they can't be hacked, stolen, or used as weapons against us. I was surprised that so few firms seem to recognize this as a critical problem.
In addition to BlackBerry, Jaguar Land Rover (featured in several vendor events and at the BlackBerry booth, showcasing its new Land Rover Defender) appears to understand the importance of both security and technology performance as well. (Though given I own three Jaguars, I was a tad upset that the focus was on the Land Rover Defender rather than the Jaguar I-Pace I own).
There also was an amazing electric motorcycle in BlackBerry's booth that used BlackBerry's technology. It's reasonably priced for the category, and it actually looks like a motorcycle, which isn't common for electric motorcycles. Called the "Damon," it is one impressive ride.
Wrapping Up: The Most Important Autonomous Car Announcement
There were some impressive announcements of autonomous cars before the show by Nvidia, and during the show by Intel and Qualcomm. However, given that we live in a world with nation states spreading malware, which could result in lots of compromised cars, I think the most important announcements came from BlackBerry.
If our cars get compromised and go rogue, it could end very badly — not only for the industry but for us. It would be very ironic if the U.S. should lead with autonomous cars only to have those cars become homicidal.
Across the gamut, we need to take securing these new technologies far more seriously than we do, before we have a major catastrophe that could kill this nascent technology before it reaches critical mass.

Of the PC venders, Lenovo, in my opinion, did the best job featuring its products. The company not only was featured in every one of the day zero launch events from Qualcomm, AMD and Intel, but also had its executives on every stage to position Lenovo products to each audience.
Its peers weren't at every show and didn't put an executive on stage, so their products weren't positioned well — and one of the products they demoed didn't work. One rule of thumb that those competitors forgot is that you never let someone else demo your product.
At CES Lenovo showcased two products that were particularly impressive. One is the NEC LAVIE Pro Mobile (Lenovo owns NEC), which is a full-sized laptop weighing in at 1.72 pounds — a full POUND lighter than the MacBook Air. It is so light it doesn't feel real. The second is the Lenovo Fold X1, which appears designed to fit well in a woman's purse.
The Lenovo X1 is about the size of a woman's pocketbook when folded, and then it opens up to a full 13.3-inch screen. When open, you don't even see a crease.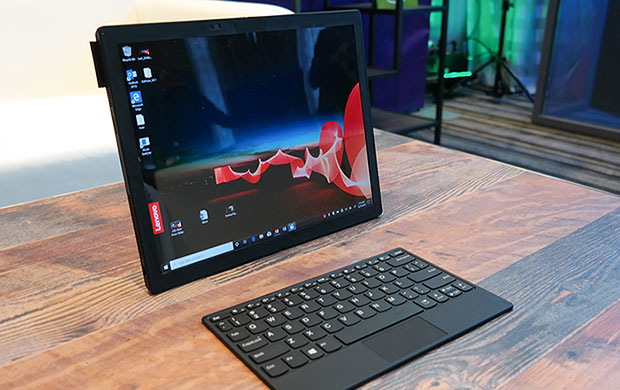 Lenovo Fold X1
---
It comes with a wireless keyboard so you can open it up and use the full screen for work and not take up screen space with a virtual keyboard if you don't want to. The keyboard nests in the folded PC, so you don't have something extra to lose or manage in your computer bag or purse.
Finding a laptop that will fit in a purse and not be too small to use has been a problem for my wife, and I think this would be the ideal laptop for her. I have my eye on the NEC, because I can't get over how light it is. Seriously, if you have a chance to pick one up you'll think it is filled with helium or is a balsa wood mock-up.
The Lenovo Fold F1 is a fascinating product and part of the reason Lenovo had the strongest competitive showing at CES this year. It also showed off the first Qualcomm-based ARM 5G laptop and the best AMD-based laptop as well, and I still can't get over how light the NEC laptop is. Lenovo brought its A-game to the show, but of the products, the Fold is the most innovative, and it is my product of the week.