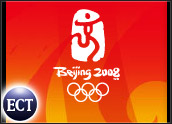 Part 1 of this two-part series laid out the challenges faced by NBC and its partners in handling the massive amounts of video generated at the Olympic Games in Beijing. Part 2 examines how they have done.
Online media coverage of this year's Summer Olympic Games on MSN is shaping up to be a breakout event for Internet TV, as well as quite a big hit for NBC and its tech partners. The network reported 12 million hits and 70 million page views on its Olympics Web site — and that was before the opening ceremony.
Things got even better from there: 62.7 million page views were recorded on the auspicious Chinese date 08-08-08, the Games' opening day. NBC on Tuesday reported 132.6 million page views through the Games' first two days, substantially greater than the 17.9 million recorded for the 2004 Summer Games in Athens. Video streams of Tuesday's historic 4×100 meter men's freestyle relay alone reached 1.1 million.
Record-Setting Performances
Besides all the world records falling at the Water Cube in Beijing, and even before the Games started, winning the mandate to provide this year's coverage of the 2008 Summer Olympic Games was something of a record for NBC as well. It's the 11th time NBC is broadcasting an Olympics, moving it past ABC.
Rapid deployment of a high performance transoceanic network and some sophisticated supporting technology needed to happen if NBC was going to deliver on its promise of providing an unprecedented 3,600 hours of Olympics coverage — some 2,900 of them live, as well as additional content on-demand via the NBC Olympic Web site and to mobile networks as well.
Working for NBC, Cisco built the contribution network that feeds the over-the-top (OTT) service, carrying content captured on site through feeds from Beijing to NBC's studios in New York, explained Cisco spokesperson Sara Stutzenstein.
"Once the content is re-packaged in Beijing, it is fed to the NBC studios in New York, where the content is pushed to the NBCOlympics.com portal for the OTT distribution. Others take it from there."
"Planning for the studios in Beijing started in January," Stutzenstein recounted. "We have had a team of engineers on site for over three months. Final tests of equipment took place two weeks before. So far, all is going well."
Real-time, Trans-Oceanic Coverage
Getting a local, high-performance network with transoceanic links set up and tested was vital to the success of NBC's unprecedented online coverage of the 29th Olympiad.
The Cisco network serves as the platform of a file-based workflow system for shot selection and editing and is now carrying live and on-demand video coverage of events that have never been seen before. It also enables staff at NBC Studios in New York to view and edit streaming online video content from Beijing in real time, avoiding the cost associated with transporting some 400 staff members to Beijing.
"With the Cisco network solution, we've achieved the Holy Grail of digital video, which is the ability to perform shot selections on low-res files and extract high-res material from those files even as they are being recorded. That's a huge accomplishment," vice president of IT for NBC Olympics stated in a Cisco case study.
Shine for Silverlight
Online video coverage is similarly proving to be a showcase for Microsoft's Silverlight-Beta 2 multimedia, multi-device platform, which Microsoft has been pushing as a competitor to Adobe's Flash since its launch last September. It's Silverlight and MSN powering coverage on the video section of NBC's Olympics site, part of a deal the two companies inked in January.
"MSN is providing distribution of NBC Olympics video content — which lives exclusively on the MSN network — to all of our U.S. visitors," MS CRM site manager Jim Glass wrote in an MSDN blog post.
The site is designed to handle more than 2.3 terabytes per second of traffic, Glass explains. "This was a strong cross-company effort, with many people and teams working together to make Microsoft's and NBC's coverage of the 2008 Olympic Games a reality.
Limelight Basking in the Limelight
Tempe, Arizona-based content delivery network provider Limelight Networks is another high-tech company whose star is getting a lift as a result of the role it's playing in delivering streaming multimedia coverage of the 29th Olympiad.
"We've been in business over seven years and have over 1,300 customers, including some of the largest names in the business: Disney, Fox, Netflix and other large content providers," Limelight spokesperson Paul Alfieri told TechNewsWorld.
Limelight on July 29 announced that it was chosen by NBC to be the primary provider for all live and on-demand streaming video for NBCOlympics.com on MSN. "We're responsible for delivering some 3,600 hours of content — live as well as storing all the on-demand content, so that when a viewer wants to replay something they just have to click," Alfieri explained.
Limelight operates a private, fiber optic TCP/IP network with connections to more than 900 broadband service providers globally, which means that for the greater part of its journey — from NBC's network operations in Beijing and New York to Limelight's data center and then out to its connections with local, last-mile carriers, streaming video content actually bypasses the public Internet, he elaborated.
The Olympics, Part 1: A Test of IT Strength, Endurance and Discipline