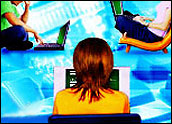 This story was originally published on May 11, 2009, and is brought to you today as part of our Best of ECT News series.
The term "journalism" conjures up powerful memories for many people. For some, it's the epic confrontation between Edward R. Murrow and Sen. Joe McCarthy, which ultimately led to the senator's downfall and the end of the Red Scare. For others, it's Walter Cronkite, whose stentorian tones and skill in telling the story served to chronicle the 1960s, earning him the sobriquet of the "Most Trusted Man in America." Still others can point to Bob Woodward's coverage of Watergate during the 1970s, which ultimately forced President Richard Nixon to resign in disgrace. Indeed, Woodward's role may have spawned a number of TV shows and movies over the years in which reporters and journalists are featured heavily.
Indeed, these have, in turn, created an image of the journalist as hero — investigating mysterious deaths, corrupt politicians and battle-torn war scenes — and contributed a fair share of hoary tropes, from the spinning newspaper used to showcase some public "scoop" to the hoards of microphone-laden reporters converging on the villain as he's perp-walked into the courtroom.
For all that, the vast bulk of journalism was far more mundane: hours upon hours of research; even more hours of waiting for or arranging interviews; sitting in on public meetings and taking notes; long hours on the road traveling; and, of course, spending a great deal of time writing. With a few exceptions, journalism tended to be a career with comparatively little personal recognition or pay at all but the highest levels, especially as newscasters — talking heads — increasingly become the ones to speak the words the journalists wrote.
Despite all of that, many journalists have been happy with their jobs — even with the stress, the long hours and the comparatively low pay. However, several factors are now pushing the journalism profession, as it exists today, into extinction.
The Beginning of Big Journalism
Modern journalism exists due to a curious convergence of factors that trace their origins back to the beginning of the last century. Newspapers have been around for a long time. When The Boston News-Letter, the first regular North American publication, went to press in 1704, Europeans had already had newspapers for nearly a century.
Benjamin Franklin got an early start in journalism as a regular contributor to his brother's newspaper, The New England Courant; later, he purchased the Pennsylvania Gazette in 1728 and proceeded to make it one of the most successful newspaper of the 18th century, changing its name to the Philadelphia Evening Post in the 1780s (to become one of the first daily papers) and then, after a change of ownership, to the Saturday Evening Post in 1821, which survived, aside for a few short interruptions, to the present day.
Until the late 1800s, most newspapers were paid for by subscription, donations, and the occasional support of local governments. Stories were typically gathered by reporters who would either cover local events or wait by ports or near gatehouse taverns in order to get stories from incoming travelers, sea captains, or other "reliable witnesses."
They would write up these stories in their "journals" (from the French word for "daily") and then sell them to local printers, who would produce broadsides. As papers began to develop more prestige, it became increasingly common for world adventurers to keep regular journals of their wanderings and then sell the stories to news-magazines when they returned home to help recoup costs.
With the invention of considerably more sophisticated printing technology (photogravure) in the 1870s, it became possible to create photographic images for reproduction in newspapers and magazines. This period also, not coincidentally, marked the rise of the advertising industry — as such a process made possible the easy reproduction of advertising graphics — and the rise of photojournalism. The additional income from advertising made it possible for formal news organizations to arise, both for local coverage and, increasingly, for foreign coverage.
Printing presses are expensive pieces of equipment and, as such, represent a significant barrier to entry, particularly for a newspaper. Magazines can be printed in runs with other jobs, but newspaper presses are highly specialized machines that can't really be suborned to other tasks, even if there should be time to run them. This has kept the number of newspapers down to a few for all but the largest cities, with many of the secondary papers serving a specific language demographic. This meant that as newspapers grew, so did their advertising sales departments, which often developed in tandem with one or two specific agencies that frequently were themselves acquired by the newspapers.
Papers survived the arrival of the radio — and later, television — because they offered a medium that complemented rather than competed with the other media. Specifically, with newspapers, a reader wasn't constrained by the schedule of the broadcaster. Moreover, newspapers could provide a low-cost alternative for many small-scale advertisements — job listings, real estate and automobile listings, want ads and personal ads — and they could also distribute coupons and other tangibles that could be shipped with the papers, something neither radio nor TV could do.
This meant that journalism itself became "Big Journalism," with journalists deployed throughout the country and the world. Syndication also helped, as it helped the largest papers establish brand name columnists with various specialities, while giving smaller papers the appearance of being far more heavily staffed than they actually were.
Enter the Pundit
It can be argued that newspaper journalism reached its apex in the 1970s, and that it has, in fact, been in decline ever since. One factor was the diminishing costs of video production, which, when combined with the growth of cable TV, made the creation of specialized news, analysis and entertainment channels feasible. This not only siphoned off advertising dollars, but also proved a powerful allure to young reporters who saw TV news as being more visible, lucrative and satisfying than print. A similar phenomenon occurred with radio in the 1930s and '40s.
The second factor was an increasingly fractured and factionalized market, which made it harder to sustain the illusion of objective journalism — an illusion that was only really made possible by the presumption of a monolithic culture that held sway in the 1950s and '60s. A newly politicized journalism had an overall corrosive effect upon the perceived authority of the journalist, and good investigative journalism gave way to the rise of the pundit, an opinion maker who did little to report news and everything to shape it.
The mania for mergers in the 1990s and early 2000s was the third factor responsible for the demise of big journalism. During that period, many previously independent newspapers, radio and TV stations were purchased by large news consortia such as Gannett, McClatchy, and Knight-Ridder (itself purchased by McClatchy in 2006). Newspapers have traditionally been extraordinarily profitable, and a common strategy has been to use the papers themselves as collateral for purchasing the papers — a process facilitated by the use of low-grade (i.e., junk) bonds. Once purchased, editorial operations were often evaluated, and editorial departments downsized in order to get the maximum possible profit.
Advertising had been undergoing its own large-scale consolidation that mirrored the newspaper publishing industry. Large advertising concerns bought up smaller, newer ad agencies, which, in general, pushed them to supporting large clients such as automotive manufacturers, pharmaceuticals, insurance companies, and so on — typically pushing the cost of advertising out of the reach of smaller producers, who increasingly moved to the Internet. This dependency upon high dollar accounts was a disaster waiting to happen.
---
Kurt Cagle
is the managing editor for
XMLToday.org
.
Follow Kurt Cagle on Twitter
.
---
The Rise and Fall of Traditional Journalism, Part 2
The Rise and Fall of Traditional Journalism, Part 3
The Rise and Fall of Traditional Journalism, Part 4