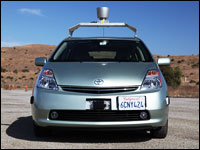 While several automakers are currently in the process of developing autonomous vehicles, the road ahead for self-driving cars could be long, with numerous obstacles to overcome.
According to the recent Autonomous Vehicles 2015-2035 report published by IDTechEx, the challenges, and technology have much in common.
Autonomous vehicles require the integration of cameras, odometers, accelerometers, gyroscopes, GPS, sonar, leveraging sensors, green credentials, and stealth of electric powertrains.
IDTechEx noted that much of the technology needed for a fully self-driving vehicle is already in use in various on-road, off-road, on-water, underwater, and airborne vehicles, but it will require more than just software to bring it all together.
So far, progress toward a truly driverless car is in the slow lane. However, both the auto industry and the regulatory bodies that oversee it are moving ahead.
It was in May 2013 that the U.S. National Highway Traffic Safety Administration released its policy on automated vehicle development. At the time, only Nevada, California, and Florida had actually enacted legislation that expressly permitted the operation of self-driving vehicles, but still only under certain conditions. Michigan followed later in 2013 by allowing the testing of automated motor vehicles on its roadways. "That was an important step," said Glen Hiemstra, founder of Futurist.com.
"Last year the NHTSA also released an intent that by 2020 it could require all new vehicles to have vehicle-to-vehicle communications," Hiemstra told TechNewsWorld. V2V communications systems are designed to transmit basic safety information between vehicles to facilitate warnings to drivers concerning impending crashes. "Such technology would make an autonomous vehicle all the [more] likely to hit the roads across the country," he added.
Levels of Automation
The NHTSA policy on automation officially clarified the five levels of automation for vehicles.
Level 0. No-Automation: The driver has complete and sole control of the vehicle controls at all times.
Level 1. Function-Specific Automation: This level of automation involves one or more specific control functions, such as electronic stability and pre-charged brakes, where the vehicle automatically assists the driver to regain control of the vehicle or stop faster than would be possible by acting alone.
Level 2. Combined Function Automation: At least two primary functions work in unison to relieve the driver of control of those functions. An example is adaptive cruise control in combination with lane centering.
Level 3. Limited Self-Driving Automation: A driver can relinquish full control of all safety-critical functions under certain traffic and/or environmental conditions to rely heavily on the vehicle to monitor for changes in those conditions requiring transition back to driver control. The Google car is an example of limited self-driving automation.
Level 4. Full Self-Driving Automation: The car can perform all safety-critical driving functions and monitor roadway conditions for an entire trip. Such a design anticipates that the driver will provide destination or navigation input but is not expected to be available for control at any time during the trip. This applies to both occupied and unoccupied vehicles.
"Level 0 is really a normal car with no level of automation," explained Praveen Chandrasekar, automotive and transportation research manager at Frost & Sullivan.
"With Level 1, it is things such as blind spot detection," Chandrasekar told TechNewsWorld. "This is where sensors in the car can chime or vibrate to warn the driver if he/she is swerving, for example. However, the car still has no actual reaction, and it is simply an alert.
"Semi-assist really only comes into play at Level 2, and here is where the vehicle can counteract if someone is veering out of the lane, and the car can put you back in the lane," Chandrasekar added.
The Race to Level 4
Levels 0 to 2 are already on the roads today, but the auto industry is quickly shifting gears as it continues to develop the technology that will be in Level 3 and Level 4 vehicles.
"Level 3 will be the next area to be explored by automakers with self-parking, but it is in Level 4 where the car can truly drive itself," said Dr. Egil Juliussen, senior director and analyst of automotive technology at IHS Technology.
"A truly driverless car could be on the roads by 2025, maybe with small-scale deployment in 2020 in certain areas," Juliussen told TechNewsWorld.
At present, it is the luxury makers that include Audi, BMW, Cadillac, Mercedes, and Tesla that are racing to develop a truly autonomous vehicle, but these car makers are also facing competition from Google.
"Google is looking to create a car that will do the driving for you, and that could mean a car that has no driver controls," addedJuliussen.
From Horseless Carriage to Driverless Car
Although the prospect of truly driverless cars functioning dependably and appearing on roadways is likely much further down the road, progress is accelerating thanks to the convergence of computer and automotive technologies.
To put things in perspective, consider the relatively brief history of the automobile.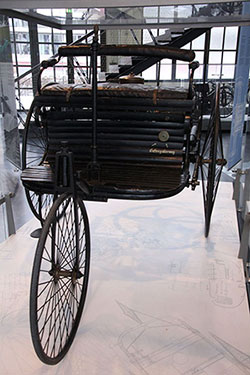 The Benz Patent-Motorwagen
It was less than 130 years ago, in 1886, when German inventor Karl Benz built the Benz Patent-Motorwagen. Soon after, in the early 20th century, automobiles began to displace the horse-drawn carriages that had transported people for centuries. Then, within a generation, automobiles surpassed horses as the primary means of transportation in the developed world.
"It is always helpful to look at the timeline, and then the developments become easier to see," said Hans-Werner Kaas, senior partner at McKinsey & Company.
The speed of development is only increasing. "The progress of automotive technology is at a faster pace than what we've seen in the past 10 years," Kaas told TechNewsWorld. "I don't think we need to talk about another 100 years before the cars do the driving. It is happening at a much greater pace now."
In addition to the levels of automation, there are multiple steps that must also be addressed before driverless cars reach critical mass.
"There is really a three-part scheme to make these possible," said Hiemstra.
"These need to be economically feasible, technologically feasible, and finally clinically and socially acceptable," Hiemstra added. "We're seeing that the technology is there, the costs are coming down, and as noted, the legislation is coming together while interest in autonomous vehicles is picking up."
Demands on Infrastructure
Just as the car changed how many people travel to and from work in the last century — and, in essence, created suburbs by increasing the distance people could travel from home to work and back each day — the automobile also changed the landscape.
The emergence of the automobile resulted in the construction and development of highways, freeways, and parking lots. For the autonomous vehicle to become ubiquitous, the infrastructure that supports today's driver-controlled vehicles will need to transform.
"For Level 4 automation, the car basically needs to think. It is not just sensors and a map. It has to be a brain that can make real-time decisions," noted Frost & Sullivan's Chandrasekar.
"This means that it will be something closer to artificial intelligence, which can be trained on the terrain and [in] the environment. Unless the car can truly think, it will need to be used in a totally controlled environment," he added.
This may not be such a challenge, at least over time. Just as cars have changed the urban and rural landscapes, autonomous cars may change it again, perhaps with specific autonomous-only protected lanes on the highways or autonomous-only roads within cities.
"Cities were only retrofitted for cars in the past century, so it isn't that difficult to imagine that these cities could be retrofitted again," Chandraseker pointed out.
The changes need not be drastic necessarily. "We may not even need to change or add infrastructure," said futurist Hiemstra. "We just need to make the road more intelligent, possibly with the introduction of sensors."
Ownerless Cars
All of this might well change the dynamics of car ownership in the times ahead when driverless cars are not owned by most individuals.
"It isn't difficult to see a future where cars are viewed as people today view horses," said Hiemstra.
"People don't own horses today. Well, maybe wealthy people might own them and take them out for a ride, but horses aren't really used on a daily basis for transportation," he quipped.
"There could very much be a future where the average person doesn't own cars. Instead, you just walk out the door and have a car arrive and take you where you need to go," Hiemstra postulated.
These days, a majority of privately-owned automobiles sit idle much of the time while the owner is at work, school, shopping, or participating in other activities outside the vehicle…or spending time at home.
Looking ahead, "driverless cars could mean the car is always doing something, just for different people," Hiemstra concluded.