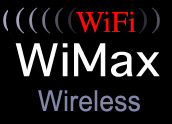 Gathering momentum and now moving swiftly, a host of companies are progressing with efforts to develop and prove so-called fourth generation, or 4G, wireless technologies.
Eagerly anticipated, what exactly constitutes 4G is yet to be determined. Though this process is driven in the main by international industry associations, no one group's efforts span all the evolving technology and international definitions and standards that will go into defining and applying it.
That said, taken together what comes to define 4G, mobile telecom services hold out the promise of end-to-end, totally IP (Internet protocol), packet-switched networks that will be able to handle growing loads of wireless voice, data, video and audio transmissions more efficiently, at lower cost and at higher performance levels.
The anticipation, as well as expectations, are likely only to intensify as global industry working groups press on in defining component 4G and interoperability standards; vendors introduce certified and uncertified 4G products; and backbone Internet and mobile telecommunications service providers increasingly find their networks congested and turn to pay-per-usage as opposed to flat-fee subscription models.
Who Owns 4G?
Working groups within global industry associations — the Institute of Electrical and Electronics Engineers (IEEE) and the International Telecommunication Union (ITU) at the top of the list — are hard at it in developing technological and political differences among the evolving alternative standards definitions that will come to comprise 4G.
Just organizing a global standards definition process that brings such a wide-ranging group of experts together — often from competing organizations — much less getting them to hash out and settle their differences is a mammoth task.
"There's no official owner of who defines 4G," explained Mark Durrant, a spokesperson for Nokia, an industry sector member of ITU-R, the ITU's Radio Communication Sector, which considers its definition of IMT-Advanced (International Mobile Telecommunications) to be 4G.
"Some are calling 3GPP (The Third Generation Partnership Project) LTE (Long Term Evolution) '3.9G.' IEEE 802.16e considers WiMax to be [wireless] 4G. The common denominator for all of these stakeholders is that 4G will be based upon OFDMA (orthogonal frequency division multiple access) and MIMO (multiple-input, multiple-output) for radio antennas — the technology upon which WiMax is based," he said.
"ITU-R has agreed not to use the term 4G, but instead refer only to its International Mobile Telecommunications technologies, which consist of the existing IMT-2000 and forthcoming IMT-Advanced families. Particularly, in the case of LTE, it can be said that it does not belong to any given generation since it is both long-term evolution of third generation and also will fulfill requirements of IMT-Advanced. Similarly, WiMax blurs any clear-cut definitions of generations," Durrant added.
Who really owns 4G is debatable, concurred Intel WiMax strategist Margaret LaBrecque.
"I can tell you that from my own experience in the ITU-R — specifically Working Party 8F, the group defining IMT-Advanced — it is a highly politicized process controlled largely by wireless incumbents. So I would not personally look to the ITU-R as more official than 3GPP or IEEE when it comes to defining 4G," she said.
The View From Sprint
"We aren't really interested in the debate about what is 4G; the point to a technology is what it can do for the user," Sprint Nextel Xohm spokesperson John Polivka told TechNewsWorld. "Technology should be transparent to the user. While a technology, WiMax is a 'business strategy' story — the embedding of wireless broadband capability in new and innovative devices that presently only have wired connectivity or lack Internet access.
"Sprint is thinking beyond the traditional handset. Mobile data represents new revenue, as does consumer electronic devices enablement. 4G chipsets are at least one-third cheaper than current 3G [ones], and [are] sure to decline further. This makes it more cost-effective to incorporate in more devices," he explained.
"We see WiMax as a fourth-generation technology because it is IP-based. Its technological root is OFDM (orthogonal frequency-division multiplexing) technology, same as LTE, which was deemed to be a fourth-generation technology. WiMax speeds, capacity and spectral efficiency separate it from 3G technologies," Polivka noted.
The LTE Camp
Broadband and completely IP-based, mobile WiMax — IEEE 802.16e — figures prominently in the 4G brew, though mobile telecom providers in Europe, along with Verizon, are backing another horse, LTE, as their preferred 4G migration pathway.
"The move towards 4G will be an evolution and will be driven by market needs," Nokia's Durrant told TechNewsWorld. "Clearly, some markets will see demand before others. The ITU-R process time line indicates that the specification work will be finalized in 2011.
"Head-to-head comparisons are difficult. You have to take into account the business case, operator background, spectrum availability, licensing and the regulatory environment. We see LTE is the optimal evolution from GSM (Global System for Mobile communications) and WCDMA (wideband code division multiple access)/HSPA (high-speed packet access) to future networks and services," he explained.
"WiMax is expected to be selected by those operators not having 3G WCDMA licenses. For example, fixed operators offering broadband/WLAN (wireless local area network) services could compete further by introducing WiMax, provided they have the available spectrum. With regard to CDMA, operators seem to look for alternative technologies as their future evolution path, which increases the potential of WCDMA/LTE and WiMax," Durrant added.
The WiMax Camp
Speaking to the differences between LTE and WiMax, Intel's LaBrecque told TechNewsWorld that "while the two are similar technically, WiMax has a two- to three-year head start, and will be evolving to an even faster option just as LTE arrives. The two may be able to coexist, but it's premature to comment much on LTE, seeing that it's further out and not even an approved standard yet. We're very excited to see WiMax come to market in a big way starting this year."
While it will be 2012 before LTE gains critical mass, WiMax is being deployed by major telecom operators around the world today, she continued, including in India, Japan, Latin America, South Korea, Taiwan (with its M-Taiwan initiative), the U.S. and elsewhere.
3G network operators including SK Telecom, whose WiMax-based Wibro network became the country's largest data service within one year of being deployed, as well as Japan's KDDI, aren't waiting around to deploy next-generation wireless broadband services, LaBrecque pointed out.
Big Year for WiMax
The WiMax Forum predicts that there will be some 133 million people using WiMax networks by 2012. There are 305 commercial WiMax deployments, fixed and mobile, in 118 countries, according to WiMax Forum statistics.
"2008 is an historic year for WiMax," LaBrecque noted. "Growth, public and private investment and network deployment in countries outside the U.S. continues at a rapid pace. In the U.S., Sprint will introduce its first WiMax network in Baltimore in September, and Intel will ship its first WiFi/WiMax product for its latest Centrino 2 laptops.
"The first devices and products have been certified, and the Open Patent Alliance was formed to make it easier for companies to develop WiMax technologies and products. And that's just a sampling of what's happening around the world," LaBrecque summarized.
Meanwhile, Sprint, Clearwire, Google, Time Warner Cable, Comcast and others joined together and pledged to invest more than US$3 billion to a WiMax venture, and have proposed creating a new Clearwire with a nationwide footprint that will focus on deploying a nationwide WiMax network along the lines of those in Hong Kong, South Korea, Taiwan and others.
Picocells and Femtocells
As was the case in building out 2G and 3G networks, building out 4G networks requires time, patience and commitment, LaBrecque commented.
Even with wireless operators upgrading their core networks to handle more IP traffic as mobile data traffic increases, "as the next generation of devices arrives in the form of iPhones, smaller laptops, connectivity-enabled CE (consumer electronics) and other devices, data traffic will dramatically increase and operators will face the need for major upgrades to their core networks," LaBrecque elaborated.
Operators should adhere to an all-IP based core network definition for these massive upgrades — whether it is defined by the WiMax Forum Network Working Group or 3GPP SAE (System Architecture Evolution.)
Developing and deploying 4G networks also requires new radio frequency base station technology. Intel is working with the WiMax forum to develop network specifications for picocells and femtocells, for example.
"4G requires wide swaths of spectrum to support higher data rates — and these wider swaths are typically available at higher frequencies, and because radio signal propagation goes down as frequency goes up, 4G systems will rely more upon pico- and femtocells to cost-effectively increase coverage, especially indoor coverage," LaBrecque explained.
"Also, the ability to offload wireless traffic to home and office wired broadband networks presents opportunities for end users to utilize the most cost-effective connectivity option available to them, depending upon their location, whilst offloading data intensive traffic from the wireless operator's network. If done right, pico- and femtocells can be a win-win," she added.
New Cell Technology, New Network, New Business Model
Sprint employs femtocells now in its AirRave for its CDMA network, while Xohm-WiMax will have a built-in modem that creates a portable hotspot for site or campus applications, Sprint's Polivka explained.
"This helps strengthen the outdoor signal indoors. WiFi — unlicensed spectrum — will still have range limitations, which WiMax can extend, with better security and QOS (quality of service) from licensed spectrum. On a job site, for example, one WiMax modem can create a hotspot for many users. When Sprint launches Xohm WiMax in September, a home/office modem will be in the device portfolio," he added.
Sprint's WiMax business plan is unique, Polivka contends, "in that consumers will get devices in retail channels, versus being limited to company stores, and self-activate them either over the air or via an online portal.
"We don't intend to subsidize devices and therefore lock customers into contracts, typical for the Old World telecom model, instead offering subscriptions for bundles of devices, versus one contract per device like [the] present model. Customers can change devices whenever they want. Sprint ecosystem partners will do device marketing, as will others with any certified device. This is the true definition of the open Internet," he noted.