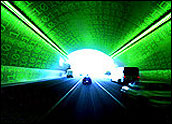 "Web 2.0" was one of the computing industry's biggest catch phrases of 2007. Much like a software upgrade, Web 2.0 brings to mind images of bug fixes and new features. In reality, however, Web 2.0 is nothing more than a new round of Internet functionality bolted onto a very tired and old World Wide Web infrastructure.
The rise of Web 2.0 technologies have many corporate CIOs and small and medium-sized business entrepreneurs envisioning a golden road to becoming a successful Web 2.0 player. Many companies view Web 2.0 as another tool to increase efficiency, cut travel costs and share resources, anytime and anywhere. The big promise of Web 2.0 enterprise is to provide that newly paved Internet superhighway.
The roadbed is in place. However, it was built with too much legacy technology, according to some observers. The Web 2.0 technology is available, but its paved surface is still soft. So what is standing in the way for the surface to harden and more travelers to use it?
One overlooked yet significant issue is the pressure these Web 2.0 initiatives are placing on the enterprise WAN (wireless area network). The potential of full collaboration by an entire remote workforce, while immensely attractive for cost-effectively achieving business goals, could severely strain — and ultimately cripple — the network, according to a company that offers hardware to accelerate Internet performance. The Web 2.0 is groaning at its wired infrastructure.
"Web 2.0 was conceived for use with cable bandwidth. With the massive sharing of bandwidth, components are gasping for more bandwidth. We find that collaboration grinds to a halt because of traffic demand. There is limited bandwidth and latency," Gareth Taube, vice president of worldwide marketing for Certeon, told TechNewsWorld.
Traffic Jam
Serious Web 2.0 applications already exist. For instance, Microsoft's Sharepoint Offices Services (MSOS) is loaded with XML (Extensible Markup Language) and HTTP (Hypertext Transfer Protocol) code embedded. Thousands of people are using it, Taube noted.
"The problem is that LANs (local area networks) keep getting in the way," he said.
In order for Web 2.0 applications to reach their potential, enterprises need to find a way to maximize existing delivery resources. A common solution is to deploy LAN acceleration appliances worldwide, Taube said. Certeon makes appliances for data centers and back offices to accelerate Internet traffic.
Because an application acceleration appliance compresses data sent over the WAN and speeds its delivery, it stands as one viable method of enabling the Web 2.0 enterprise.
"WAN optimatization transmits only changed data. This makes Web 2.0 usable in commercial settings," said Taube. "WAN acceleration is designed around the various types of components used in Web 2.0 applications."
Much of Web 2.0 is based on small objects rendered by the Web browsers. To speed this process along, layer seven of network stack needs to be optimized, he explained.
More to It
Others suggest that the business process itself is hindering a more widespread acceptance of Web 2.0 opportunities. Web 2.0's adoption has been so rapid among consumers because they are able to engage in these sites with little to no cost.
However, that is not the case for all businesses. Enterprises are likely to be more reluctant to switch to these services given the changes that will need to be made to workflow, IT systems and other operations as these services are introduced.
"Businesses simply cannot afford to adopt these services without considering the cost-benefit of adoption in terms of gains of productivity and revenues," Simeon Spearman, an analyst for the Washington, D.C.-based futurist research and consulting firm Social Technologies, told TechNewsWorld.
If Web 2.0 is to be integrated into the enterprise, it will initially need to complement pre-existing business processes instead of radically altering them, Spearman noted. Companies will need easy-to-use software for everyone expected to adopt the technology as part of the everyday operations within the company.
SMB Option
As Spearman sees it, small businesses are already making good use of Web 2.0 services like Google Docs and Spreadsheets and Zoho. These products enable small companies to increase their collaboration efforts without investing into more established enterprise software packages.
"Web 2.0 can level the playing field for small enterprises, using widgets and online software that provide capabilities that have traditionally required a lot of money or expertise, or gaining input and ideas through practices like crowdsourcing," Spearman explained.
Often, however, company size is not a determiner in the acceptance or rejection of Web 2.0 services. Some companies are still struggling with the technology and the communication benefits first made available in Web 1.0.
Foreign Concept
Put simply, some enterprises just do not get it.
"They don't understand it," noted Shama Hyder, chief marketing expert and CEO of After The Launch, a virtual marketing firm. "The Web 2.0 concept is still very foreign to most businesses. They aren't sure what the risks and advantages are of such a technology," she told TechNewsWorld.
Many businesses fear that Web 2.0 may be a bubble that will eventually burst. They are not convinced that it is a sustained technology that will further their business, she explained. Even for believers, embracing Web 2.0 is often intimidating.
Early adopters do not know where to start, according to Hyder. Many businesses do want to become a Web 2.0 enterprise, but they find the information about the technology can be overwhelming. Even the experts are still learning what works and what does not, she said.
"A clear ROI (return on investment) has not been established. Ideally, implementing Web 2.0 technologies can lead to reduced costs and increased efficiency. However, a clear return on investment has not been established for most of these technologies. Companies see this as a major risk," said Hyder.
End User Mismatch
Much of the delay in adopting Web 2.0 applications is caused by a mismatch of end user expectations, technologies and CIO/IT functions, according to the head of a company specializing in creating rich, intuitive Internet experiences for businesses.
"Innovation is being driven by consumers' user needs rather than those of IT managers. CIOs and IT managers are used to buying technologies for huge implementation projects whereas Web 2.0 is driven by end user needs. This means employees are trying to find useful Web 2.0 apps from the Internet to solve a certain task while the CIO is trying to unify infrastructure," Jari Ala-Ruona, CEO of Movial, told TechNewsWorld.
Web 2.0 applications use new technologies like Ajax, Flash, RSS (really simple syndication) and VoIP (voice over Internet protocol) that are not necessarily supported by the IT infrastructure that enterprises provide, he explained, adding that installation of add-ons may be prohibited. Data security is a huge concern for IT mangers, and the tide has not turned here yet, he said.
Many of these technologies are new and are not fully bulletproof yet. This contributes to performance problems that make users shy away from many Web 2.0 apps.
Antisocial Mindset
Another reason for the slower acceptance of Web 2.0 applications by corporations is the social factor, Ala-Ruona said. Apps that drive more communication, like VoIP linked with social networking, are not enterprise-proof yet. As a result, some companies prohibit the use of social networking and VoIP in their premises and computers.
By comparison, real Web 2.0 is social and interactive. Web 1.0 and early Web 2.0 are more about broadcasting. A change in thinking is needed at IT functions, he concluded.