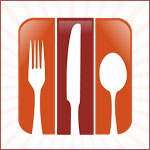 To get rid of the clutter of meal ideas, recipes and grocery lists stuck on his family's refrigerator, Henrik Nielson decided to create an app that could serve the same purpose — and do it much better.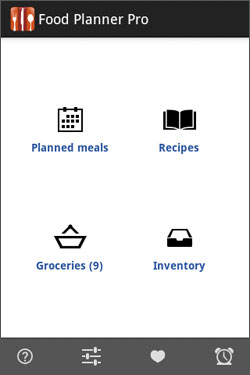 With the app he developed, Food Planner, users can import recipes from the Web or create them manually, then generates shopping lists and meal plans. The app's goal, ultimately, is to make it easier and more convenient for people to make healthy meals at home.
"By using Food Planner to manage and organize your household, you will have access to millions of healthy food options, diets and recipes," Dave Buote, CEO of Food Planner's parent company, MiniMobile Software, told TechNewsWorld.
"Just the task of planning daily meals can be cumbersome and time-consuming using traditional methods," he said. "Having your recipes, plans, inventory and a shopping list at your fingertips will have you cooking at home more, saving you money and providing hearty and healthy home-cooked meals."
Losing It
Nutrition apps have also been transforming the weight loss space. Apps like Lose It! and My Diet Coach, for instance, are helping people to achieve their weight loss goals.
Lose It! lets users record what they eat, monitor their caloric intake, set goals, and link up with a community of others seeking to lose weight.
"It's very powerful, because it's an education process," Lose It! Vice President of Product Marketing Patrick Wetherille told TechNewsWorld.
"People can see exactly how many calories they're eating, and there are a lot of foods out there that have many more calories than you would think," he observed.
The app helps each user set a weight loss goal. It then develops a daily calorie budget based on that goal and projects the date it will be reached. Users also have the option to link up with a community that can support them on their weight loss journey.
"The community is supportive and helps them to achieve their weight loss goals," said Wetherille. "There's a lot of community support, and the program is designed to draw the user in the longer they use it."
A struggle with his own weight inspired Anat Levy to develop My Diet Coach.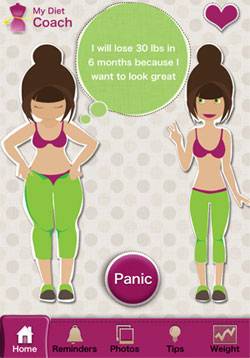 "One day I was about to open the fridge and grab a piece of cake, [but] then I thought I needed a genie to pop up and tell me, 'No — don't do that!'" Levy told TechNewsWorld.
"Then I figured out that there was no app which assists with the mental side of weight loss, so I decided to develop one," he recalled.
My Diet Coach focuses on providing motivation and changing habits. It reminds users of their goals, offers motivational quotes, and provides a food cravings panic button.
"It is like a virtual buddy who encourages you and coaches you all along the way," said Levy. "Motivation and changing habits [are] the key to weight loss success."
Providing a Carrot
Eating well and losing weight are both connected to a much broader range of healthy behaviors, and some apps seek to provide motivation across the spectrum.
TheCarrot, for instance, allows users to record their daily activities, monitor their progress, and get motivational feedback.
The app also gives people the opportunity to connect with their healthcare providers, who can track the progress of their patients in achieving everything from weight loss to smoking cessation.
"It's a learning framework," Doug Trauner, CEO of TheCarrot.com, told TechNewsWorld.
"You could just write down what you're doing, and you can get value out of that, but we're really trying to create a collaborative capability," he said. "From the patient's perspective, it's not just the picture or the note, but the fact that you're able to share that with clinicians."
TheCarrot is all about integrating patient-generated data with clinicians who can analyze that data and provide a recommended course of action.
"It's great for the consumer to have a cute little app that has one capability," said Trauner, "but the challenge becomes, how do you integrate that into a clinical market? When people talk about patient engagement and patient self-management, you can't continue to say 'print it out and bring it in.'"
TheCarrot focuses on motivating people and facilitating communication between patients and their healthcare providers.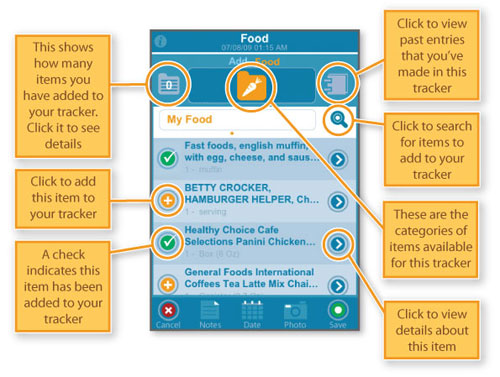 "There are a lot of apps out there where you can record what you eat," said Trauner. "The real question comes down to what makes sense to the individual, and how are they going to get the feedback. That's why we work with physicians, so they can recommend a plan for a patient and then help them to achieve that. It makes it sustainable."