Kraft wants you to wake up and smell the Oscar Mayer bacon, and its latest marketing campaign could point to smell-related technology finally getting a whiff of success.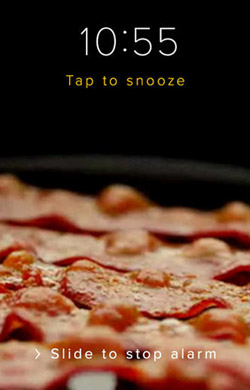 The company has debuted a new smartphone application designed to help users wake up to the sound of crackling bacon. As part of the campaign, Oscar Mayer also is giving away thousands of iPhone attachments that work in tandem with the app to produce the smell of bacon — perhaps one of the most pleasant scents to wake up to for those of a carnivorous persuasion.
It is, of course, a campaign designed to get people to buy bacon, possibly to make sure they are not left wanting after they wake up to the distinctive scent. The device is naturally backed by elaborate, splashy marketing efforts.
Memory Trigger
This is not the first time a company has tried to harness the power of scent through technology. Movie theaters and othershave experimented with digital scent technology. Smell is a powerful memory trigger, after all.
In the real world, scent increasingly plays a role in luring shoppers.
"The second secret that Victoria's Secret uses is a signature smell — so that when you walk past the store, you don't even realize it, but when you get that whiff it triggers a memory and it forces you to go into the store," marketing expert Lon Safko told TechNewsWorld.
While the bacon alarm clock seems little more than a gag device, there's the possibility that if it works, it could act as a solid proof of concept. The technological challenges of nailing the blends of compounds and chemicals to produce an accurate scent are many.
Still, it is one thing to accurately replicate a single scent in a device, and quite another to develop a system for producing a variety of scents.
Language of Smell
"I still bet that the [Oscar Mayer] technology is not perfected enough to be really what it wants to be, but it will at least be a demonstration of principle and a good joke," Roger L. Kay, principal at Endpoint Technologies Associates, told TechNewsWorld. "It's almost like language in a way, if you think of the complexity of what a real smell is composed of."
Manufacturers creating a device designed to emit multiple smells would have to calculate the chemical formula for each scent it would produce — which could take a great deal of time — and find a way to contain all the chemicals and other hardware in a device small and durable enough for commercial use.
Should a company nail down the replication of scents through a device in the future, the potential applications would be near-limitless. One could be shopping online for a new perfume at home and smell the fragrance before clicking the purchase button. Television viewers could be treated to tantalizing — or perhaps stomach-churning — aromas on cooking shows.
Mainstream Potential
It's likely that we are many years away from such smell technology entering the mainstream. Even then, it's unclear whether consumers would accept the technology into their lives at a mainstream level — or even use a bacon alarm clock regularly.
"How would you feel if you were watching a movie and started to smell something burning? You would probably jump out of your seat and start looking for [the cause]," Jim McGregor, principal at Tirias Research, told TechNewsWorld.
"Or, what if the smell isn't so pleasant? I'm all for an immersive experience, but smell just doesn't need to be a part of entertainment or many things people do on a daily basis," he maintained.
"Bacon, while there's a big craze for it right now, has a very strong smell," Safko pointed out. "It sounds like a good idea on the surface, but in practicality, it'll be fun once or twice. After that, I don't think anybody would use it more than three times. It won't have the sensory appeal after the third day, and if your house starts to stink like artificial bacon, that's going to get really old as well."
Users who try the bacon-smell alarm clock more than a few times could end up over-egging the joke.