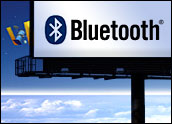 For the uninitiated, "Bluetooth" is a funny word for an awkward device you stick in your ear. The moniker has thus become a non-assuming general descriptor for hands-free calling. That's about to change. Bluetooth has grown into a disruptive wave that's beginning to crest over the top of more than one industry.
"It's the perfect storm: The technology has matured, the prices have plummeted, and the battery life is long enough to make many products disposable commodities," Jack Corrao, managing director of Corrao Group, told TechNewsWorld.
How Long-in-the-Tooth Evolved to Wicked Fang
Bluetooth sharpened its competitive edge in two new versions. Bluetooth 3 introduced 802.11 and Bluetooth 4 introduced a low-energy (LE) mode.
"Today, Bluetooth is shipping over one billion chips every year," Nick Hunn, Bluetooth expert and wireless evangelist for CSR, told TechNewsWorld. "Looking forward, the industry can see that growing by an order of magnitude."
Bluetooth is set to become even more dominant as a short-range wireless technology with the release of the latest Bluetooth low energy specification, Hunn said.
"Where it stands to change the way that products are designed is that these devices will be able to talk to a new generation of mobile phones and gateway devices, which can forward this data on to a Web application, or to a downloadable app on that phone," he explained. "So whenever you stand on your weight scales, swing a golf club, or go running, the information can automatically appear on your Web site."
The 3 Flavors of Bluetooth
Besides enabling consumer products to automatically talk to a Web page, Bluetooth LE has the ability to determine the distance between devices.
"That can be used as an access lock for your phone, for entry to your home or office, or as a warning if you leave your phone or PC behind," explained Hunn.
Although the uses vary, there are three basic forms.
"There are essentially three flavors of Bluetooth available: high speed, low energy and classic. depending on the application, one or all of these 'flavors' will be present," Michael Foley, Ph.D., executive director of Bluetooth SIG, told TechNewsWorld.
Lest you think this technology is somehow limited to the usual array of cellphones, laptops and PCs, take a look at the vast mix of industries that are adopting its use. They range from athletic shoe makers to hospitals.
"The Continua Alliance has already selected Bluetooth low energy as the low power wireless transport for their personal area networking devices," said Hunn. The Continua Health Alliance is the official body that recommends standards and technologies for the healthcare industry.
"Manufacturers are looking at it not just for the obvious medical devices, like scales, blood pressure and glucose meters, but are also considering it for smart plasters and clothing with built-in sensors," he added. "We also expect it to bring standardization to the growing number of sensors used in assisted living and medication reminders."
Bluetooth is appealing to the growing smart energy market as well.
"With a range of over 50 meters, it's ideal for smart meters and displays, especially where these are battery-powered," said Hunn. "And as it will work with mobile phones, it brings phones even closer into an individual's interaction — not just with the things they carry with them, but the environment around them."
Bluetooth's Reincarnation
Little has been said about Bluetooth's second coming; perhaps the horns will blow and the lights will brighten when enough products are stocked in stores. There's time yet before Bluetooth becomes ubiquitous, but not as much as one might think.
"We're just waiting for the market to catch up,' said Corrao. The Corrao Group aggressively seeks and supports startups to help them get Bluetooth products to market sooner.
The funny thing is that most people have Bluetooth in a device they already own; however, most people don't realize how much more Bluetooth is capable of doing.
"Fortunately, device makers DO know and are starting to expand the ecosystem of applications they are supporting," Craig Ochikubo, vice president and general manager of Broadcom's wireless personal area networking line of business, told TechNewsWorld.
For example, the Bluetooth 3.0 + HS (High Speed) specification lets Bluetooth work closely with wireless LAN to enable very high-speed wireless file transfers (of up to 24Mb/s), noted Ochikubo, so that Bluetooth + WLAN can now be used for moving huge movie files from smartphones to computers.
Bluetooth 4.0 adds the ability for Bluetooth to enable very low-power devices (such as health and fitness sensors), again broadening the universe of applications.
The Bluetooth Invasion
There are basically three Bluetooth initiatives at play: wireless, cloud computing and the medical market, according to Corrao. However, that's a bit misleading, for Bluetooth is set to be far more pervasive than a reading of that short list would indicate.
Look for Bluetooth to make tremendous changes in how we use existing products first — but newer products are not far behind.
"No other radio technology offers the flexibility, maturity and power that Bluetooth can bring across such a diverse product range," said Broadcom's Ochikubo. "For that reason, we think consumers will start looking more and more for devices that offer the convenience and ease-of-use of Bluetooth."
For now, the buzz about Bluetooth is at a low hum. There's some speculation over the threat to Sirius as the in-car environment leans more heavily toward Internet radio, online connectivity in general, and thus Bluetooth. However, it is state mandates, not music, that may end up driving Bluetooth beyond the roadways and into homes.
"Hands-free phone legislation forces drivers to go out and purchase a Bluetooth unit for use in their cars, but it quickly requires the public to become aware of the Bluetooth technology itself," Adam Ortega, wireless buyer for Car Toys, told TechNewsWorld. "This forced education will lead consumers to discover other ways Bluetooth can be used in their everyday lives, other then just using it in their vehicles."
Bottom-line: Bluetooth's full potential is far from realized, and innovation has just barely warmed its engines.
'Always Off' Trumps 'Always On'
Another driver pushing Bluetooth to the forefront is its unique approach to energy.
"Unlike WiFi, Bluetooth does not continually search for devices to connect to," explained Bluetooth SIG's Michael Foley. "With Bluetooth v 4.0, data is transferred only when necessary — this is a huge benefit to power savings."
Simply put, this means a regular coin battery, such as one would find in a watch, can power Bluetooth for the life of many products.
"Bluetooth low energy is essentially a redesign of the Bluetooth standard that focuses on devices that have small amounts of information to convey, and which may never need charging," explained Hunn. "It's been optimized for these so that they can run off coin cells for years."
The Fly in the Pie-in-the-Sky
It's an inconvenient truth that most technologies today are not completely benign, and Bluetooth is no exception to the rule. Just like GPS can save lives but is also used clandestinely to aid banks in repossessing vehicles, Bluetooth can also be used to keep up with an awful lot of details in your private life. The question is not whether it be used this way — but how and when.
The industry has already thought of the predictable Big Brother fears, said Corrao.
"Continua Alliance is ensuring your personal and medical information is protected," he pointed out. "You will have to opt in, for example."
In all probability, Continua's concern for patient privacy stems from regulations such as the Health Insurance Portability and Accountability Act (HIPAA). But regulation does not yet exist to protect Bluetooth use outside of healthcare.
However, what privacy protection the government gives in HIPAA, it snatches back with the Patriot Act — and make no mistake, Bluetooth could conceivably fall under the Patriot Act, since it is classified as a communications technology.
Besides, there are those that would argue that the notion of privacy is an antiquated idea, long since sacrificed on the altars of Facebook, Twitter, Foursquare and personal blogs.
They could be right.