There's no doubt phablets have become increasingly commonplace in the mobile computing arena, but several new devices promise to take the tablet-smartphone hybrids to bigger size extremes than ever.
Samsung, for instance, announced on Monday that it is bringing its Galaxy Mega smartphone — featuring a 6.3-inch screen — to the United States market.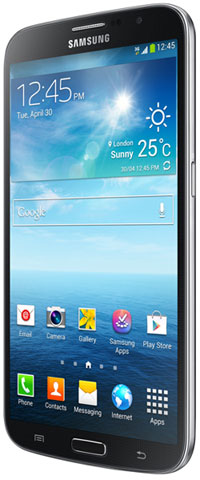 The device is essentially a Galaxy S4 upsized.
Nokia, meanwhile, is testing a smartphone with a 6-inch screen, The Verge reports. That monster device will reportedly arrive on the market later in the year.
In June, Sony announced the Xperia Z Ultra, which has a 6.4-inch touchscreen display and is billed as having the world's largest full HD smartphone display.
All three smartphones are phablets, which ABI defines as "a smartphone with a diagonal screen size greater than 5.5 inches," Michael Morgan, a senior analyst with the company, told TechNewsWorld.
"We have long suspected that phablets would be a fast-growing segment of the smartphone market, and it appears that this is coming true," Morgan added.
The Galaxy Mega
Samsung's Galaxy Mega features a 1270 x 720 HD screen and a 1.7GHz dual-core CPU.
The device also sports a 1.9 MP CMOS front camera and an 8 MP CMOS rear camera with power LED flash. It also has the standard sensors, including an accelerometer, a gyro-sensor, a magnetic digital compass and a proximity sensor.
Autofocus and GPS/Glonass are available as well.
The Galaxy Mega will have a USB v2 port and a microSD external memory slot. A micro USB port is available.
It will run Android Jelly Bean 4.2.2. Preloaded features will include Samsung's WatchON, which lets users employ the Mega as a remote control; AirView; Story Album; S Translator; Easy Mode; and Multi Window display.
Pricing and Availability
The device will be available in black or white. Starting Aug. 23, pricing through AT&T will be US$149.99 with a two-year contract. Sprint and US Cellular will carry the device as well.
"We'll announce pricing and availability closer to the launch," Sprint spokesperson Natalie Papaj told TechNewsWorld.
A Samsung spokesperson was not immediately available to provide further details.
A 1080p Display
As for Nokia's reported entry into the phablet market, it is currently code-named Bandit and will reportedly apparently include a 6-inch 1080p display and run on a Qualcomm Snapdragon quad-core processor. Featuring a rear camera rated at 20 MP or higher and a polycarbonate body, the Bandit will apparently be the first in a line of 1080p devices Nokia plans to release.
The Bandit will run the latest version of Windows Phone. Microsoft is reportedly improving the OS to support 1080p displays.
"While they are not doing so great, Windows Phones did recently become the third largest smartphone OS in terms of devices shipped in Q2, finally ousting BlackBerry," ABI's Morgan pointed out.
"As the screen gets larger, I believe it is important to make sure it gets better," he suggested. "After all, if you are going to consume more content because of screen size, it is likely that your opinion of the device will increasingly come from screen quality."
Nokia declined to comment for this story.
'The Operator's Gateway Drug'
"I'm surprised that more companies don't try the phablet approach," Morgan said. "The greater size tends to come with greater specs and higher margin potential."
Phablets' larger screens are easier to read and interact with, and "one of the hidden benefits is that they come with enormous batteries that will power the quad-core processors all day long," he added.
Operators also like phablets because their larger screen size will lead to more data use, thus increasing data revenues, Morgan pointed out.
"Since operators have had limited success driving data plans onto tablets," he concluded, "the phablet could be the operator's gateway drug."