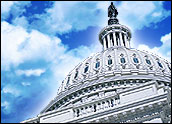 Online predators will again be the target of legislation filed in Congress this year.
Sen. Ted Stevens (R-Alaska) filed a measure last month aimed at protecting children from pornographers, predators and list brokers.
Meanwhile, in the House last week, Mark Kirk (R-Ill.) submitted a bill entitled the "Deleting Online Predators Act," which is reportedly very similar to legislation approved by the House last year but killed in the Senate.
The breadth of the provisions in the Stevens bill (S 49) have civil libertarians, educators, librarians and Internet activists in a tizzy.
Monitoring Minors
Before schools and libraries can receive federal funding, the proposed law requires them to enforce "a policy of Internet safety for minors that prevents cyberbullying and includes monitoring the online activities of minors and the operation of a technology protection measure with respect to any of its computers with Internet access."
That measure must protect children from visual depictions that are obscene, child pornography or harmful to minors.
In addition, the measure must guard minors "against access to a commercial social networking Web site or chat room unless used for an educational purpose with adult supervision."
Targeting Interactivity
What has educators in an uproar is that the legislation appears to target certain Internet technologies solely because they're interactive, according to Andy Carvin, an Internet activist and host of the Learning.Now Web site sponsored by PBS.
"As it is written, the legislation says that any school or library that receives federal Internet subsidies would be forced to block Web sites that offer interactivity," he told TechNewsWorld.
"That would include," he continued, "blogging tools, discussion groups, discussion boards and other tools that many educators use on a day-to-day basis."
Wikipedia Safe
The list of banned tools, though, wouldn't include Wikipedia, as some online commentators have suggested. "The legislation says that it's targeting commercial sites," Carvin noted. "Wikipedia is a nonprofit, non-commercial site, so it would not fall under the rules as written."
"From a legal point of view, Wikipedia doesn't have anything to worry about," he added, "but in practice, what's more likely to happen is a lot of technology coordinators at schools, rather than figure out in a nuanced way which sites are acceptable and which are not, will be cautious and block many sites, and it's possible that in some of those cases, Wikipedia could find itself blocked."
He went on to observe, "Rather than tackling the predators directly or attacking specific sites where predators lurk, they're banning the concept behind the technology — interactivity itself — and by doing so, eliminating literally millions of Web sites built upon those concepts that are no threat and are being used by teachers."
Although the proposed law allows Web sites to be unblocked for educational purposes, that concession won't mean much in the real world, Carvin argued.
"The reality is," he said, "that in most classrooms, teachers do not have the authority to override the school's filters. They have to go through many levels of bureaucracy to get them shut off. Sometimes their requests are ignored, and I know teachers who have been rebuffed on multiple occasions."
"By the time their request is approved or disapproved, it's too late to do the lesson," he added.
Critical Bill
When filing his bill (HR 1120) in the House, Rep. Kirk asserted that his legislation was "a critical step to empower parents to exercise more control over what their children do on the Internet and to protect them from Internet predators."
In addition to including provisions similar to those in the Stevens bill, Kirk's measure calls for the Federal Trade Commission to issue consumer alerts and establish a unique Web site to better educate parents as to the dangers posed by Internet predators.
"Parents are the first and most important line of defense against these predators, and it is imperative to arm them with timely and accurate information to protect their children," Kirk said in extended remarks published in the Congressional Record.
A Federal Issue?
Some critics of Stevens' and Kirk's efforts are more concerned with who controls Internet access in schools and libraries than how it's done.
"I don't think we should have a federal prohibition on a certain type of Web site at the school and library level," Adam Thierer, a senior fellow at the Progress & Freedom Foundation, a technology policy think tank in Washington, D.C. told TechNewsWorld.
"That should be a school and library determination," he said, "not a federal government determination."