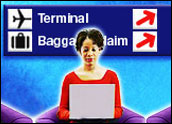 If you haven't already heard, the U.S. government is going digital.
Exhibit A: President Bush submitted his 2009 budget proposal to Congress electronically, and he held up a tablet PC for the photogs to illustrate just how tech-savvy he is. (Whoa! Slow down there, you tech-savvier-than-thou leader of the free world looking to save the planet with PDFs.)
OK, so that's not exactly Web 2.0., but then there's Exhibit B: The Transportation Security Administration (TSA) has started a blog called "Evolution of Security." "Get outta town!" you say? Well, if you're planning to get outta town, you might want to check the TSA blog first.
The TSA — a division of the Department of Homeland Security — launched its blog just over a week ago.
Flimsy but Full of Potential
At first glance, I thought it was a pretty flimsy attempt to better relations between the I'm-late-for-my-*#@%-flight-and-I-hate-this-crap travelers and the you'll-wait-your-turn-or-else screeners.
However, now that I've taken a closer look, I'm seeing some promise for this blog, which features open discussions on such "hot topics" as shoes, liquids, inconsistencies and nail clippers. Here are my reasons for considering this new TSA forum both lame and full of potential at the same time:
Eh Factors
The blog's tagline: "Terrorists Evolve. Threats Evolve. Security Must Stay Ahead. You Play A Part." This seems juvenile. How about "The TSA Is Finally Listening: Give Us Your Ugliest And Most Inspiring Stories"?
I can't help but think that we would be better off if the TSA diverted the resources used to establish and maintain this blog to better train and educate screeners and, in turn, improve airport security and make the lines more efficient.
The blog is written by one-name employees, including "Bob," "Ethel" and "Chance." Looks to me like the posts are written by a) the PR staff and given random author names; or b) the actual Bob, Ethel and Chance — but the TSA is scared people will google their full names and harass them. Seems fishy.
Showing Promise
The TSA blog is drawing a ton of feedback — both positive and negative — from bloggers and the media, which will help, of course, in spreading news of its existence to travelers.
The design and content of theTSA Web site itself are pretty nice. So, maybe the blog will start looking and feeling more like the site and become more user-friendly.
The TSA site already featuresDHS Leadership Journal Posts with entries by TSA Administrator Kip Hawley. These Leadership Journal Posts are kind of buried on the TSA site, so it might be a good idea to merge this with the blog or have Hawley contribute to it, which I would find interesting.
What's Ahead?
I'm hoping this is the TSA's first step in a Web-savvier plan to improve traveler relations. What's next? How about allowing blog readers or TSA Web site visitors to sign up to receive text messages and e-mails with security updates?
TheU.S. Postal Service appears to be taking steps down this path by promoting the podcasts and blog of marketing guru Joseph Jaffe in its online and print publication Deliver.
Nevertheless, I'm dreaming of the day when other government groups — such as the (dare I say) Internal Revenue Service — tread down the Web 2.0 route, because it's about time we had more heart-to-heart talks with The Man.
Click here to e-mail Rachelle Crum.