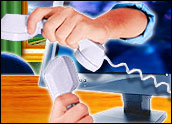 Now is the winter of our disconnect
Made glorious summer by this son of UC
And all the clouds that low'r'd upon our house
In the deep bosom of the IT backoffice buried.
Many already refer to it as Snowpocalypse 2011 — one of the biggest and baddest winters in more than 50 years. Storms have systematically worked their way across almost all of the lower 48 states since November. Snow, sleet, freezing rain, and just plain old rain delivered by wave after wave of huge storms have caused massive disruptions across two thirds of the nation. Despite the power outages, shuttered highways, disrupted bus schedules, air travel delays, and school closings, companies still need to operate.
In today's economy, even when knowledge workers can't make it into the office, they are still expected to be working. The problem is many lack either the right set of software tools and applications or the connectivity to company systems to work remotely. In an almost Shakespearian twist of irony, many office workers who spent hours digging their cars out of the snow and risking life and limb to commute into the office often found themselves sitting at a desk and using the exact sort of unified communications (UC) technologies which would have allowed them to work productively, and safely, from home.
UC Technologies and the Winds of Change
Like the snowy tempest of 2011, the UC category is experiencing its own set of trials and tribulations. The most prevalent plague from which UC suffers is the widespread heterogeneity of systems. Unlike email, where Microsoft's Exchange holds a commanding share of the market, UC technology is splintered. CIOs attempting to standardize their systems are either confused or put off by the huge costs involved in stitching them together. From the end-user perspective, the puzzle is equally complicated as the rapid consumerization of UC has led to a disconnect between the capabilities delivered by IT departments and the needs and expectations of the rank and file. While IT is focused on delivering ubiquitous enterprise telephony, end users may only want a good federated instant messaging (IM) client that works equally well in the office and on their smartphone!
Nevertheless, the UC storm appears to be slowly losing its bluster. For years, the consensus has been that the biggest barrier to UC adoption is the difficulty of quantifying and proving out return on investment. Now thanks to Snowpocalypse 2011, it appears that spring is finally coming for end users, IT and UC vendors.
The question remains, though, whether this winter's shutdown weather will finally unleash a broad roll-out of unified communications systems in corporate America. Traditionally, the home office has been the realm of the work-at-home parent or the remotely staged salesperson. Underscoring this point, telecommuting employees fall into two categories: those who work remotely only in the event of an emergency like bad weather, sick children, etc.; and true tele-workers that have been working remotely full-time or almost full-time for years. In fact, the International Telework Association and Council (ITAC) estimates that over 50 million Americans are doing occasional once-a-month telework on an annual basis.
UC – Friend or Foe?
Business attitudes toward telecommuting tend to be polarized between love and hate. For example, some companies have embraced it to the point where they've been able to move to smaller offices because they don't need desk space for full-time telecommuters. Yet other businesses are still uneasy about not having their workers on-site, even when there's a short-term weather-related emergency. These firms fear that telecommuting employees may spend more time on distractions like TV or the laundry than they will on their work. Meanwhile, other businesses worry that they won't be able to control their staffers if they don't have face-to-face contact each day.
Nevertheless, when emergencies like snow storms or flu outbreaks strike, even organizations most reluctant to let employees work from home are forced to consider telecommuting as part of their business continuity or emergency preparedness plan. Although ad-hoc workarounds in times of emergencies are possible, having an established telecommuting policy or contingency plan in place — before the emergency arises — could save businesses from substantial losses in productivity and revenue.
To date, many companies have steered clear of charting an aggressive UC technology path for telecommuting because they fear it will require a major investment in technology. The reality is employees with telecommuting-friendly jobs usually already have two of the three basic building blocks required to work from home: namely, a computer and Internet access. Many are only lacking some form of enterprise approved UC software.
In addition to providing uninterrupted productivity during inclement weather, there are a number of additional advantages to UC-enabled telecommuting:
Telework programs are a valuable recruitment tool. Organizations that offer telework options bolstered by cutting-edge UC technology are more likely to feature these programs when attracting talent in order to distinguish themselves as both a progressive enterprise and an employer-of-choice.
Businesses with established telecommuting policies and practices, which may allow employees in qualified roles to telecommute occasionally or on a set schedule, can adapt more seamlessly when weather-related disruptions occur.
It's green. Even occasional telecommuting reduces energy consumption and carbon emissions, so it's good for the environment.
Charting a Path to UC
Gartner Technology Research Firm Fellow Paul Dickinson notes that always-on video telephony systems which enable direct eye contact between users represent a killer application and may deliver the next giant leap forward for UC systems. While such technology is not yet available, the industry is making strides in that direction. Nevertheless, the appetite among businesses for software that combines IM and presence, audio and video conferencing, and Internet telephony, is strong and getting stronger. According to estimates from Forrester Research, the market for UC products is expected to grow more than fivefold to US$14.5 billion by 2015.
Thanks to this year's Snowpocalypse, we have seen, more than ever, the business need for UC. What's holding us back? Virtually all employees have a PC and Internet connection, but what about UC software? New solutions like Microsoft Lync are likely to attract a large number of first-time UC adopters based on the close integration of telephony, IM, and unified messaging capabilities. All in all, even without the occasional snowstorm factored in, UC is becoming increasingly simple to adopt because:
Every interaction can be a virtual face-to-face meeting — any conversation can include video, application and desktop-sharing, and enable people to fully participate in meetings without being physically present in the room.
It's easy to stay connected with any choice of device while away from the office — users can easily move a call from a PC to a mobile device without disrupting the conversation, or use a mobile number as their land line by having all calls appear as if they're originating from an office phone.
Any Bluetooth-enabled mobile headset can serve as a softphone for a UC system; or, if a user doesn't have a Bluetooth device, a UC softphone is still significantly less expensive (and also infinitely more portable) than a traditional desk phone.
UC software vendors are using established products and their familiar UIs — Microsoft with Office and Outlook and Cisco with Webex and Jabber — to build mindshare and to simplify UC adoption among end users.
More mature technology allows the UC scenario to be rolled out in an a la carte fashion so that IM-only or conferencing-only capabilities can be implemented without having to commit to an enterprise-wide voice over IP (VoIP) and/or a full PBX replacement.
Regardless of the weather, companies and their employees need to function even when they cannot travel into the office. With the loss of productivity caused by snow days this winter, this may be the year that finally tips the scales in favor of opening up IT budgets for unified communications systems.