Dell World 2012 was fascinating this year for a number of reasons. First, Bill Clinton was the big keynote and he didn't disappoint. I think he took an interesting Libertarian view on how the U.S. government could fix the financial problem. Unfortunately, he implied that the first step would be to get rid of the politicians whose zero-sum game was pretty much assuring a really bad outcome.
In addition, we got a view into how much work Susan Dell is doing in the background to humanize Dell and to improve the world by working with folks like Clinton — and how much work Dell is doing with Ingrid Vanderveldt to build small companies like Current Motor and turn them into lifelong Dell partners.
Most notable was the interest in Windows 8, a product most of the big analyst firms said IT was goingto take a pass on. Apparently most IT firms are wrong, because the big companies at this event weretaking a significant interest in this OS — not so much as a replacement for Windows 7, but more as analternative to Apple and Google.
I'll go deeper into that and close with my product of the week: the performance version of theCurrent Motor Super Scooter, which I'm test driving this month. What a huge difference a little morebattery life and about 15 mph additional top speed makes.
Bill Clinton's Zero-Sum Game Speech
If you ever get a chance to listen to Bill Clinton speak, don't pass it up. He clearly is getting towardthe time when he'll no longer be able to do this, but the power of his voice and message are somethingyou'll carry with you until you pass. He has a strong grasp of the basics and seems to understand whyWashington and many companies can't get stuff done.
This is called the zero-sum game, and you'd think we'd outgrow it as children. "Zero-sum" means that for me to win, the other guy has to lose — and that isn't the way you fix big problems like the economy or global warming. This is because unless almost everyone wins, eventually almost everyone loses. That is the mess we are in now, with one party refusing to give ground unless it is clear to everyone else the other party is losing — and the other party doesn't want to lose.
You can interchangeably place either political party in both roles, and the outcome is stagnation. Even inside the parties this game is being played, which is making them less capable of winning the bigger battles. It is just sad really, because the country has the resources to do wonderful things — but because someone has to lose, it is hog-tied and unable to do them.
Clinton shared the story of how the U.S. lost the biggest physics project in the world largely because the collider would be built in Texas, and no one outside of Texas wanted the jobs to go there. It was preferable that Europe won over Texas winning — and we actually voted for these idiots. If I could vote for Bill again, I'd do it in a cold second.
Dell's Angels
Apparently inside Dell there are two women who are kicking significant butt. They are Michael's wifeSusan — Bill said she was his reason for being at the event and a significant help to his efforts tohelp the world — and Ingrid Vanderveldt, who is leading Dell's efforts to help small businesses, mostly run by women, to be successful. The idea of an angel actually came from one of the folks Ingrid had helped, and I felt it applied to both women given how much Bill Clinton's speech moved me.
Both of these women are doing wonders for Dell's image, and I have to admit it warmed my heart to seeMichael and Susan working together to help others through Bill Clinton's charities. So often we focuson CEOs behaving badly and often against the best interests of their spouses, and I feel strongly that if more worked together like Michael and Susan appear to be doing, they'd both be more successful and happier — particularly after retirement, as Bill and Melinda Gates have demonstrated.
I also think more large companies should help bootstrap startups — not only because this becomescustomer seed corn, but because it is a way of giving back. The end result is not only a better imagebut a stronger firm.
You don't have to be evil, as some companies appear to believe, to get ahead — and it is nice to see Dell's Angels, Susan and Ingrid, provide such a wonderful example. I do think they need a theme song and action figures, though.
Windows 8: IT's Magic Bullet
Well we all thought that IT, the business buyers of technology, would bypass Windows 8 and insteadwait for Windows 9. Apparently, they so desperately wanted a tablet alternative to the Appleand Google products out there — particularly the relatively unsecure Android offerings — they are actually excited about Windows 8.
Now, as expected, they aren't excited about jumping from Windows 7 to Windows 8 — that call was correct. However, they are excited about being able to deploy tablets that can do what the iPad does without taking on substantial additional security risk and having a bunch of things that will fail a security or compliance audit.
I should point out that one of the other things I learned at Dell World is that there are far too many folksconcerned about compliance, or looking secure, than there are about actually being secure. I think thiswill come back to haunt them, given the DoD and most of the security firms are expecting a digital 911,and a compliance paper will be little comfort if their firm's systems stop running or become zombies as a result of the expected attack.
Wrapping Up
With folks like Bill, Susan and Ingrid in the world — and of course Dell's forward-looking CEO Michael — I left Dell World feeling better about people but worse about our prospects. Granted, Windows 8 is clearly doing a lot better in business than any of expected it would do, but I wish we had more people that were more focused on making the world a better place.
It wasn't Dell's business or products that excited me this trip, it was its heart — and its focus on making the world better. If more of us did this, then magically, it would be. I believe that is a thought worthy of Christmas.
Product of the Week: The Super Super Scooter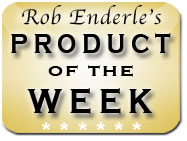 I've been riding the performance version of Current Motor Super Scooter for a week now, and what adifference the extra performance makes. This version costs about US$1,500 more than the base modelI had been testing, but given that model is just short of ten grand, the extra 15 percent seems trivial to get a much better highway experience.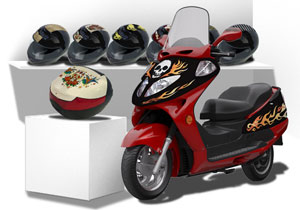 Current Motor Super Scooter
The extra money buys about 20 miles of extra range and about 15mph of extra top speed. The first eases your worry about running out of power, and thesecond keeps truck drivers who "can't drive 55" from turning you into road kill. Trust me, on a California freeway, it is pretty scary to be riding on a scooter that tops out at a speed that has truck drivers thinking "speed bump."
Some of the nice things about a scooter over a motorcycle are that you're far better protected from bugs and junk on the road, you can drive though a light rain without becoming the equivalent of a sponge, and you have a much better chance of recovering in a slide due to its lower center of gravity. This last can be really important if you hit ice or oil, and asphalt isn't kind to bare anything or your clothes. Trust me, I have a lot of motorcycle experience.
So because this electric scooter resulted from the efforts of one of Dell'sAngels (Ingrid), and especially because I'm having a ball driving it, the Current Motor Super Scooterwith the performance package is my product of the week.