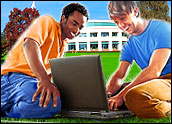 As Facebook announced on Wednesday that its subscribers will be able to launch video chats from its site using Skype technology, one sentence — written by Philip Su, an engineer on Facebook's video calling team — stood out in particular.
"Video chat has been around for years now, but it's still not an everyday activity for most people," Su wrote.
Video chat certainly has been around for quite a while, and video chat services over the Internet and for mobile-to-mobile abound.
Even Google has offered free video chat over Gmail, iGoogle and Orkut for some time.
Google upped the ante last week, introducing the Google+ project in beta. This includes Hangouts, a feature that allows live multi-person video chat.
So, what just happened? Is this the moment at which video chat starts its growth spurt? Or are players flocking in because Apple's FaceTime capabilities are making them think, rightly or wrongly, that there's a real market for video chat?
Is this when video chat will go mainstream? Or will the capability once again fade into the background, to be used regularly by a select group of fans and by everyone else only when a conversation absolutely must include a visual element?
The Magic of Eyjafjallajokull
Video chat got one of its biggest boosts in the public eye when Iceland's Eyjafjallajokull volcano erupted in 2010, covering much of Europe with a cloud of volcanic ash and rendering air travel impossible.
Thousands of flights were canceled. Among them were trips to Poland by U.S. President Barack Obama, German Chancellor Angela Merkel, and England's Prince Charles to attend the state funeral for Polish president Lech Kaczynski and his wife, who had died in a plane crash. With air traffic at a standstill, executives began conducting video conferences because they couldn't attend meetings face to face.
However, the popularity of video conferencing seems to have died down since, and video chat now seems to be once again relegated to the role of a consumer pastime over various Web services and smartphones and tablets. Perhaps the best-known mobile video chat application is Apple's FaceTime feature on the iPhone and iPad.
A Partial Roll Call of Video Chat Services
On its own, Skype has offered video chat for a while, as does Google, as mentioned earlier.
Another big player is Logitech, through its SightSpeed service. This offers Web-based video chat and voice calling as well as video conferencing.
Other players include OoVoo; TinyChat, which lets users create their own video chat rooms; and Tokbox, which lets website hosts drop video chat capabilities into their sites and offers APIs so devs can create live group video chat capabilities within their apps.
Then there's Fring, which offers a group video chat app for the iPad.
"Video chat is not a niche application," Kurt Scherf, vice president and principal analyst at Parks Associates, told TechNewsWorld.
Twenty percent of respondents to a 2010 Parks Associates survey said they conduct video chats at least monthly, and 12 percent said they do so weekly. The rates were "significantly higher" among younger consumers, Scherf said.
800-Pound Gorillas or Just Chimps?
Opinions are divided on whether the entrance of players like Google+ and the Facebook-Skype team will give video chat a boost.
"Facebook and Google will likely accelerate the uptake of video chat somewhat, but we do not expect a huge increase as a result of these announcements [of their latest video chat efforts]," Martin Olausson, a research director at Strategy Analytics, told TechNewsWorld.
"We expect that [Skype's] integration with Facebook will add incremental uptake and perhaps increase usage somewhat, but it will most likely not be a major game changer as such," Olausson added.
"Availability doesn't equate to use," Rob Enderle, principal analyst at the Enderle Group, pointed out.
Facebook has "made video chat available to millions" through its tie-in with Skype, but "those same millions have been able to do desktop video conferencing on Skype and other tools if they wanted to, and didn't," Enderle told TechNewsWorld. "It seems that most people don't currently feel the need to see the person they're talking to on a screen in real time except under certain specific circumstances."
However, Facebook's subscriber base of roughly 750 million worldwide might prove to be the game-changer for video chat through sheer numbers, Jeff Orr, a senior practice director at ABI Research, speculated.
"What if Facebook gets 5 percent of their installed base to incorporate Skype video on a regular basis?" Orr asked. "What if they get a 10 percent take-up? That could prove meaningful," he told TechNewsWorld.
Facebook stuck to the technology when asked to comment on its tie-in with Skype.
"Skype created a special plugin for Facebook to provide a 3 MB download, which is dramatically smaller than anything else we've seen," Facebook spokesperson Victoria Cassady told TechNewsWorld.
Possible Markets for Video Chat
Video chat may be best positioned for two diametrically opposed areas — the enterprise market and youth.
"Google and Facebook may give video chat a boost, but the place where it'll gain more acceptance is in the enterprise," opined Andrew Eisner, director of community and content at Retrevo.
"However, whether corporations that are going big time with video conferencing will use Google or Facebook, or opt for Cisco's technologies that may be a little more secure, remains to be seen," Eisner told TechNewsWorld.
Cisco's Telepresence line includes products for both personal and corporate use.
Youth may also be more ready to adopt video chat than older consumers.
"One question I have is whether the younger generation, who have become more accustomed to faceless communication [through texting] will increase their use of video chat because of this," Parks Associates' Scherf mused.
"There are indications that the younger the audience is, the more willing it is to use video chat technology regularly," Enderle stated.