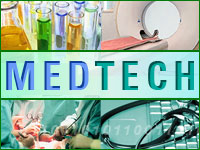 Heart attacks are as American as hot dogs and easily more common than fast-food joints. While changes in the nation's diet are slowly under way to pre-empt the disease, scientists are scrambling to find ways to treat or cure it, in the hope of reducing the swelling numbers added daily to the body count.
"Nanoburrs," developed by researchers at the Massachusetts Institute of Technology (MIT) and Harvard Medical School may contribute toward solving this huge problem.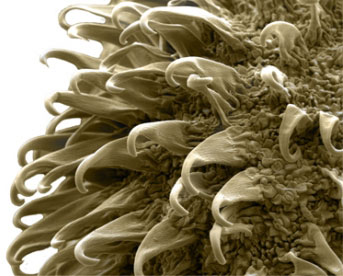 Nanoburrs have peptide 'hooks' that allow them to stick to injured vasculature.
Atlas vs. a Tiny Army
Essentially, nanoburrs are tiny particles that travel through the bloodstream and attach to affected arteries where they deliver medicine directly to damaged tissue. At first glance, they appear to work in a similar manner as medicated stents, the standard treatment for clogged arteries. A second look, however, shows nanoburrs are a different type of answer to a far more complex question.
Stents are very good at holding arteries open and preventing sudden collapse. They can also deliver life-saving medicine to damaged artery walls. However, a stent is stationary, posed like a tiny Atlas shouldering the weight of a sagging artery wall.
Nanoburrs, on the other hand, can spread over scattered areas, yet target only damaged tissue. The nanoparticles are coated with tiny protein fragments that create the burred appearance — hence the name. They stick like Velcro to target proteins that are found only with certain types of tissue damage.
"We hope that we can use the nanoburrs concurrently with vascular stents, which have been shown to help vessel patency and reduce abrupt vessel closure," lead author Juliana Chan, a graduate student in Langer's lab at MIT, told TechNewsWorld.
To Stent or Not to Stent
However, stents are not for everyone, and nanoburrs potentially provide a strong, life-saving alternative.
"There are conditions which do not allow for drug-eluting stent placement, such as patients with renal failure, diabetes and hypertension, or patients who somehow cannot take the dual drug regimen of clopidogrel and aspirin that is required with this treatment," said Chan. "So we hope to offer solutions to people who fall into that category."
"There are also a number of locations which are non-amenable to stenting, which include near forks in the artery (bifurcation lesions), diffuse lesions, larger arteries, and also already-stented arteries which may have more than one lesion," Chan explained.
It is also a common misconception that stents are a cure.
"We hope to provide a solution to long-term treatment of stented arteries, since atherosclerosis is a chronic condition that does not end simply with the implantation of a stent," says Chan.
The Technical Work
The nanoburrs are approximately 60nm in diameter, said Chan, and they have three layers. The inner core contains a complex of the chemotherapy drug, paclitaxel, and a polymer chain called poly(lactic acid) or PLA. The middle layer contains soybean lecithin/lipid, a fatty material. The outer coating is of a polymer called PEG, which protects the particle as it travels through the bloodstream.
"We decorated 7-amino acid targeting peptides on the surface of the nanoburrs, and these are used to target the nanoparticles to the basement membrane layer of damaged vasculature," Chan explained.
These peptides were discovered from a bacteriophage display screen against collagen IV, which the researchers used to find sequences that were able to bind with sufficient affinity to use for targeting to injured vasculature.
From Laboratory to Doctor's Office
The researchers are in the early stages of exploring this technology, Chan said. They expect at least another two years of research and development before starting any clinical trials. That means the nanoburrs are a good five years or more down the commercial highway.
When they do arrive to a doctor near you, they'll likely have applications beyond treating heart disease.
"The nanoburrs may be useful for targeting solid tumors, and for diseases where vascular damage and permeability is observed," explained Chan. "This includes inflammatory diseases such as inflammatory bowel disease."