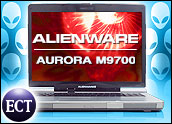 Gone are the days when laptop computers were well-traveled — but temporary — replacements for a more powerful desktop computer. Currently, buyers are hard-pressed to narrow their purchasing options to just a few choices. Powerful alternatives abound, making this time of year one of the best for upgrading to the latest portable multimedia desktop replacements.
"With the growing popularity of notebooks in the consumer segment, [meeting] the demand for exceptional performance and the flexibility to execute both productivity applications and entertainment is a must," Paul Moore, senior director of mobile product marketing for Fujitsu Computer Systems, told TechNewsWorld.
The current generation of laptop and notebook systems gives buyers more to think about than simply hard drive size, the amount of RAM (random access memory) and graphics power. Stylish designs and color schemes are fast becoming part of the buying considerations.
"Color is an intrinsic ingredient to the success of all products being developed today," said Tod Schulman, vice president of Pantone Fashion and Home Division. "Companies should always stay a little ahead of their customers and anticipate the newness that will grab their attention."
TechNewsWorld has compiled a list of "best bets" for those ready to move beyond window shopping.
Two Fujitsus For the Road
Fujitsu's LifeBook Q2010 notebook's 12.1 inch Crystal View LED backlit display combines computing power from the Intel Core Solo ULV processor with easy portability.
The LifeBook N6420 — outfitted with Intel's Core 2 Duo Processor and the ATI Mobility Radeon X1600 graphics card with 512 MB HyperMemory — comes with an HD DVD player and Fujitsu's visual optimizer, a special image processing subsystem that amplifies video from any source. Both are capable of running Windows Vista.
At 2.2 pounds and only three-fourths of an inch thick, the LifeBook Q2010 is built for rugged use, with a shock-mounted hard drive inside magnesium upper and lower casings and titanium hinges.
It comes with a wide range of connectivity options, including wireless tri-mode 802.11a/b/g with VoIP capabilities and integrated Bluetooth 2.0.
Other features include a built-in biometric fingerprint sensor and the choice of a lightweight three-cell battery, a four-cell option for up to 3.75 hours of use, or a six-cell battery for up to seven hours.
Despite the small footprint, this model has an integrated dual-layer DVD burner and a full-sized keyboard. Prices start at US$1,999 for a base configuration.
The LifeBook N6420 Notebook features a large 17 inch, color-enhanced crystal view display that comes with the visual optimizer. The built-in stereo sound system, complete with a subwoofer, offers equally impressive audio quality.
Configured with up to 400 GB in hard disk drive storage with dual hard drives, the LifeBook N6420 notebook costs $1,499 for a base configuration.
Two HP Family Choices
The Compaq nc2400 is one of HP's thinnest and lightest notebooks with optical drive technology. The black and gray case weighs 2.8 pounds and measures 0.97 inch thin by 11.1 inches wide by 8.3 inches deep. It features a 12.1 inch wide-screen display with a 1,280 by 800 native resolution and flexible battery options.
The standard configuration includes a variety of wired and wireless communication options, but this model lacks the latest dual-core processors and typical high-end features. However, it has a comfy, nearly full-sized keyboard.
Starting at $1,599, the nc2400 is bundled with a 1.2 GHz ultra-low-voltage Intel Core Solo processor and comes with 512 MB of 533 MHz RAM, a 40 GB hard drive and integrated Intel graphics.
Ideal for those who want a high-definition digital entertainment laptop, the HP Pavilion dv9000 Entertainment Notebook provides portability as well as power — the buyer has a choice of Intel or AMD dual-core mobile processors.
This is the first HP computer to offer a high-definition DVD player. It also features a 17 inch high-definition wide-screen display with a native resolution of either WXGA+ (1,440 by 900) or WSXGA+ (1,680 by 1,050), which provides a clear view from any angle.
Buyers can configure the notebook with an AMD Turion 64 X2 processor at speeds of 1.6 GHz to 1.8 GHz, with up to 2 GB of 533 MHz or 667 MHz RAM.
Other components include an Nvidia GeForce Go 7600 graphics card with 256 MB of VRAM, a 120 GB hard drive, or two hard drives on a RAID (redundant array of independent disks) controller for up to 240 GB of storage space.
Pricing starts at $1,049.99 after a rebate.
Ultimate Business Travel Box
Dell's XPS M1210 comes in a stylish and durable silver magnesium alloy frame that weighs a mere 4.4 pounds. It measures 11.7 inches wide by 8.7 inches deep by 1.4 inches thick.
Sporting a 12.1 inch wide-screen display with a 1,280 by 800 native resolution, the XPS M1210 comes with an assortment of both high-end and standard-fare components. Powered by a 2.16 GHz Intel Core Duo processor, it comes with 1 GB of 667 MHz RAM, an 80 GB hard drive, and an Nvidia GeForce Go 7400 graphics card with 256 MB of onboard memory.
Customers can configure the XPS M1210 with an audiovisual package that includes an integrated 1.3-megapixel webcam with directional microphone, Skype Internet communication software and video chat software, noise-isolation ear buds and optional embedded mobile broadband.
Prices start at $1,200.
Blazing Game Machine
Alienware's Aurora m9700 notebook is arguably one of the hottest game-quality portables on the market. It is also an excellent choice for executive-level work. Not your standard black and silver design, this notebook comes in cyborg green or conspiracy blue, in addition to the traditional silver.
The 17 inch wide screen displays at 1,920 by 1,200 native resolution — extreme high definition resolution — and features 1 GB of graphics memory with dual 512 MB GeForce Go 7900 GS Ultra XGA graphics cards.
Weighing in at 9.4 pounds, the m9700 measures 15.5 inches wide by 11.7 inches deep by 1.8 inches thick. It is powered by the single-core AMD Turion 64 ML-44 with 2 GB of 400 MHz DDR memory and dual Nvidia GeForce Go 7900 GS GPUs, each with 256 MB of memory.
Prices range from $1,999 to $3,881.