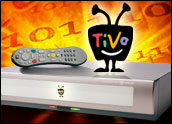 TiVo was one of the first to enable consumers to time-shift their TV viewing via DVRs, and now the company is targeting place-shifting capabilities as well with out-of-home streaming via the TiVo Roamio Pro and TiVo Roamio Plus DVRs.
The two Roamio devices were launched earlier this year, but on Thursday the company announced that the functionality to record content to the living room and stream to a mobile device — including smartphone and tablet — is now available thanks to a new version of the TiVo iOS app.
"Until now, your shows have been locked up in your set-top box at home," said Jim Denney, TiVo's vice president of product marketing. "Now, with a TiVo Roamio DVR, whether it's a hotel in Denmark, the waiting room at the dentist office, when you're stuck at the airport, or at the gym, out-of-home streaming gives you the level of choice, control and freedom that consumers have come to expect."
Out-of-home streaming requires an Apple iPhone, iPad or iPod Touch device running iOS 5.1 or higher; streaming is supported to only one device at a time. Support for streaming over 4G/LTE and to Android devices is scheduled for 2014.
TiVo declined to provide further details.
Three Models
The TiVo Roamio combines the functionality of a DVR with that of a Slingbox as well as Apple TV or a Roku set top box, allowing users to watch live or recorded content remotely anywhere a user has WiFi. Users can also download the content to an iOS device anywhere so that low bandwidth or lack of WiFi is not an issue.
The Roamio devices also include TiVo's second screen dashboard that provides instantaneous personalized recommendations, remote scheduling and even mobile search and discovery.
The TiVo Roamio DVR Series is available in three models including the TiVo Roamio for US$199.99; TiVo Roamio Plus for $399.99; and the TiVo Roamio Pro for $599.99. These Roamio models feature four or six tuners and range from 75 hours to 450 hours of recording space for HD content.
'Playing Catch-Up'
While TiVo was among the first DVR devices on the market back in 1999, today most cable and satellite providers also include DVR and on-demand options. Moreover, the new Roamio functionality is merely catching up to what Sling has already offered.
"That's how I take it," said Greg Ireland, research manager for multiscreen video at IDC. "It is basically playing catch-up with Sling."
TiVo was "pushed to the side when cable boxes added DVRs," Ireland told TechNewsWorld. "TiVo added Web content into the boxes to differentiate what it did, but this is the next step. This is necessary catch up to be able to position the TiVo box as an enabler for your content when you want and where you want."
Place Shifting
While there has been the ability to time-shift content since the early days of the VCR, it is the DVR that really revolutionized viewing with the notion that coming in a few minutes late didn't mean you couldn't start watching the program from the beginning.
The next logical step was the ability to place-shift the content and take it with you. Such capabilities are already offered by Slingbox devices, which Dish Networks offers, as well as by cable networks and channels offering such as Comcast's Xfinity service and HBO Go.
"What we're seeing is a kind of ad-hoc technological solution to what really is a business model break-down: Consumers want their 'TV everywhere' — on any device, over any kind of network no matter where they are," Greg Scoblete, analyst for set-top box devices at Digital Tech Consulting, told TechNewsWorld. "Unfortunately, the way content license deals work, not every piece of content can be viewed out of the home on devices that aren't TVs."
What that leads to is "the more cumbersome approach of trying to have third-party hardware, like the TiVo, distribute this content out of the home," Scoblete noted.
"Ultimately, more devices will support this kind of out-of-home streaming," he concluded, "but I think this is merely an interim step to a truly cloud-based solution — think Netflix — that doesn't rely on the vagaries of consumer hardware, apps or the kinds of networks you're streaming over."