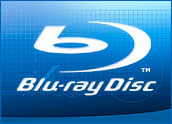 Toshiba unveiled its first Blu-ray disc player on Thursday at the IFA consumer electronics trade fair in Berlin.
The announcement comes less than one month after Toshiba applied for membership in the Blu-ray Disc Association (BDA) and announced it will introduce products supporting the Blu-ray format.
Though many home entertainment electronics manufacturers have introduced lines of Blu-ray players in the years since the format first emerged, this is Toshiba's first entry in the category. Toshiba originally championed HD-DVD, a competing format that was eventually vanquished by the Sony-backed Blu-ray camp in 2008.
Toshiba's Blu-ray player, the BDX2000, provides full high-definition, 1080p digital output and can use a Regza Link to couple with Toshiba's own line of Regza LCD televisions for an enhanced hookup.
It lets consumers use interactive features on Blu-Ray disks through an Ethernet connection.
However, the device comes with some warnings.
About the BDX2000
Toshiba's Blu-ray device supports BD-Live, also known as "Profile 2.0." BD-Live is one of four Blu-ray Disc player profiles defined in the BD-ROM specification.
BD-Live requires 64 KB of built-in persistent memory; 1 GB of local storage capability; secondary video and audio decoders; a virtual file system; and an Internet connection, usually through an Ethernet port.
The BDX2000 comes with an SD card slot for local storage. This supports 8 MB and 2 GB SD cards and 8 GB SDHC cards. It also supports the JPEG,MP3, WMA, andAVCHD file types.
Other features are 1080p/24 FPS (frames per second) full HD video output; AVCHD playback; support for enhanced audio formats from Dolby, True HD and DTS-HD Master Audio.
Toshiba's Regza Link feature lets the BDX2000 hook up to a Regza TV using an HDMI cable to for enhanced connectivity. HDMI is the abbreviation for High-Definition Multimedia Interface. HDMI-CEC means Toshiba is using the Consumer Electronics Control (CEC) wiring. This is used for remote control functions and is a one-wire bidirectional serial bus.
The BDX2000 will be available in November at US$249.99.
"By itself, this is a 'me-too' Blu-ray player," said Rob Enderle, principal analyst at Enderle Group. "It really only stands out when coupled with a Regza Toshiba TV."
Vendors offering Blu-ray disc players are beginning to closely couple these devices with their TV sets, Enderle told TechNewsWorld. "This probably won't be too popular because folks have always wanted to mix and match based on price," he pointed out.
Warning: We Have Officially Given Up
Underscoring its previous commitment to a dead-end format, Toshiba thought it appropriate to explicitly point out in its press release that the BDX2000 does not play HD-DVD discs.
The performance of interactive features depends on the disc's design or content, and may also require an always-on broadband Internet connection. Customers may have to upgrade firmware, and some features may require additional bandwidth, Toshiba added.
Services through BD-Live are provided by third parties and are subject to change or discontinuation without notice.
Consumers who want to view 1080p/24 fps output require an HD display that can accept that speed and resolution, and content encoded in 1080-/24 fps.