The tablet computer craze that has users of all ages launching Angry Birds and making Temple Runs is profoundly influencing toy makers as well.
"We are moving into a new realm of toys that the industry finds quite exciting," said Jackie Breyer, editor-in-chief of The Toy Book, The Licensing Book and The Toy Insider. "We've seen a big push with what are now being dubbed 'app-cessories,' and we're expecting to see that expand all the more at this year's Toy Fair."
The event is ongoing this week in New York City.
Working Apps Into Playtime
The app-cessories segment has seen so much growth that it isn't clear whether it is just a trend or has emerged as a new category, Breyer told TechNewsWorld.
Whatever the label, what is clear now is that parents can expect to see more toys that interact with apps. The question is whether "app-cessories" can create experiences that will keep kids entertained.
"What we're seeing is that toy companies know toys, but they don't know software," said Chris Byrne, content director at Time to Play. "This is a cycle we've been through before, and when the software isn't done right, it isn't very entertaining. The apps we're seeing have been disappointing to kids."
Many people rushed to buy toys that interacted with tablets, Byrne told TechNewsWorld. "Now they're rushing to get out. The problem is that some of these are too technical, but there is also the issue of how much screen time the parents want their kids to have. Tablets are already shoved at kids."
More industry opportunities in that arena may focus on tablets designed specifically for children, not just with toys made as iPad or Android accessories. This development promises to be more educational and can provide greater security.
"Kids' tablets is certainly an area that benefited greatly from this trend, as parents also recognise the educational value and interactivity of these products," Utku Tansel, head of toys and games atEuromonitor International, told TechNewsWorld. "LeapFrog and VTech are certainly the pioneers in this segment. Having said that, there are and have always been classics that consumers are willing to pay extra for due to their high quality and play value."
Many new contenders weren't able to easily break into this highly contested category, but it hasn't been for lack of trying.
"Some of what was there last year worked, and some didn't," Breyer added. "Tablets designed for kids and families are big right now, but whether there is room for more we'll have to see."
Decline in Toy Sales
What can't be denied is that Santa Claus might have to lay off some elves. Retailers including Toys "R" Us reported weaker demand this past holiday season, while the toy industry overall has been challenged by a tough macroeconomic environment. December actually saw strong toy sales, according to numbers released by NPD Group, but the year overall was in decline.
Companies such as Hasbro and Mattel have responded to sluggish demand for traditional toys by looking at high-tech alternatives.
"We're not sure demand for tablets is taking away from traditional toys," added Breyer.
Another Lego Brick in the Wall
One company that has bucked the downward trend is Lego, which continued to straddle the traditional and tech-centric toy spaces with its various robotic playsets.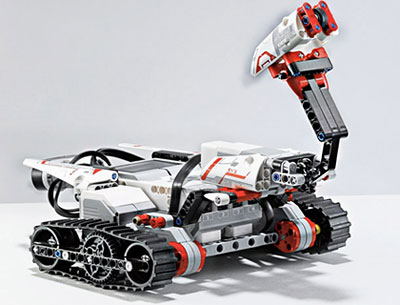 Lego Mindstorms EV3
"Lego could be one of the best examples in this regard," said Tansel. "Although the company embraces the technology to some extent in certain products, its biggest growth comes from its other lines."
These include the Lego Friends line, which was a huge success in 2012, while its City, Star Wars and Super Heroes products also did well, added Tansel.
While Lego will likely introduce new toy offerings in New York at this week's Toy Fair, it started the year off in Las Vegas at the 2013 International CES, where it debuted its new US$350 Mindstorms EV3 with the ability to connect with iOS devices through Bluetooth.
"Lego Mindstorms will continue to connect with that tech-head, gear-head audience," said Byrne. "When you look at Lego, you need to look at how it covers different play levels, and you can't really deny Lego's growth as they've widened their appeal. This build, play and display appeal works with so many of their product lines," Bryne added.
March of the Robots
Lego is not the only company to hedge its industry bets with robotic-type products. While it is unlikely that children will get anything in the way of cute and truly interactive toys — think Teddy the talking bear in the film A.I. — this isn't necessarily a bad thing. Good playthings still need to encourage imagination.
"The products that become 'watch me' are still popular at a younger age," said Breyer. "As the child grows, those are the toys that end up at the bottom of the toy box."
For this reason some old favorites could even make a return, and this could include toys thought to be as extinct as dinosaurs.
"Wowwee is bringing back Robosaurus," said Byrne. "This is just one of the niches in the marketplace right now."
Another toy making a comeback is one that was all the rage in the late 1990s.
"When I first heard last year that Furby was back, I wasn't so impressed," said Breyer. "But it is much more interactive with technology that kids are familiar with, and it can better interact with them."