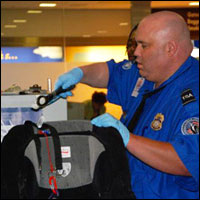 In a move that's bound to raise the power management consciousness of air travelers, the U.S. Transportation Security Administration on Sunday announced a ban on electronic devices that won't power up before they're carried onto a plane.
During the security examination conducted by TSA officers before passengers board a plane, travelers may be asked to power up some electronic devices, the agency said.
Powerless devices will not be permitted on board the aircraft, and travelers may undergo additional screening.
The TSA's parent agency, the U.S. Department of Homeland Security, last week warned that new security measures were in the works.
"DHS continually assesses the global threat environment and reevaluates the measures we take to promote aviation security," said DHS Secretary Jeh Johnson. "As part of this ongoing process, I have directed TSA to implement enhanced security measures in the coming days at certain overseas airports with direct flights to the United States."
Battery With a Bang
Johnson mentioned the ban in an appearance on Sunday's Meet The Press: "Our job is to try and anticipate the next attack — not simply react to the last one. This is not something to overreact to or overspeculate about, but it's something we felt was necessary."
If an explosive were placed in a device, a bogus battery would be a good way to do it, noted Daniel Castro, a senior analyst with the Information Technology & Innovation Foundation. "The battery is this plastic-wrapped thing of chemicals that's one of the largest things in the device," he told TechNewsWorld.
"You don't know what's inside a device unless you open it up, which is why I think they're requesting you boot it up," he said. "If someone is just using the case and taking out the innards, then it won't boot up when you turn it on."
At some point in the future, more subtle techniques may be used to identify lethal devices.
"With Big Data analytics, instead of having a TSA agent inspect hundreds of iPads in order to find the one with explosives in it, you could use a machine to compare each iPad to an exact set of criteria, and if there's any deviation, that iPad is removed from the line," Castro suggested.
"We're far away from that right now," he added.
Expect Delays
Although the TSA pledged "the highest levels of aviation security conducted as conveniently as possible," the new inspection measure is likely to slow down plane boardings.
"It's really going to slow down lines if everyone has to power on their devices," said Richard Stiennon, chief research analyst with IT Harvest.
"There are going to be a lot of irate travelers, especially if they're traveling with four or five devices," he told TechNewsWorld.
"A lot of people travel with multiple devices, so that's going to slow things down," added Castro. "The good thing is that devices start up a lot faster than they used to."
Although the TSA has x-ray machines and other instruments to detect threats to the safety of airline passengers, those technologies are sometimes ineffective against explosive devices, according to Robert Strang, CEO of the Investigative Management Group.
"Some of the chemicals used in the explosives don't always show up in x-rays or other machines," he told TechNewsWorld. "
Tightening Reins
Prior to this latest boost in restrictions, the TSA had been letting out the reins on airport security.
"The trend has been to loosen security, especially for frequent flyers," Stiennon said. "They're getting better at knowing what to look for."
They're also better at attributing risk by geographic location.
"They're taking the intelligence information they have and connecting it to the geographic area you're flying to, so people that don't need to be inconvenienced are not, and people that need to be inconvenienced are, " Strang said.
However, that trend may be headed in reverse. There are reports from passengers of new, less- publicized measures being implemented, such as swabbing laptops, cellphones, tablets and shoes for explosives.
New kinds of explosives also may be encouraging the trend reversal. For example, there are whispers of a kind of nonmetallic explosive that can be implanted surgically into a traveler's body for later detonation.
"The threat of terrorism from al Qaeda, its affiliates and those inspired by them is constantly evolving and we know they continue to target our aviation sector," said U.S. House Homeland Security Committee Chairman Michael McCaul, R-Texas.
"Aviation security is only as good as the weakest link," he added, "and it is essential that our allies, the airline industry, and airports that serve as last points of departure to the U.S. strengthen and then maintain enhanced security measures."