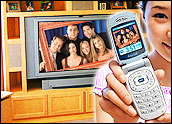 TV viewers who can't bear to be without access to news and programs from their local television stations will this year have new ways to be connected wherever they go. New devices that will carry local TV broadcasts will hit the market later this year.
Some of these new mobile digital television (mobile DTV) devices debuted at the Consumer Electronics Show (CES) in Las Vegas earlier this month, as local broadcasters sought a new way to combat the depredations of the Internet, a channel more users have begun to turn to in order to get their fix of streaming video and the latest news.
These include the Valups Tivit, smartphones from Samsung and LG, USB receivers for laptops and mobile DTV-enabled portable DVD players. All these use the Open Mobile Video Coalition (OMVC)'s recently approved mobile DTV standard.
Mobile TV is not new to the United States — Qualcomm's Flo TV has been available on smartphones from Verizon since 2007 and on smartphones from AT&T since 2008. Flo TV has its own mobile TV standard. There are also two other mobile TV standards in the U.S. — the Sirius Backseat, and MobiTV.
Mobile DTV Products in the Works
Device manufacturers are rushing to enter the mobile DTV market with OMVC-capable products. "More than a dozen exhibitors showed over 20 new Mobile DTV products at CES," OMVC spokesperson Dave Arland told TechNewsWorld. Those included USB receivers for laptops, portable DVD players equipped with Mobile DTV, and devices such as the Tivit, which lets existing WiFi devices such as laptops and smartphones receive mobile DTV signals.
The Tivit was created by Valups with funding from the OMVC, Arland said. It not only works with the iPhone, but serves as an additional battery for that device as well, Valups claims.
Samsung showcased mobile DTV-capable Samsung Moment mobile phones for CES, while LG displayed battery-powered Mobile DTV sets. Other mobile DTV-capable products showcased included the Dell Inspiron Mini 10 netbook.
The presence of Samsung and LG was a given, as the new OMVC standard is a combination of the standards from both these companies. That standard was approved only in October by the Advanced Television Systems Committee. This organization, set up in 1982, developed the ATSC standards for digital television in the U.S.
Testing, Testing, 1-2-3
The OMVC will coordinate a real-world showcase in metropolitan Washington, D.C., in the first quarter of this year to gauge consumer interest in mobile DTV. Eight local area television stations will transmit up to 20 channels of free and premium broadcast TV programming to hundreds of mobile devices that will be used by viewers. These devices will include Tivit, the Dell Inspiron Mini 10, the Samsung Moment mobile phone, and the LG Mobile Digital Television device.
Participating stations will be WDCA-DT (Fox Television Stations); WUSA-DT (Gannett Broadcasting); WPXW-DT (ION Media Networks); WRC-DT (NBC Universal); WHUT-DT (Howard University/PBS); WNVT-DT (MHz Networks); WNUV-DT (Sinclair Broadcast Group); and WFDC-DT (Univision Communications).
Why Washington, D.C.? It's the nation's ninth-largest media market and the political capital of the United States, and a successful demo there will impress the movers and shakers.
The OMVC is spearheading work on the mobile DTV standard. It is an alliance of U.S. commercial and public broadcasters that represents more than 800 local TV stations nationwide.
Local broadcasters are pushing for mobile DTV because it could prove lucrative. According to the OMVC, mobile DTV advertising could yield US$2 billion a year in revenue.
Hand Over Your Wallet
The convenience of mobile DTV won't come cheap to the consumer. "LG is introducing a mobile digital TV that includes a DVD player for (US)$249," Arland said. "Valups is introducing the Tivit Wi-Fi receiver for mobile DTV that will likely carry a $120 price tag. LG is introducing a mobile digital TV that also included a DVD player for $249."
The Samsung Moment, which was showcased at CES, is an Android smartphone available exclusively from Sprint at $179.99 after a $100 mail-in rebate with a two-year service agreement. A version equipped with a mobile DTV chip will be tested with Sprint customers in the Washington, D.C., and the Baltimore, Md., markets in the first quarter of this year, Sprint spokesperson Caroline Semerdjian told TechNewsWorld. However, she did not disclose its price.
Still, Arland believes that consumers will be getting a good deal. "The cost for consumers will be very modest — especially because watching programming with these devices will primarily be free," he said. "The other services do offer some very compelling programming but can't offer live, local broadcast TV like mobile DTV can. Also they require a subscription."
Going With the Flo
Perhaps Arland is right. Subscribers to Sirius Backseat TV, made for cars, have to pay close to $20 a month after the first year, which is sometimes covered by option price in the new the vehcile. For example, Chrysler offers such an option for $470. MobiTV charges $9.99 a month for basic service.
AT&T cut its price for Flo TV from $15 a month to $9.99 in November 2009, while Verizon charges between $13 and $15 a month.
AT&T has been offering Flo TV on some of its smartphones since 2008, said spokesperson Mark Siegel. The carrier's satisfied with the results it has seen from Flo. However, Siegel declined to discuss whether or not the carrier would offer smartphones equipped with mobile DTV.
Siegel doesn't share the OMVC's vision of targeting mobile DTV users with ads. "We see mobile TV as a way for consumers to continue to use wireless in new and different ways," he told TechNewsWorld.
Despite Siegel's satisfaction, Flo TV had to cut prices last year in a bid to stimulate interest. Flo TV also began expanding into new markets and adding to its programming lineup last year. At CES, the company announced partnerships with Audiovox and Mophie.
Audiovox will market a personal DVD system including the Flo TV service later this year. In addition, Audiovox-branded Flo TV auto entertainment products are now being offered to mobile electronic retailers nationwide. "Our first real target in the relationship with Audiovox is to offer an aftermarket solution," Jeff Gattis, director of product management at Flo TV, told TechNewsWorld. Audiovox is also involved in Flo TV's deal with Chrysler, signed last year.
With Mophie, Flo TV is targeting the Juice Pack Air, a rechargeable battery case for the iPhone 3G and iPod touch. "We've taken our broadcast chip and manufactured it into the Mophie case so users can receive our signal when they get the Juice Pack sleeve," Gattis said. This service will cost between $10 and $15 a month.
Gattis does not see any threat to Flo TV from mobile DTV. "They're different standards altogether," he explained. "We have a national standard, and they're for local broadcasting." Flo TV has its own nationwide network covering 112 cities and 208 million consumers, Gattis said.
The Flo standard also supports local content and supports paid and free content. "If we hear from customers that local content is important, we'll look at bringing that to customers," Gattis said.
Over time, Gattis expects the different mobile TV standards to offer users the same look and feel. "It's good to see more and more buzz around the mobile TV category, but what's most important is a common user interface," he explained. "We don't want customers to toggle back and forth between different settings for different standards."