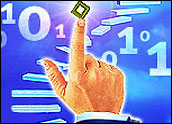 Compare the vastness of the Internet with the microminiaturized world of subatomic structures, and you will get an idea of the potential that nanotechnology holds for industrial profit. Some analysts are predicting nanotechnology will become the biggest boost to the technology industry since the World Wide Web.
Nanotechnology is the science of creating products from components less than 100 nanometers in size. Put into perspective, that measures less than one-billionth of a meter.
Years of quiet but extremely costly research are on the verge of producing commercial products that will reap rewards in the ecology, information technology, security and health fields, according to Zvi Yaniv, CEO of Applied Nanotech.
Research Leads to Discovery
Venture capitalists are starting to smell the money. The lure of promising developments and new products is making investments in nanotechnology highly attractive, some industry watchers said. Until now, funding for nanotechnology has been fronted mostly by governments. The U.S. government alone will earmark up to US$6 billion for research over the next five years.
According to the National Nanotechnology Coordination Office, President George W. Bush's 2005 budget provides nearly $1 billion for the 10-agency National Nanotechnology Initiative (NNI). That figure doubles budget levels set in 2001, the first year of the Initiative.
The 2005 budget request will support activities to advance understanding of nanoscale phenomena, according to the NNCO. The Organization says U.S. industries currently support about half of the research and development in nanotechnology in the United States. That amounts to about $2 billion per year. The other half of the funding comes from small business and investors, as well as federal, state and local governments.
Yaniv doesn't expect commercial profits to soar anytime soon, however. In an industrial newsletter, he wrote that the success of nanotechnology is greatly dependent on complex sciences and industries. "In many cases this will result in longer time to market and as a result will require a lot of patience."
Refining the Vision
But Yaniv said that results will make nanotechnology less susceptible to economic fluctuations "because it is visionary in nature."
First, however, the nonscientific community must better understand nanotechnology. "There is a lot of confusion about what nanotechnology actually is," Yaniv told TechNewsWorld during a break in the Nanotechnology 2004 conference in Japan last week. "That makes it hard to talk about its uses."
A popular misconception is that nanotechnology's goal is to make things smaller. That's wrong.
"Nanotechnology is about understanding and finding new applications when we think about the molecular level," Yaniv said.
When an object or substance is made so tiny that it exists at the submolecular level, its properties change, he added. "Then we have new properties that are different from the materials we started with."
Scientists study these new properties and look for ways to apply them to solve problems and improve existing solutions.
Research Will Lead to Development
One example of the new manufacturing frontier that nanotechnology is expected to bring is Nanosys, a two-year-old firm specializing in development of systems powered by nanotechnology. The company recently partnered with DuPont Research & Development to find applications for a high-performance thin-film technology for applications in electronics.
Company officials remain mum on the details and declined interviews. But the Nanosys Web site says the company's new approach will revolutionize the manufacturing process for thin-film transistors. It will allow formation of high-performance electronics without the complex and costly processing steps now used.
Applied Nanotech's Yaniv said the media should not be too quick to pigeonhole developments into the computer technology category. "Nanotechnology is so fast and interdisciplinary that there is no simple answer to what its benefits will be," he said.
He said he sees scientists still searching for questions they can apply to nanotechnology. One such question is about the social needs that nanotechnology can solve. "The resulting answer comes when we learn to speak small," he told TechNewsWorld.
Researchers Face Diverse Challenges
Industry watchers are quick to agree that many challenges face scientists working on nanotechnology. Since nanotechnology affects numerous industries, those challenges vary from field to field. There is an infrastructure in place, but there is not enough support equipment to build on that infrastructure.
"There is no good analytical equipment to locate and centralize design on a nanometer level," Yaniv told TechNewsWorld.
One thing is clear about the prognosis for success: There is strong scientific curiosity about nanotechnology. "But scientists now need to think about commercial uses," said Yaniv.
Time Is Unknown Factor
A major gap must be narrowed between enthusiastic research and commercial development. The list of research accomplishments is growing rapidly. Still, companies are finding answers through hit-and-miss results.
"The question mark is on how much time is needed for productive commercial applications," said Yaniv.
He is betting that nanotech's crowning glory will be found in saving the Earth's ecology and preventing biological destruction.
"The solution to biological warfare will come from advances at the molecular level," he concluded.